One balmy evening last week Julia and our guest writer Lisa visited Elodie for dinner – Birch Selsdon's new signature restaurant with food by Michelin-starred chef, Lee Westcott.
---
Lisa:
My visit was a whole lot of firsts! First time at a restaurant with a Michelin-starred chef, first tasting menu and first time I'd had a look around at Birch Selsdon since it opened. I was not disappointed.
The atmosphere was tranquil – pre-drinks overlooking the fields where cattle now roam, as well as where staff very proudly forage for ingredients to produce unique flavours to go in the cocktails and food. The restaurant was beautifully decorated and laid out in a way that each table had considerate spacing so you weren't overlooked by other guests.
The taster menu was made up of eight courses, all beautifully presented. They had various menus to cater for all dietary requirements. I opted for the meat menu. My favourite dish was the Herdwick lamb (with green olive, runner bean & fermented leek tops) – the lamb was so tender it dissolved in my mouth. The friendly staff enthusiastically presented the food to us, describing the taste sensations we were about to encounter. My mouth was literally watering before I'd even eaten the food.
To accompany the courses you can opt for a wine or cocktail pairing menu. I chose wine and before each course a very knowledgeable sommelier came and served me a different wine to accompany the dish. As a non-wine expert, if ever asked what I wish to drink I automatically say 'Pinot'. It was great to experience trying different wines (white, as well as red and orange) and appreciating how the wine enhances the flavour of the course. This is when I realised, I hadn't just come out for dinner with a dear friend – this was more than a meal, it was an experience. It was an evening of trying new things, you don't usually try, and, oh my, the courses were amazing!
It was everything you would expect from a restaurant with a Michelin-starred chef.
---

Julia:
I had already eaten at Birch in their all-day brasserie, Vervain, back in May, with a very tasty menu also created by Lee Westcott. Therefore I'd imagined Elodie would simply be a fancier version with similarly yummy food. Same chef after all, right, I thought. So I was not quite prepared for the wonder of Elodie. If Vervain is a fine race horse then Elodie is a unicorn – something very special (excuse the random equine metaphor!).
Whilst Lisa sampled the meat menu paired with wine I went for the pescatarian menu, paired with cocktails. We had six of our eight courses in common, and I think the award for the prettiest dish had to be our first: summer green bean croustade with smoked cods roe, wild garlic & marigold (the latter ingredients being sourced from the estate's grounds). Dish 3 (IPA sourdough with Marmite butter & roasted yeast) was also a firm favourite for me, as I had already sampled their Marmite butter in a different guise in Vervain (I'd return to the Birch restaurants for this alone). Whilst all dishes were exquisite in both taste and presentation, I particularly savoured my dish 5 (grilled courgettes, with turnip, grape, sorrel & elderflower) as well as dish 7 (aka dessert) which was English strawberry, cultured yoghurt & cherry blossom.
As for drinks, after we both started our Elodie experience with a foraged gimlet (yum), my menu was paired with three different cocktails, from an Apple Bellini to a Figleaf Highball with many other quirky flavours included to complement my dishes.
Our table had a lovely view of the terrace and the grounds beyond, and the earthy Victorian-style decor created an intimate, welcoming and cosy atmosphere. There was a pleasant buzz from other tables, without the restaurant being too quiet or too loud (Goldilocks would have loved it). The staff were warm, attentive, and knowledgeable and turned the menu into a real experience to remember.
We topped and tailed our dinner with drinks on the terrace from the Meadow bar – there was a friendly vibe with lots of groups of people chatting away happily.
Elodie is definitely a treat destination – whilst it's obviously not a cheap dinner out, as Lisa said, it's so much more than a meal. I'm now planning when I can return for another special occasion…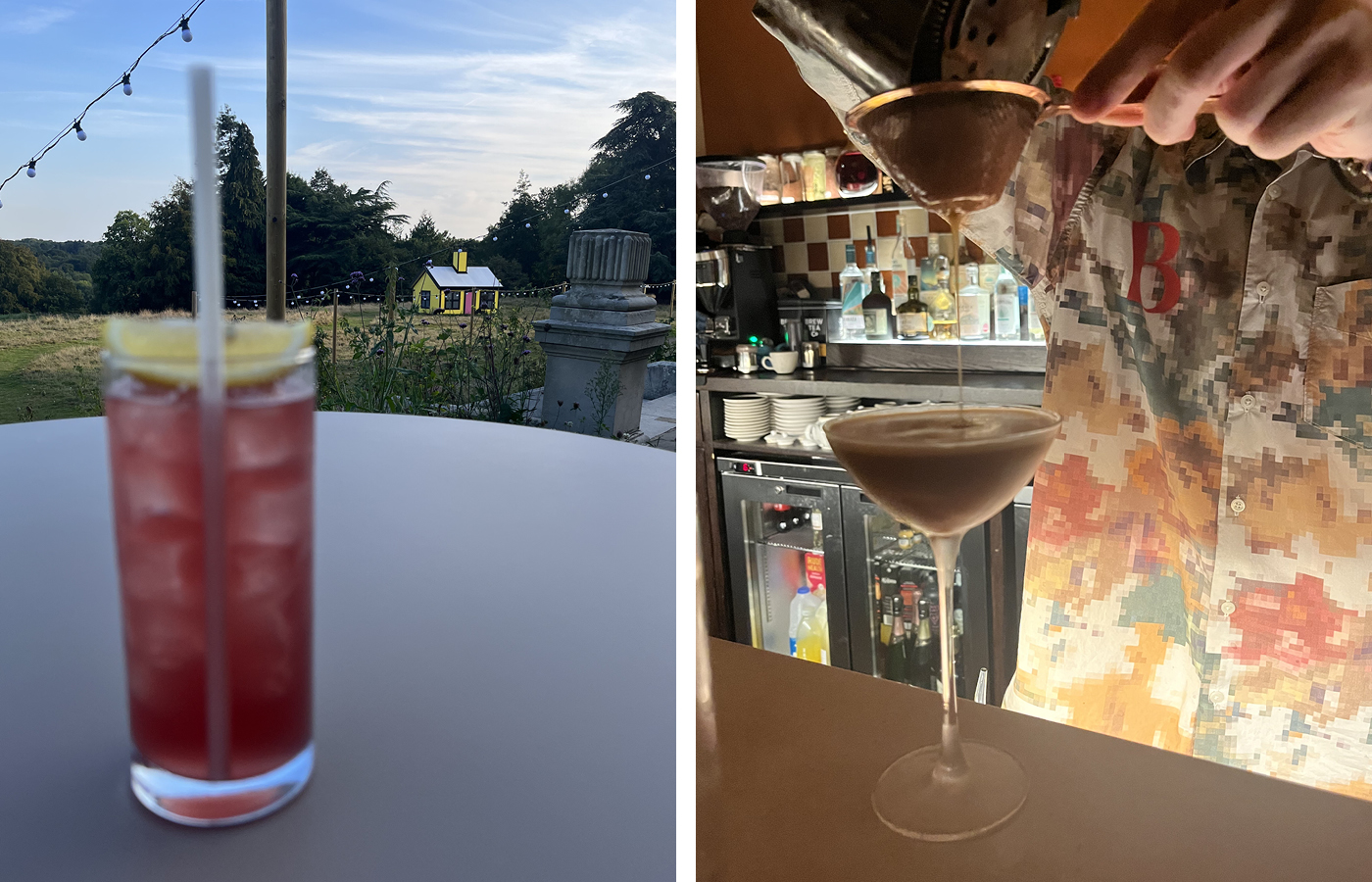 ---
Find out more about Birch on their website, Instagram and Facebook, and follow Elodie on Instagram.
All photos by the Croydonist
Posted by Julia and guest writer Lisa Shone
Lisa has always lived in South Croydon, and enjoys everything the borough has to offer, from community festivals and eating out, to walks in the local woods and parks with her dog Flo.