It's February and I saw a daffodil on my walk this morning, so we must be on our way to Spring. The perfect time to try out the next instalment of guest writer Peter Hall's Green Line walks.
---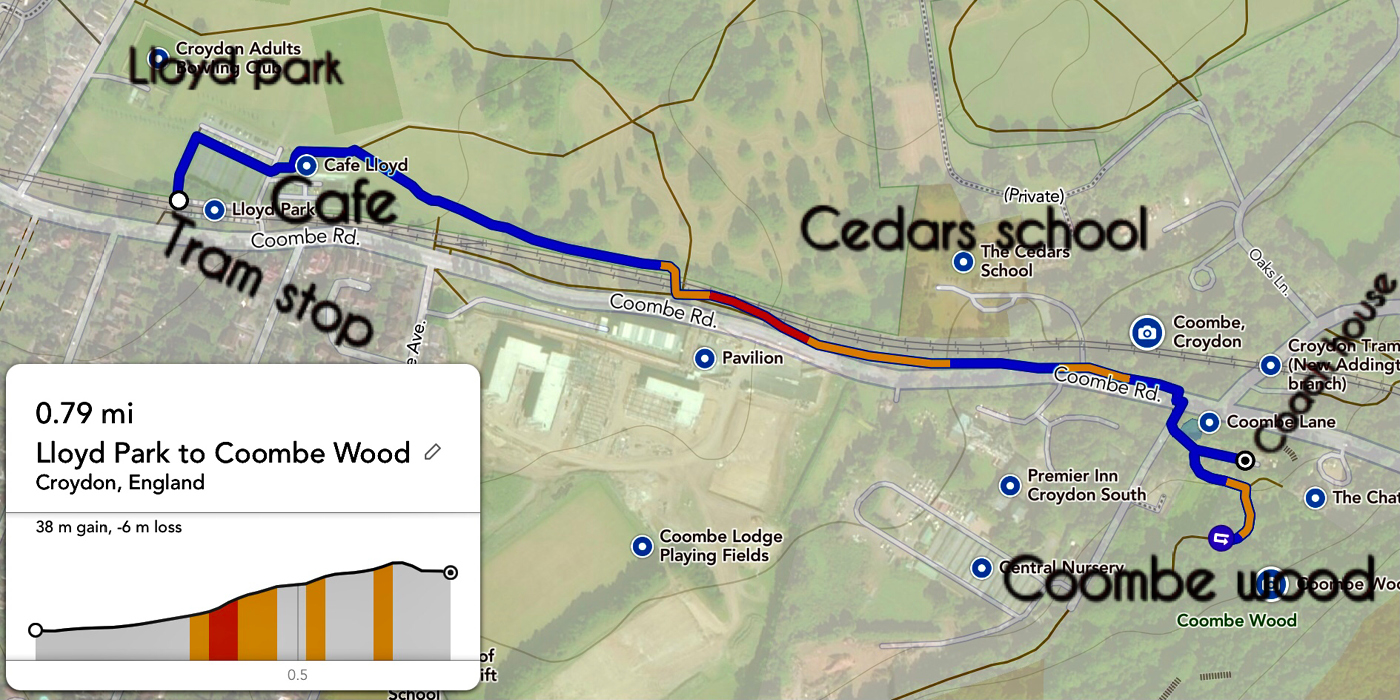 Lloyd Park stop for the park and Coombe Wood Gardens
I believe that the tram line is one of Croydon's greatest assets. The green logo and livery is so appropriate for a route which connects the town centre to many beautiful natural environments and makes nature accessible to all in our borough. I have been travelling the length of the line for several years, with my camera at my side. This article shares the one mile walk from the Lloyd Park stop to Coombe Wood Gardens. There are excellent cafes at both ends of the walk! A warning; although Lloyd Park is an excellent place for dogs, your four legged friend is sadly NOT allowed in Coombe Wood, even on a lead.
In Autumn, the tram stop at Lloyd Park on the New Addington branch looks magnificent, with a carpet of rich red fallen leaves on the approach from Croydon and mature trees in autumn colours sheltering the platforms on both sides. Walking into the park in the New Addington direction, you will first encounter the Lloyd Park café. Of the two cafés on this walk, this one is the best for veggie and vegan options. There are vegan pizzas, burgers and hot dogs, but if you are a meat eater you will not be disappointed by the chicken, tuna and bacon, brie panini. Walk around the side of their large building and you will pass their window selling Marlsfield Farm Ice Cream, as well as a range of milk shakes, yummy waffles, and crepes. However, you may want to save your appetite for the equally delightful offerings at the Coach House café at the end of this walk, or return to this café on your way back!
As you walk around the café you cannot fail to be impressed by the vast open green space which Lloyd Park has to offer. It is often the venue for a travelling fair ground and other events. Look back towards Croydon and you will appreciate just how close this expansive green space is to the ever-growing metropolis of East Croydon. The row of mock Tudor houses which line the Western end of the park, are dwarfed by the towering concrete towers rising behind them. It is an extraordinary juxtaposition of lush green grass, cosy timber framed homes and 21st century skyscrapers.  We are lucky to have this large green space, so close to the town centre and so accessible by tram.
When you walk round the café, you will see behind it a well marked footpath crossing the grass, leading to a wooded area which is adjacent to the tram line. Follow this path into the trees. You will emerge into smaller fields and a footpath which runs adjacent to the tramline separated from it by a dense bush. Shortly after you reach this point, you will find a narrow opening in the bush, leading to a tram track crossing. However, I have found that this opening is all too easy to miss, even when you know it is there! The clue is that, at (well, immediately after) the opening there is a wooden marker post and at the opposite side of the field is a bright yellow litter bin (the second bin you will encounter). Cross the tram track with care and continue walking up the Coombe Road away from Croydon. Although it is, sadly, a rather busy road, the footpath is raised above it for a considerable distance. You will walk past the entrance to the Oakwood private school with its quaint gatehouse. Shortly after you will be able to cross the Coombe Road at a traffic island and continue to walk up the right-hand side of the road until you come to a right turn and the clearly signed "Coombe Wood Park and Gardens".
Coombe Wood gardens are the jewel of Croydon Council's gardens and a delight to explore at any time of the year. It is my favourite park. It seamlessly combines ornamental gardens, well considered peaceful havens and a wild arboretum. It also includes a delightful historic coach house stable, café and enclosed courtyard for afternoon teas.
Your journey through this park starts with the large pond on your left, fed by a pretty waterfall at the far end. The pond is populated by some impressive Koi Carp, and in the summer is decorated with a show of brightly coloured water lilies. In fact, this pond area is so delightful that on an earlier visit, I met an artist with an easel set up, who was painting the scene. I spoke to him, and he told me that he was painting for his own pleasure and loved this spot.
Walk into the park and on your right is a raised flower bed with steps taking you into the rest of the garden, while straight ahead is the Coach House – a converted stable block with tables and sun shades leading you to the café. Of the two cafés on this walk, this one excels in general ambiance. A pleasant indoor restaurant leads through to a walled courtyard, with tables and sunshades, popular for tea and cakes on a hot summer day.  It also boasts a delicious menu, but not as geared up for vegetarians or vegans as Lloyd Park.
However, you will want to leave refreshments to the end, as there is much to see in the gardens which surround the café on all sides.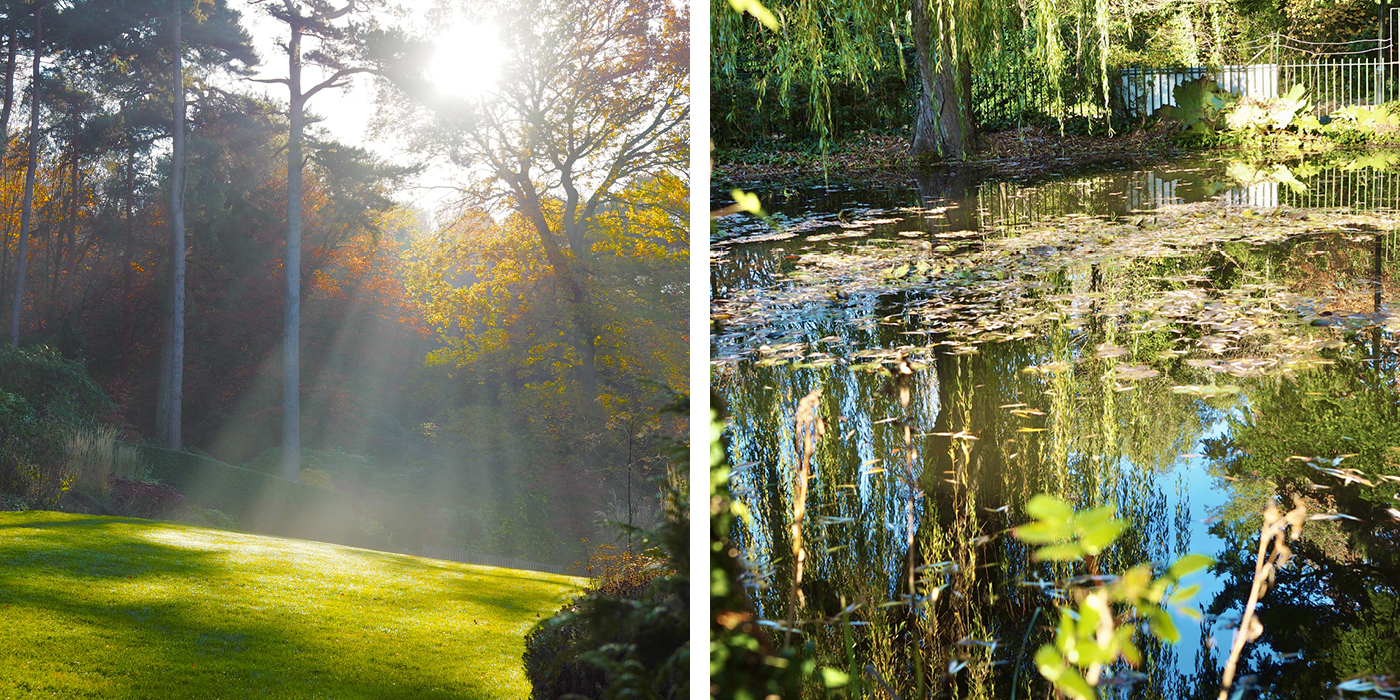 The gardeners ensure that throughout the year, there is an impressive display of flowers and shrubs on the raised rock garden with pretty pathways leading you uphill. Spring tulips are spectacular. The path takes you past a green lawn laid out with broad flower beds on both sides leading up to the woodland area at the far end. There are benches placed here for you to enjoy the flowers and watch the bees humming around them on a hot summer's day. On a bright, but cold, autumn day I captured the low sun streaming into this area creating shafts of warmth and a mystical pool of light on the glistening damp grass.
Walk on and you pass through an arch to a completely different garden whose centre piece is a flower bed planted with tall grasses behind which are benches and an out-house. Surrounding the centrepiece are banks, angled towards the sun and are planted as wildflower meadows in the spring. These are really a must-see spectacle at this time of the year, as a succession of snow drops, daffodils, bluebells, white bluebells and tulips bloom spectacularly throughout the spring and early summer season. Needless to say, such an array of scent and colour attracts bees and other insects which spend all day hovering around and dipping into each flower head.
But there is more! This garden just keeps on surprising you.
The garden is built on a hillside which climbs steeply away from the ornamental and wild meadow areas. On the lower slopes, deep red Acers, gorgeous Rhododendron and Azaleas grab your attention. In my experience, the Rhododendrons here bloom a week or two earlier than anywhere else. Keep on walking uphill along the various pathways and you enter a woodland which is a lovely mix of deciduous and towering pines. Lovely to you, but also to the wildlife. You will see and hear squirrels tumbling through the canopy and see birds coming and going from the carefully placed bird boxes. This area is quite large, with wooden steps embedded in the hillside taking you to ever greater heights. The fragrance of pine at the top is a joy to inhale.
And still you have not seen it all! Return to the café level, and you will discover a rock garden, almost hidden, with a tumbling, bubbling water course which is on the road side of the café and runs behind it. The garden has an almost Neolithic feel to it, as you follow the path between carefully placed, gigantic boulders. This shady area, with the constant sound of running water, is a delight on a hot summer's day.
Now you are ready for some ice cream, or cream tea, before making the short walk back to the tram stop.
---
Posted by guest writer Peter Hall (all photos courtesy of Peter).
If you missed Green Line Part 1, you can read it here.
Peter lives, works, walks, and often runs in Croydon – always with his camera – visiting green spaces and places with an interesting history. He is a keen Instagrammer who loves to give and receive comments on his peter_at_croydon account.