I always like to have my perceptions challenged by new experiences. Growing up in Croydon's suburbs in the eighties and nineties I formed a certain opinion of the Church of England through traditions taught at school and attending church services as a Brownie and Girl Guide. I viewed the church, incorrectly or otherwise, as a stuffy, patriarchal and unfathomable institution which left me feeling rather cold to the notion of religion going into adulthood.
In recent years a few things have altered my view to see the Church as a more relatable kind of place. Firstly, I met a rather progressive associate vicar who worked at Croydon Minster a few years back – Lee held imaginative events that appealed to a broader audience than just his congregation (remember that Dog & Bull beer blessing folks?). My second perception-altering moment would have to go to the BBC's brilliant Fleabag where Phoebe Waller-Bridge created the character of a charismatic and contemporary priest who became Fleabag's love interest.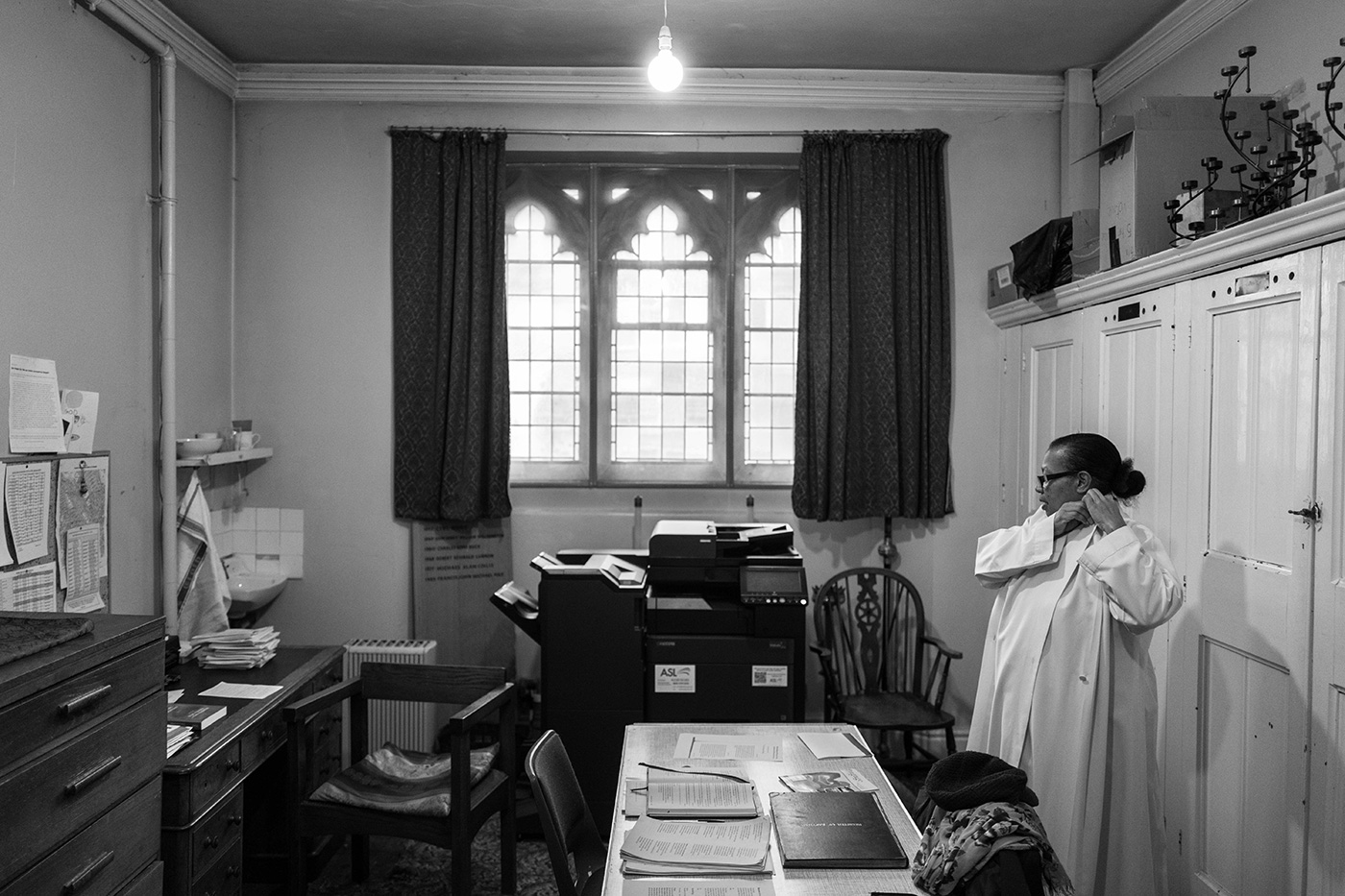 The third view-changing experience is a photographic exhibition which has just opened at the Fairfield Halls. South London based social-documentary photographer Jim Grover focuses his work on telling stories about daily life, local communities and making the unseen seen. His new exhibition HERE AM I celebrates 25 years of the ordination of women into the priesthood in the Church of England. (Yes, it has only been that many years). He spent eight months photographing twelve very different female priests from South London and Surrey as they went about their daily work.
The set of 50+ black and white photos (a few of which you can see in this article) have a candid and intimate quality, giving us a fascinating ringside seat of what it's like to work as a priest – from the more traditional and well-known tasks to behind-the-scenes and unexpected moments.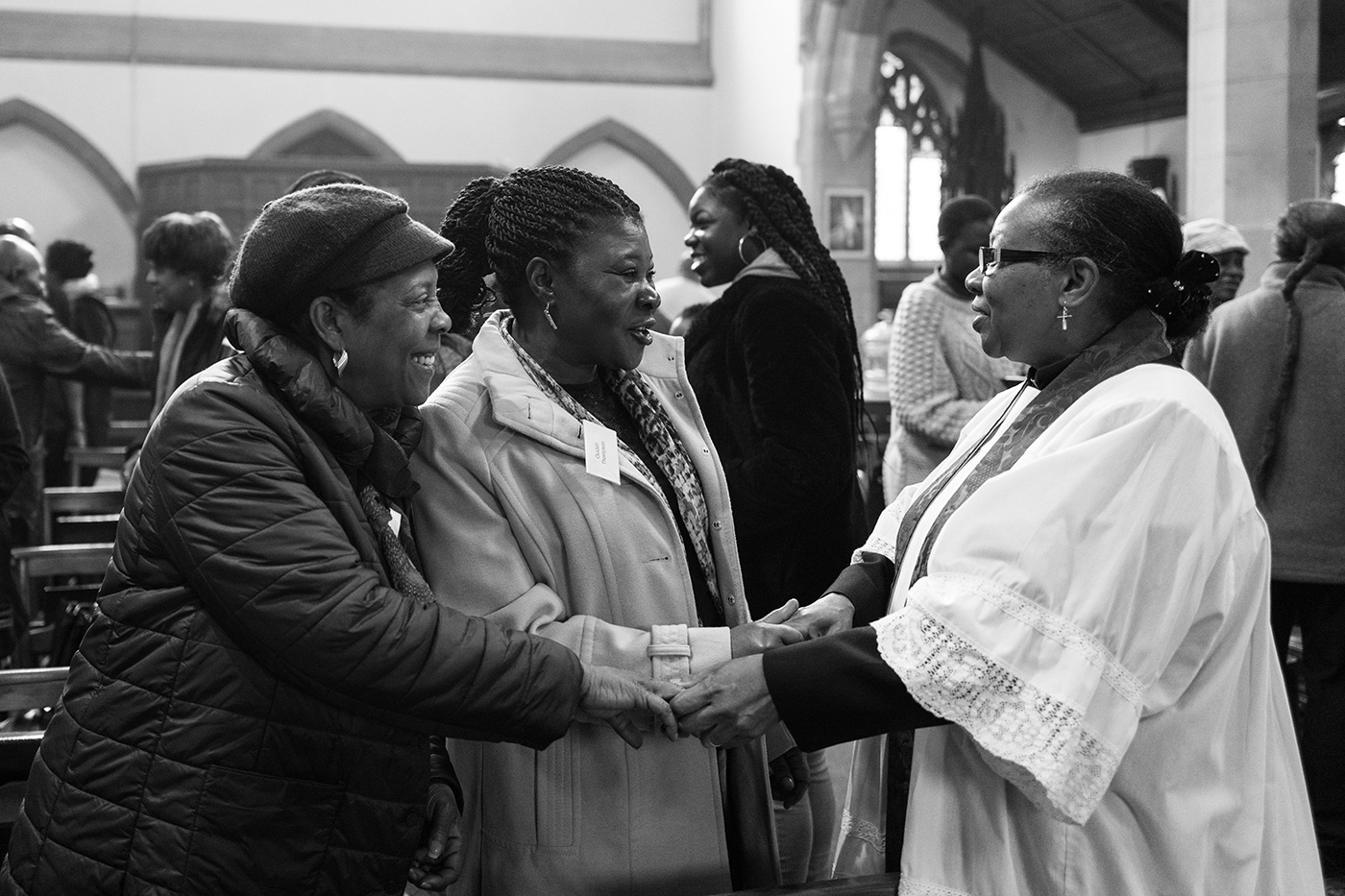 Two of the stories I am particularly drawn to are those of Joyce Forbes and Helen Hartnett. Joyce is a Thornton Heath based priest who has ministered in her parish, with St Stephen's Church at its heart, for the past 15 years, as well as being a local magistrate.
Helen is one of the younger women featured and had kids before being ordained. She considers herself to be one of the most unlikely priests, and speaks a lot about the everyday stuff from having a glass of wine to get the creative juices flowing when writing sermons to equal parenting with her husband. She talks of the most fulfilling bit of ministry being 'where I get to speak out…to use my voice…for those who have no voice or those who can't be heard. There's something about a collar that somehow makes you listenable to, which is nonsense but that is what the world seems to say.' I very much like her matter of fact outlook.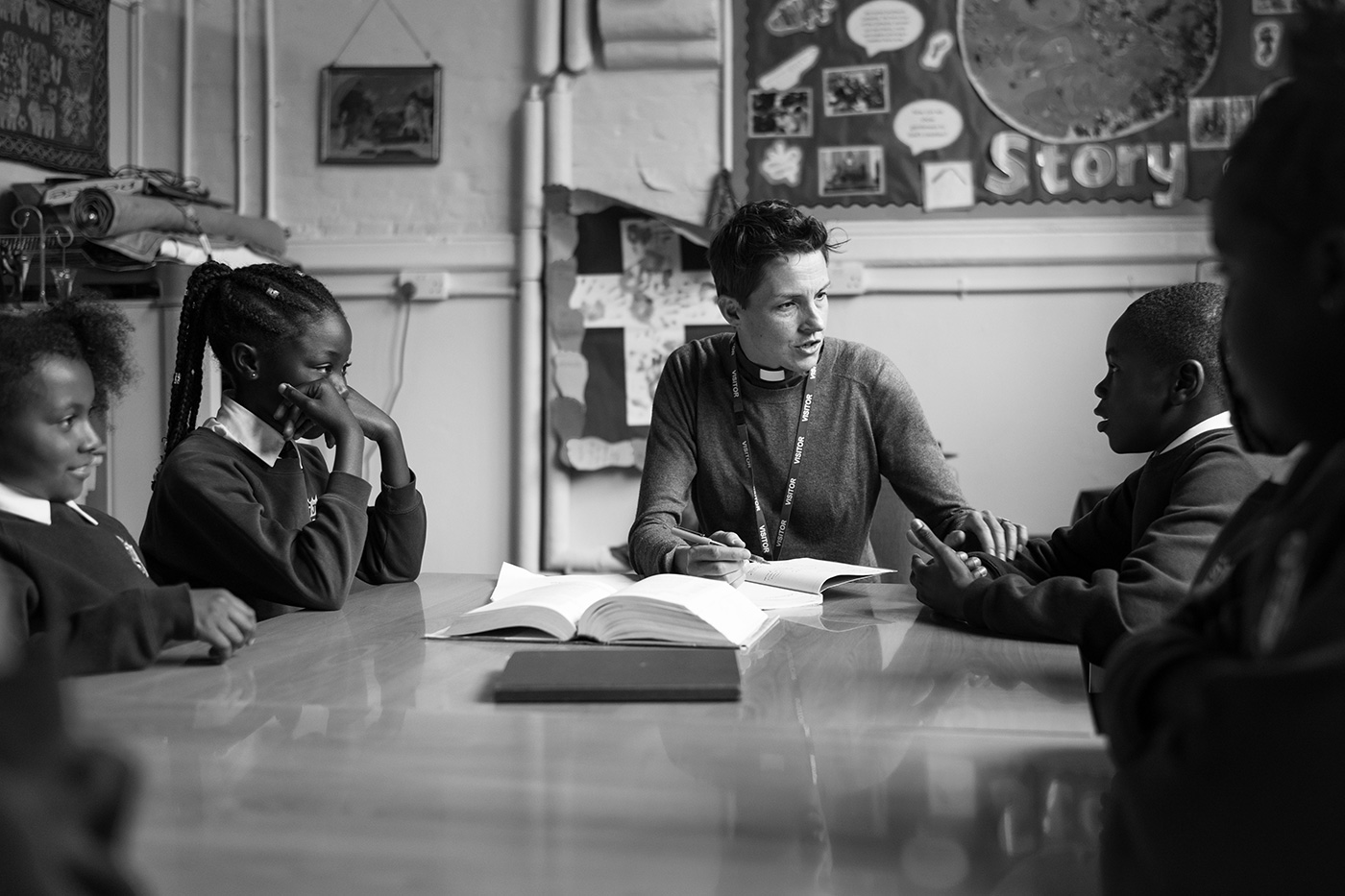 Jim Grover says of his exhibition, 'I am especially interested in telling local stories and sharing them with local audiences. Two of the 12 women have close associations with Croydon and so it is great having their stories showcased in the Fairfield Halls'
He adds: 'All of these 12 bring their own distinctive approaches to ministry. Helen is one of the new generation of ordained priests; I was so inspired by her desire to use her voice for those who, in her mind, have no voice…or who aren't heard by society'.
Whether it changes your perceptions or not, HERE AM I is well worth a visit to see a beautiful set of photographs documenting 12 womens' lives. The photos hang in the hugely accessible Arnheim Foyer, which is free to visit until 11pm seven days a week.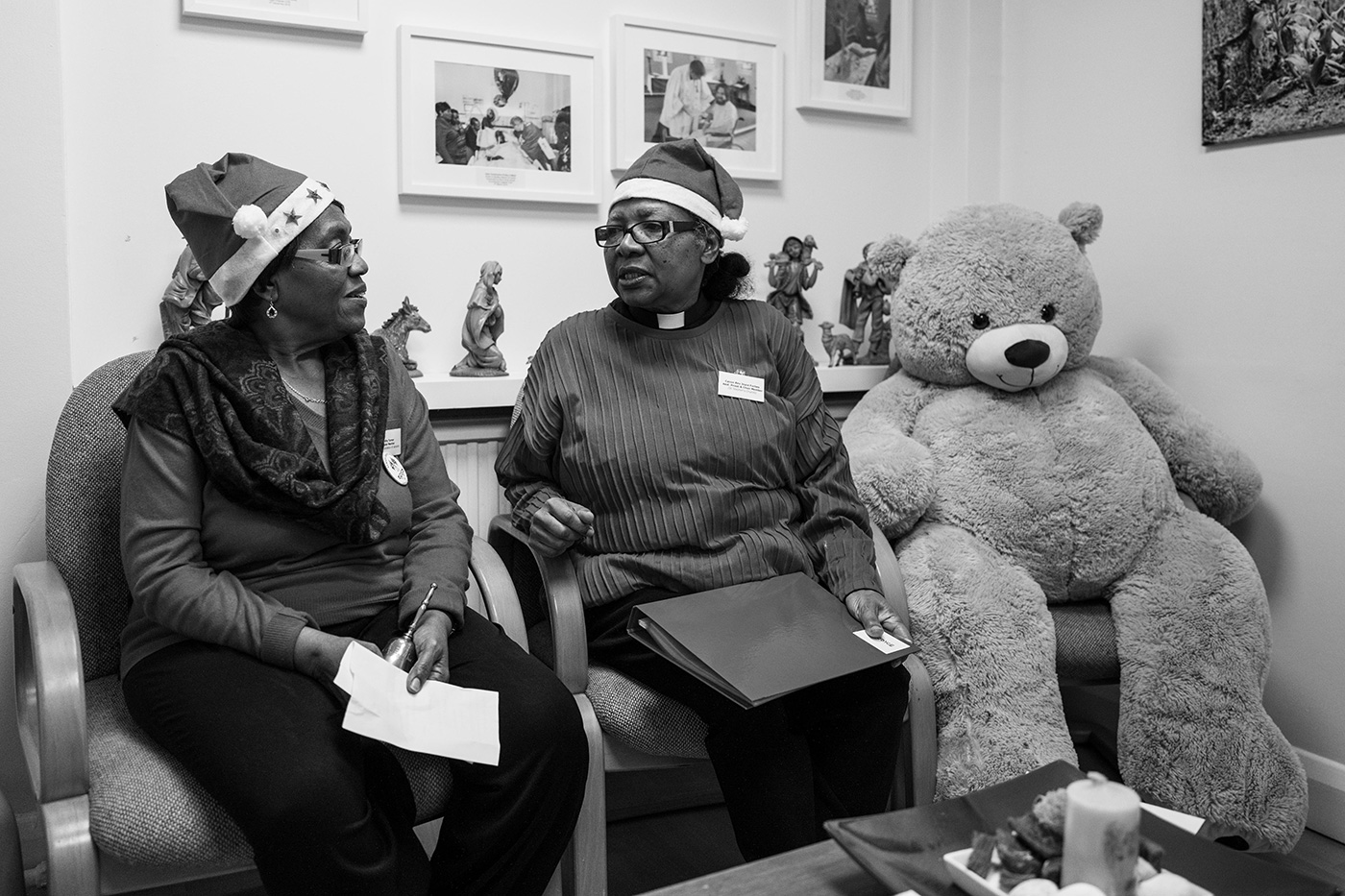 HERE AM I runs until 17 April 2020 in the Arnhem Foyer, Fairfield Halls, Park Lane, Croydon, CR9 1DG. Admission is free. Open 10am – 11pm Monday-Sunday.
Find out more about Jim Grover's work here.
Photos of Helen and Joyce, courtesy of the photographer, Jim Grover.
Posted by Julia