One of the events we particularly missed because of Covid this summer was Croydon Pride. It's become a firm fixture in our calendar since 2016 and we love it for its celebratory feel, where all corners of the Croydon community come together to have a party whilst promoting equality for LGBT+ people in the borough.
Luckily for us there is an exhibition currently running at The Museum of Croydon which launched last month to coincide with the intended dates for this year's Croydon Pride. Called 'Queer + Croydon' the exhibition celebrates our borough's LGBT+ community.
We catch up with the curator of the exhibition, artist Mark Goldby to find out more about his journey through Croydon's queer history.
Croydonist: First of all, are you a Croydon native or convert and what area do you call home?
Mark: Home for the last four years has been Mitcham, so technically speaking I'm a Merton resident, but my postcode is CR4 so I like to think I'm at least part Croydonian! I started coming in to Croydon for art projects in 2017 with First Floor Space in the Whitgift, and now I spend a lot of time in my studio at Conditions in Croydon, so I'm definitely a convert.
Croydonist: How did you become an artist, and how would you describe your particular discipline?
Mark: It's strange because I didn't originally study art at school. In 2008 I graduated with a degree in English Literature, and it took 6 years of soul searching to realise that I really wanted to explore my creative side. I took an Art Foundation course and got a taste for studying art, and followed this up by enrolling in a Master's degree at Wimbledon College of Art.
I don't believe there is any one moment when you 'become' an artist, but it was during my Master's that I learnt about creating a professional arts practice, which gave me the confidence to finally start calling myself an Artist.
My work is pretty experimental but I frequently settle on photography and sculpture. I love materials like fabric, wax and plaster, and I've been working almost exclusively in the colour pink for a few years now.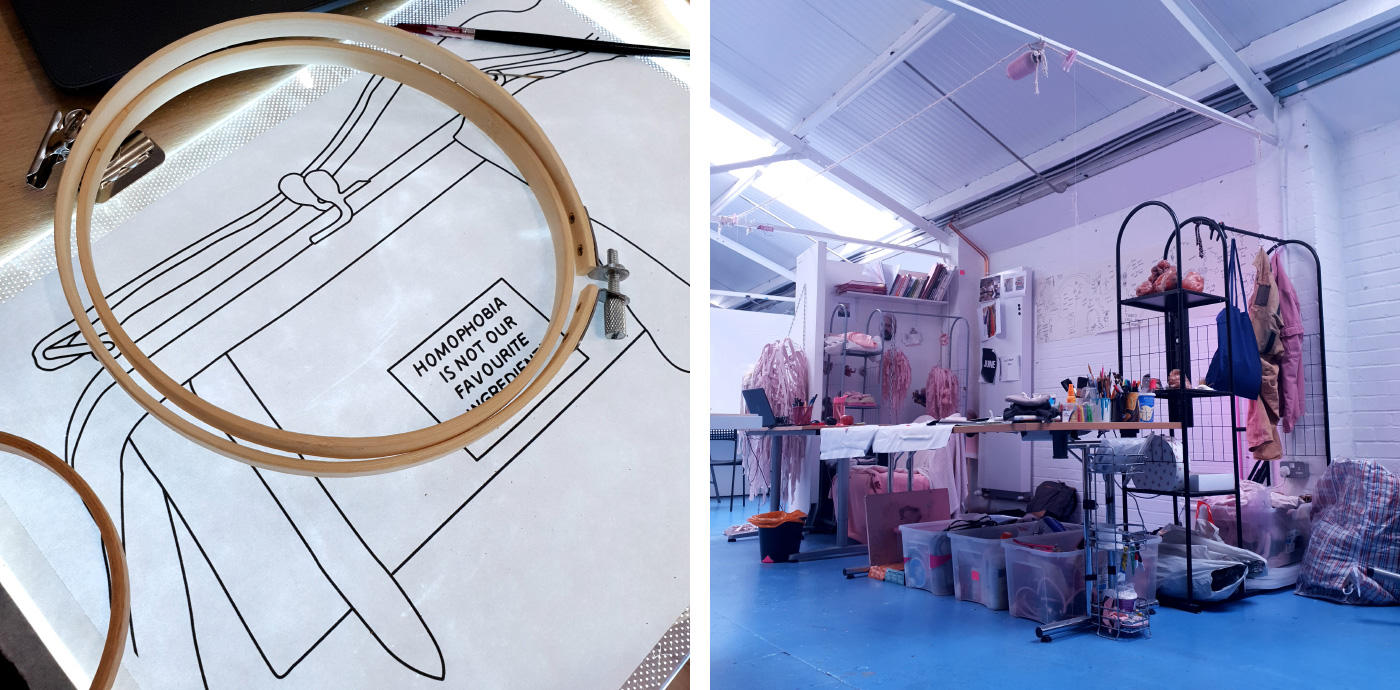 Croydonist: For those readers who haven't yet had a chance to visit 'Queer + Croydon', can you whet their appetites?
Mark: The exhibition is a part of the 'What's Your Croydon' programme, which asked local artists, communities and groups to highlight their stories in co-curated exhibitions in the Museum, the Croydon Clocktower atrium and Exhibition Space within the Research Rooms. Queer+ Croydon tells the story of my journey through Croydon's LGBT+ past and present, starting with 3 exhibits I was drawn to in The Museum of Croydon's collection. I spent a year tracking down people, familiarising myself with current groups and events, and trying to understand how it all joins up[1] .
I wanted to create the exhibition because queer history is a relevant subject that was often missing from my own educational experience. I wanted to find a way for all groups of people to start bringing its existence back into discussions about culture and history. It's validating to see your community represented in a public space. Perhaps it also provides straight people with a better context for why we need things like Pride celebrations – we have to make ourselves visible or we risk losing the rights we have won.
Croydonist: How have you had to adapt 'Queer + Croydon' to move from the physical to the digital realm?
Mark: The exhibition was originally intended to be an extension of the LGBT History Trail, addressing gaps in the Museum's collection. Newly donated objects, stories and videos from local LGBT+ people would have been displayed alongside older artefacts in the Now Gallery at the Museum of Croydon. We had some great events and workshops planned, but due to to COVID-19 we had to postpone these and make the exhibition digital instead.
I was really lucky to work with such a super team at the Museum of Croydon, and we've worked together extensively via Microsoft Teams to reformat the exhibition into a digital offering that I am really proud of. The team have been working tirelessly since lockdown began to ensure the Museum continues to deliver content to the public, so hats off to them!
Croydonist: I'm really enjoying the fact the exhibition is created in an episodic way – releasing new chapters every couple of weeks. How did the idea for this structure come about?
Mark: 3 months is a long time for an exhibition to be up online, and I was worried that it would fall into obscurity after the initial release if no new content was added. I was partly inspired by Charles Dickens' 'Great Expectations', which was originally published in instalments in his periodical 'All The Year Round' to help boost sales. I saw the same intense demand for weekly episodes of RuPaul's Drag Race on VHS1(!), and came to the conclusion that weekly chapter releases would help maintain interest over a longer period. We are also posting weekly blogs as additional content that help add further context or information to released chapters. I like to think it's an antidote to binge-viewing culture[2] !
Croydonist: Will any of the future 'chapters' of the exhibition take place at the museum?
Mark: Currently we plan on releasing 5 chapters digitally. Maybe a Chapter 6 will pop up somewhere soon…
Croydonist: Chapter 1 is titled ' Queer artefacts '. Would you like to tell us a bit about one of the artefacts you selected?
Mark: My absolute favourite artefact from the outset of this project has been 'Ray's Handbag'. There's something so wonderfully camp and comical about this smart handbag stuffed with lacy gloves and prophylactics owned by a man called Ray. And yes it's funny, but there's also this huge amount of niche queer history that surrounds it, so it's a really precious item too.
Croydonist: Chapter 2 ' The man behind the handbag ' is about LGBT+ activist and Shirley resident, Ray Harvey-Amer. What was it like meeting Ray and what did you learn from his struggles as a gay man living in times before decriminalisation? 
Mark: I feel so honoured to have spent time with Ray, talking about his life. Whenever we met he was charming and warm, but he was by no means soft. He had suffered a lot of hardship for being gay, including recommendation for aversion therapy in the early days. Then of course he had to watch as his friends and lovers passed away from HIV/AIDS.
He was incredibly wise and delivered a number of cryptic remarks to me regarding politics and the universe which I still haven't worked out. After his passing in May this year I discovered just how much he was invested in the LGBT+ Community in Croydon – his name appeared in almost every single group I researched.
Croydonist: Chapter 3 titled ' A pilgrimage ' is about your encounter at the Museum of Croydon with the Bristol chapter of the LGBT+ activist group The Sisters of Perpetual Indulgence (a worldwide network of 'houses' originally formed in 1970s San Francisco). What was the encounter like and how do the Sisters campaign today for LGBT+ issues?
Mark: That day in the Museum was very magical. The Sisters from Bristol bonded with Ray immediately, and it was very moving when Ray made his speech honouring the return of his habit with his handbag. The Sisters often talk about almighty queer power, and I have to say that there was a feeling that something special took place that day.
I'm glad to say that the Bristol Sisters have continued their duties despite COVID-19, and have been socially distanced, masked and visible at BLM protests and Trans Pride events in Bristol this year. I hope to see them again very soon!
Croydonist: Can you tell us a bit more about the latest two chapters – chapter 5 having been released earlier this week.
Mark: Chapter 4 is all about 'Bold.' which was a group exhibition about gay identity that I curated in the Croydon Clocktower last year. The purpose of the exhibition was to let gay people reclaim space within a local authority building, to honour the repeal of Section 28 which had condemned the promotion of homosexuality from 1988 – 2003.
I love looking back at the artworks from that show because the surprising message that came across was that despite huge leaps forward in our quest for equality, many of us continue to feel isolated, alienated and judged by society. We are still haunted by our otherness. We have a way to go yet.
Chapter 5 is dedicated to the amazing LGBT Asylum Seeker group Rainbows Across Borders, who I met through Ray. I really had my eyes opened talking to them about their experiences of being LGBT in places that still condemn homosexuality like Uganda and Nigeria. I also learnt about the process of seeking asylum, which really helped me understand why groups like Rainbows Across Borders exist, because without that sense of community and support, it would be very easy to lose hope. I was honoured to march with them at Croydon PrideFest in 2019, and it was on the march singing and dancing about love and freedom that helped me understand the reason why Pride is still so important to celebrate today.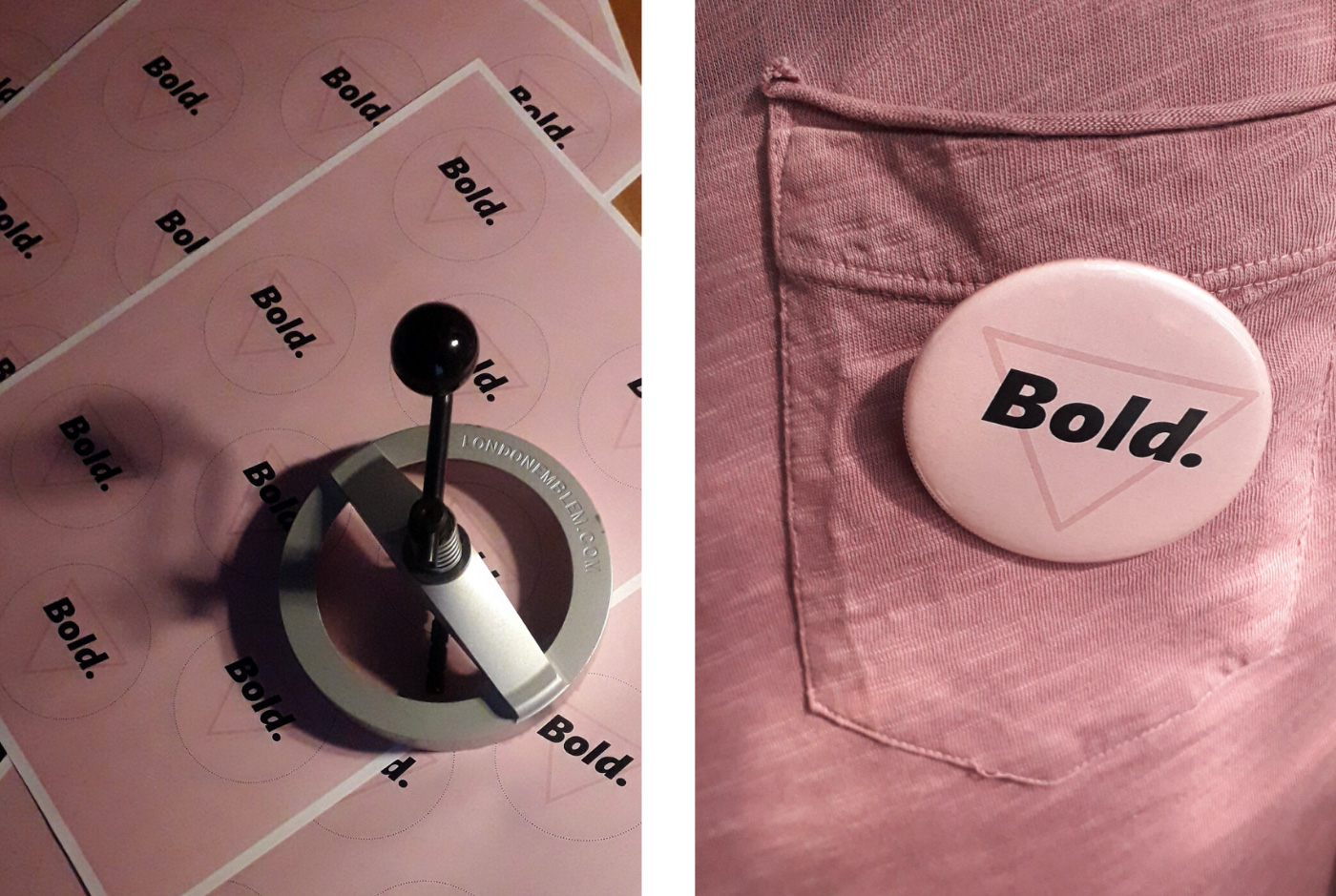 Croydonist: Am I right in thinking you will be creating an artwork in response to 'Queer + Croydon'? Do you know yet what form this will take, and if so can you share any details?
Mark: I am indeed! I'm currently working on a textile based piece of work which I will eventually be donating to the museum as my own contribution towards the queer archive. So far I can tell you that I have been really inspired by storytelling through tapestry, pink triangles and how to represent digital artefacts as physical objects…
Croydonist: What's the most surprising thing you've found out so far about Croydon's LGBT+ history? (As a designer, I personally loved seeing the Croydon Pride programme from 1993 you shared in your blog post).
Mark: I really loved the Croydon Pride Programme too, especially after I got to finally look inside of it and discover all these gay bars and clubs that were around in the Croydon – Streets, PJ's and the Bird in Hand!
I think my favourite moment has been discovering how forward thinking and progressive the Museum of Croydon was back in 1995 when they first started collecting stories and artefacts for an LGBT+ collection. The 1990s saw a lot of negativity directed at the LGBT+ community, partly due to the HIV/AIDS epidemic, on top of Section 28. But somehow the museum team at the time continued to work on a collection. It was incredibly inspiring for me – and the current team – to see the Museum of Croydon playing such progressive role in Britain's LGBT+ history.
Croydonist: Most of our readers will know that Croydon hosted its first Pride event in some 20 years back in 2016 , and the community have enjoyed the celebratory atmosphere of Croydon Pridefest for 4 years in a row, until Covid sadly changed our world for 2020. Could you give us some insight as to why Pride stopped in Croydon in the 90s?
Mark: From what I can gather there simply wasn't enough interest generated at the time to continue the massive effort of voluntarily organising Croydon Pride. It's important to note that at that time the committee was primarily focused on fundraising for local projects like the ACE Project and Croydon Friend. Rather than having one single celebration, there were a dozen events put on in gay bars and clubs in the Croydon area, but no actual parade in Croydon itself.
I think the major difference by 2016 was finding a way to physically bring LGBT+ groups together into one place. There's a real sense of unity that happens at PrideFest and other events like LGBT History Month that help the community feel connected to one another. It's too easy to drift apart without an annual celebration like PrideFest, so my fingers are crossed for 2021.
Croydonist: I hear that our LGBT+ readers can get involved in the exhibition by donating to the museum's archive. What are you particularly looking for, where will the items be displayed and how can you donate?
Mark: The Museum cannot currently take in new objects due to Covid-19 safety measures, however I will be documenting successful submissions (safely) from my studio for use digitally in the future. I am particularly interested in garments, costumes, accessories, banners and flags that people have worn/waved during Croydon Pride between 2016 and 2019.
Offers of donation for the Queer Archive can be submitted for approval digitally via the form on the Museum of Croydon website here.
Croydonist: After the exhibition, what's next for you?
Mark: Once the exhibition is over I will be looking at ways people can engage with the archive remotely, and exploring new ways of exhibiting online. I've met some wonderful people on this adventure so far and am really excited about the possibility of working with them on future collaborations in and around Croydon. I will also be popping by The Oval Tavern for a socially distanced gin!
A well earned drink methinks. A big thanks to Mark for chatting with us.
Images courtesy of The Museum of Croydon and Mark Goldby. Header image by the Croydonist, inspired by the programme cover for Pride Croydon 1993 from the Museum of Croydon collection. 
Posted by Julia