This week we chat with Croydon-based artist Melanie Russell whose art we showcased on our social media headers earlier this year. A Streatham resident, Melanie works in a studio at ASC Art House, Grafton Quarter in Croydon, which is home to over 100 artists and designer/makers.
Croydonist: How did you become an artist and how would you describe your style of work? 
Melanie: I was always drawing and making things as a kid and at school it was all I wanted to do. I did a foundation and then a BA and an MFA in Fine Art and just never stopped. I had a break from having a studio for a few years when I had kids but just adapted to smaller work on the kitchen table.
I paint and draw mostly but have worked with fabric and some 3D cardboard works in the past. I would say my work usually starts as an observational drawing and becomes simplified and abstracted. I'm interested in line, shape and colour. My current work is based on natural forms, so a lot of flowers, plants and shells.
Croydonist: How do you decide on a subject matter? 
Melanie: If I'm using plants or flowers I like to work with what is in season. I love gardening so I really enjoy using things I've grown and like the fact that it's only around for a limited time. Most flowers are chosen for their shape and generally what I think would make an interesting drawing.
Croydonist: What's been your most challenging piece of work? 
Melanie: Years ago I did a hoardings project in Weymouth and it was 170 metres long! I think I had a couple of weeks to paint it but it rained a lot so there was quite a bit of hanging around and waiting. A friend came and helped me for a day or 2 which was good fun but it was so physically exhausting. It was really satisfying to see it finished at the end though.
Croydonist: How long does a piece typically take you? 
Melanie: It depends on the size, materials and complexity of it really. I can finish a smaller work in a few hours but larger canvases can take up to 2 months. I don't paint the whole time, there's a lot of time looking and figuring out how to resolve it.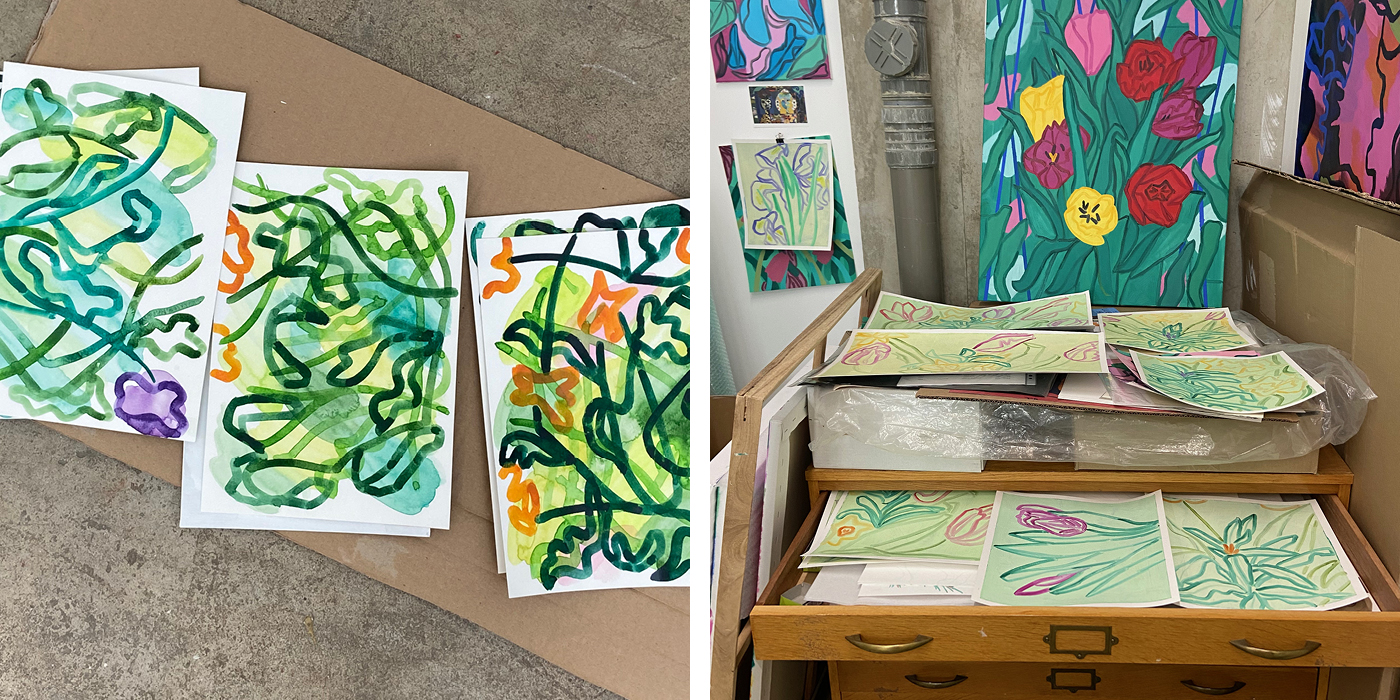 Croydonist: What's your process? Do you sketch work first, or do you go straight to paint? 
Melanie: I work from observational drawings in a sketchbook or sheets of paper pinned up in the studio. I use these as reference points rather than a plan of the painting.
With oil paintings I start by putting down quite gestural areas of colour using a wide brush, this is probably the most enjoyable part. Then I draw into the wet paint using the observational drawings as a guide. I let these first stages dry and then the next day or so I will react and add to the composition. There's a lot of painting things out and adding layers. I paint small areas at a time once the initial blocking in of colours is complete as I like working wet into wet paint. I really enjoy the dragged, soft line this creates.
Watercolour is a lot quicker, I still work from my drawings but it's a lot more playful as they're smaller works and on paper so I'm less precious about it. Also because of the nature of watercolour I want the work to look fresh and light in application so I tend to make more and edit out the pieces that don't work.
Croydonist: Classic interview question – if you had to invite 3 artists out for dinner (dead or alive) who would they be? 
Melanie: Oh that's so tricky! I'm just going with artists whose work I have always admired and have influenced me. Matisse, Kusama and Tal R.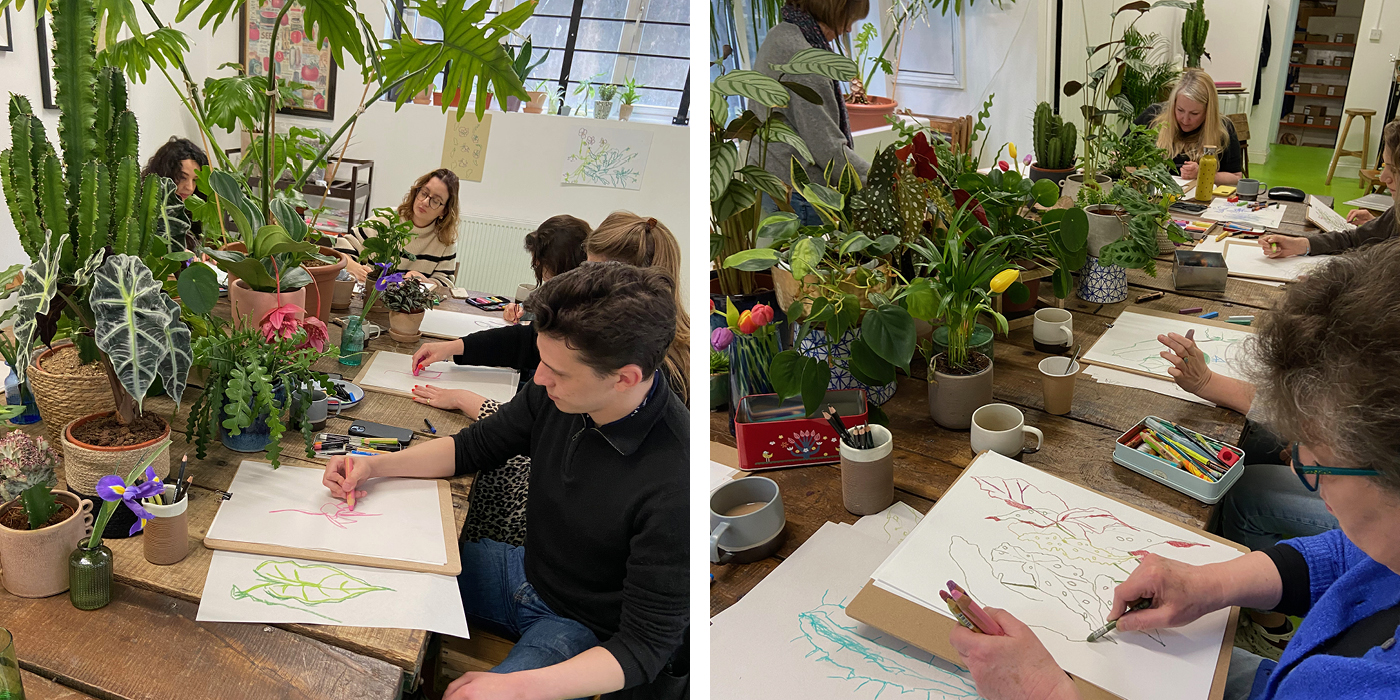 Croydonist: Tell us about your Look & Draw workshops? 
Melanie: My Look & Draw workshops are a 2 hour drawing session where participants of all abilities try some fun and experimental drawing exercises to encourage looking and to recognise and develop their own drawing language. My first sessions have taken place at Cornercopia Plant Store in Streatham Hill. They have a space downstairs called The Green Room. I set up a still life using a selection of the amazing plants from the store, these are the inspiration for the session. It's both relaxing and intense, everyone really concentrates and they go home with a stack of drawings.
Croydonist: What's next for you this year? 
Melanie: More workshops and I'm also doing a residency with another artist, Justine Formentelli at The Woodfield Pavilion on Tooting Common. We meet up weekly and draw on the common, observing and recording the seasonal changes. We have an exhibition in November/December and we'll run some drawing workshops too.
Croydonist: Finally, what's your favourite local spot for inspiration? 
Melanie: Locally, Norwood Grove and The White House is lovely, it's just next to Streatham Common and The Rookery. In lockdown I discovered Happy Valley and Farthing Downs which are stunning! They are full of wild flowers in the summer so I shall be heading there for some drawing soon.
Thanks to Melanie for chatting with us. See more of her work on her website and follow her on Instagram, Twitter and Facebook to find out more about her upcoming workshops.
All images courtesy of the artist.
Posted by Julia