This week we catch up with Jamal Chong who is artistic director of Croydon-based theatre company Misprint. You may remember Jamal's name from his days as artistic director and venue manager at Theatre Utopia when Matthews Yard was located just off Surrey Street Market.
Through Misprint Jamal has produced six professional shows and his seventh, 'Possibilities' opens next Tuesday, 10 August, at The Hope Theatre as part of this year's Camden Fringe Festival.
"There is this theory that we exist an infinite number of times. Where all possibilities are endless. And if that is the case, then perhaps one day we will meet again, as characters in a different story. And maybe then, we will share a lifetime."
Two people. Countless journeys. Infinite possibilities.
Intrigued? Read on to find out more…
Croydonist: First of all, Croydon native or convert and what area do you call home?
Jamal: Croydon native. Have been living here since 2000. I'm slowly becoming a bit of a nomad though, you'll find me all over London, be it for work or pleasure, and I do love Brighton too and being by the sea. Once things settle, I hope to take a few years out and travel the world.
Croydonist: How did you become an artistic director in theatre? 
Jamal: Very luckily actually. In 2015 we were invited to perform at Matthews Yard. This turned out to be Misprint's first professional production. The show was titled Up The Ante, which I also wrote. It was received well by audiences and got us a 4 star review. Upon seeing the space at Matthews Yard, I then managed to schedule a meeting with the owner, and one thing lead to another and before you know it, I was running the theatre space inside Matthews Yard, renamed Theatre Utopia. Our philosophy was "A Haven for Creativity" and that's exactly what we became. We offered a 50/50 box office split, as we believed in giving new and emerging theatre companies a fair chance, and to nurture the grassroots theatre scene in London.
Croydonist: Tell us some more about the principles behind Misprint?
Jamal: Our main ethos has always been; new writing, daring work and diverse casting. We've always wanted to produce work that one, we would love to watch ourselves, and two, that make our audiences have a reaction, be it an emotional connection, or investment in the story and character development.
Croydonist: Without giving too much away, can you give us an overview of your new show to whet our appetites? 
Jamal: The show is a blend of relationships and the theory of existing in multiple universes. We follow one couple as their relationship works backwards from breaking up to their first meet, and all the scenes in-between are different ways two people may know each other.
Croydonist: Tell us about the actors performing in the show?
Jamal: I've been lucky to work with two amazing actors, who will be performing on different nights of our Camden run. Georgia Rona, who is a ALRA graduate, is also a writer, and has experience onstage and in front of the camera. Julia Strowski was born in Berlin, Germany, but is also of Japanese heritage and is fluent in German, Japanese, French and English. She is also a strong dancer and violin player.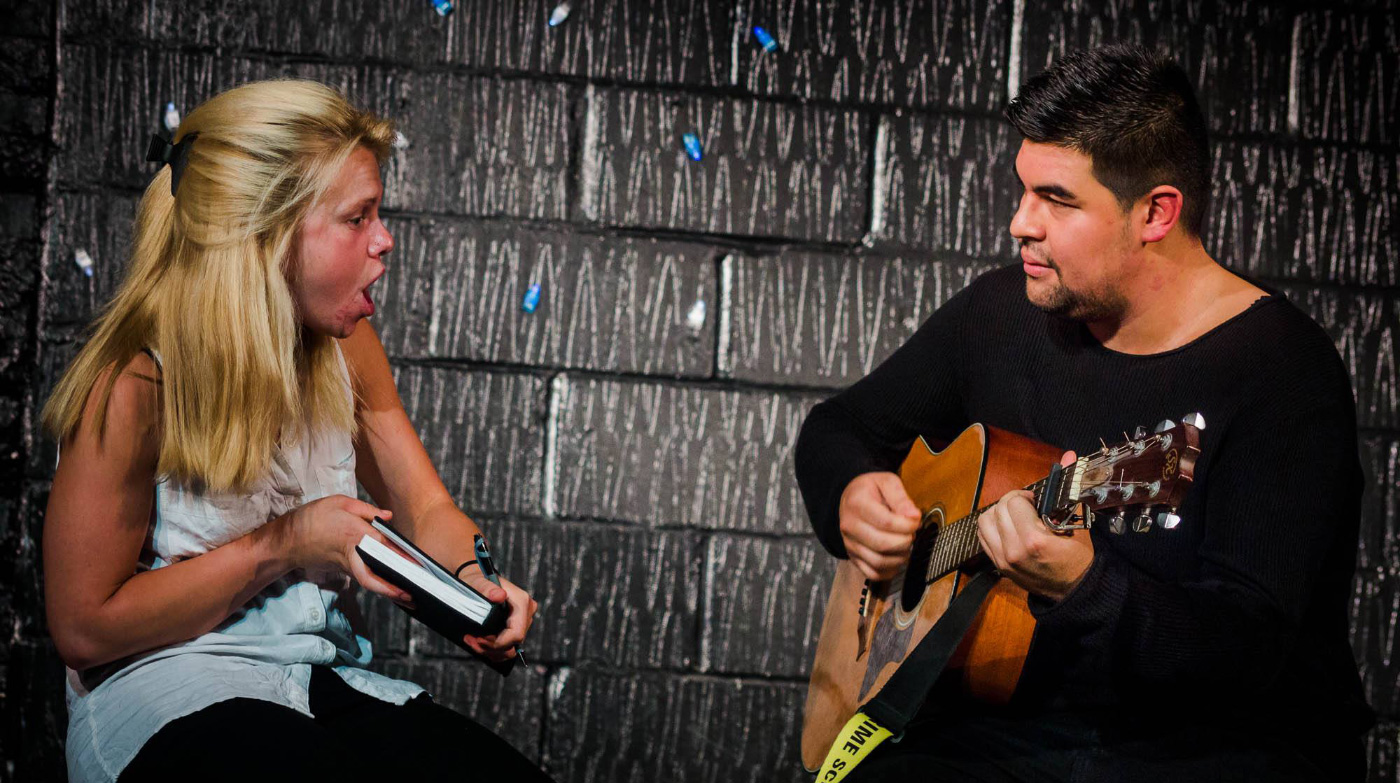 Croydonist: How long does it take to prepare for a show like this?
Jamal: Having performed the show before, but now with a rewrite, and it only being under an hour and only two actors, we only needed a few rehearsals. Both actors, Georgia and Julia are seriously talented and bring strong qualities to the role and production. They understood the play straight away, so rehearsals have been very easy, they've helped direct too and brought many ideas to the table. We were lucky enough to use the upstairs area of The Green Dragon in Croydon to rehearse, which we've been doing online and in person for just over 6 weeks now.
Croydonist: Will you be bringing the show to Croydon?
Jamal: I've performed the show in Croydon before, at Theatre Utopia. I have a couple of other shows I'd love to bring to Croydon audiences, however the issue at the moment is lack of performance venues that cater for Fringe theatre, which is basically the grassroots and starting point for theatre productions. If we still had a venue like Theatre Utopia, I would bring more productions to Croydon audiences.
Croydonist: Where do you go in Croydon for inspiration?
Jamal: Croydon is full of amazing greenery and spots for walks alongside nature, that bring an element of calmness and inspiration.
Croydonist: After The Camden Fringe what's next for you this year?
Jamal: I have a comedy show, Pigs In Blankets, a send-up to those 1970's American detective TV shows and movies I grew up watching, and also a drama; Christmas In August, dealing with the acceptance of a terminal illness, and the aftermath is brings, that I am currently writing, and would love to perform both this year if possible. I am currently in talks with a couple venues.
Thanks to Jamal for chatting with us.

Possibilities is on at The Hope Theatre as part of this year's Camden Fringe Festival from 10–15 August at 8:30pm. You can book tickets here. Check out the trailer here.
Keep up to date with Misprint's upcoming productions on their Facebook page.
Photos courtesy of Misprint. Possibilities rehearsal photos by Fluid4Sight. Header image: Possibilities poster adapted by the Croydonist with photo by Andy Holmes.
Posted by Julia