What better way to start the new year than with some new art? We've been quite taken by some new artworks we've seen around town (digitally and physically) created by design duo Samantha Warren and Danni Livett – better known as 'Scene In Croydon'. We catch up with the pair for a chat about their inspirations and how they create their work.
Croydonist: First of all, are you Croydon natives or converts, and whereabouts in the borough do you call home?
Samantha: I'm a born and bred South Londoner. I grew up in Tooting and bought my first property in Thornton Heath with my husband. I spent a lot of my youth in Croydon; shopping, visiting family and Water Palace and Toys 'R' Us were the places to be as a kid. My first job when I was a teen was at the Warehouse concession in Debenhams and Metropol was my first clubbing experience.
Danni: Originally from Sussex, I moved to Croydon when my partner Alberto and I were ready to buy a house. We have lived here for three years now and bought a house between Waddon and South Croydon. We absolutely love it here, it's only an hour's drive to see my family, really easy to commute into London for work and close to Gatwick for when we go back to Italy to visit my partner's family.
Croydonist: How did the two of you meet, and how did the idea for Scene In Croydon come about?
Danni: We met at the Marks and Spencer head office where we both freelanced as print designers.
Funny story actually, I was making a coffee one day at work and Sam came over to me in her friendly manner and started chatting to me like we knew each other. I played along with the conversation for a bit, hoping I would place how we knew each other but eventually had to admit that I didn't think that we had actually met but that I thought she was great and that I'd like to be friends. We have been friends ever since! Haha!
Sam bought her place in Croydon before me and when Sam saw that I was house hunting in the area, she got in touch to help advise and even came along to some of our viewings with us. I'm so glad we chose Croydon, it's such an exciting place to live.
Sam and I regularly meet up for coffee and one day we were discussing how we would really like to have a Croydon artwork in our new homes. We realised that our design skills could be translated into creating prints of Croydon that celebrate the incredible architecture, culture and community this area has.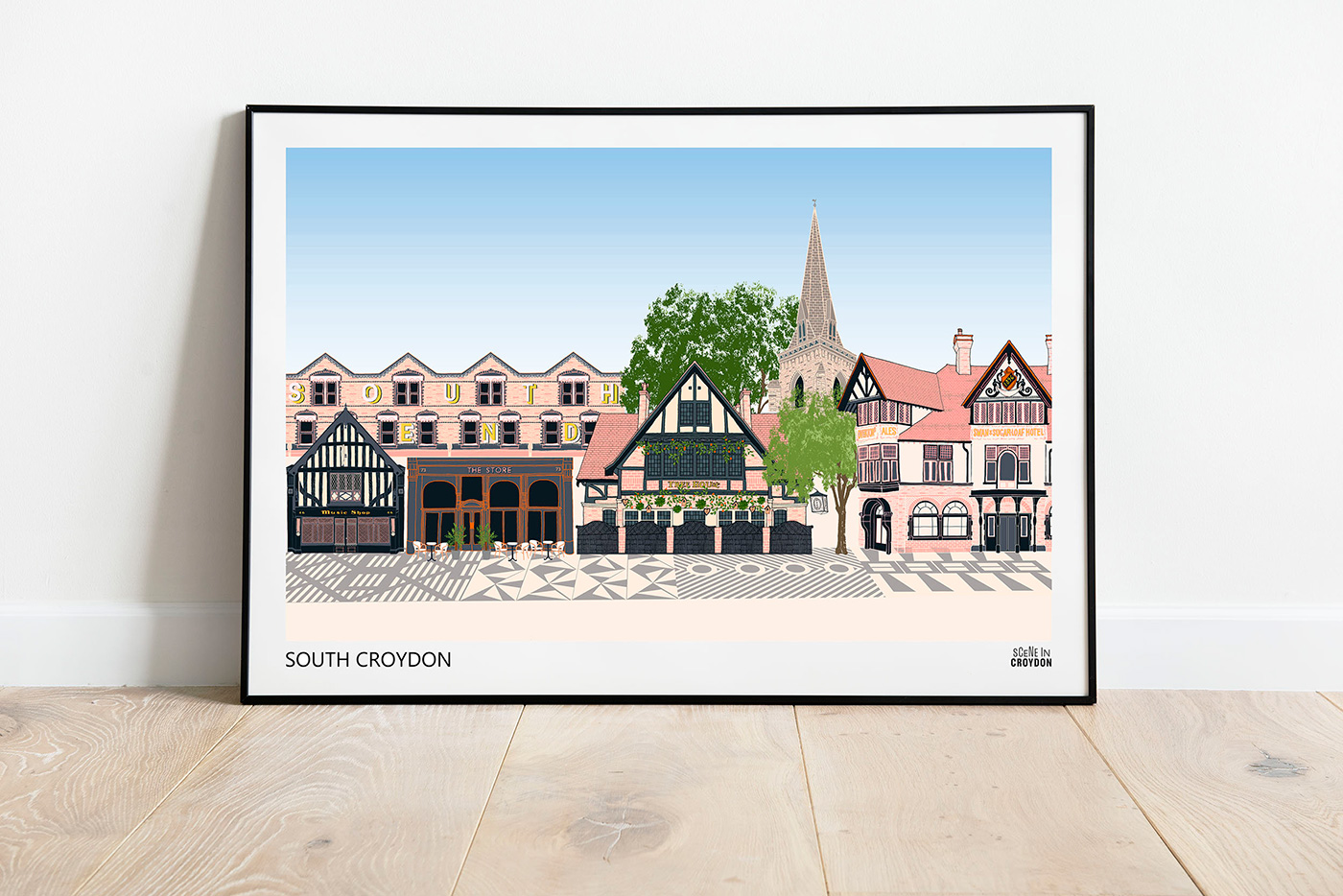 Croydonist: As you're a duo, how do you create your work?
Danni: Sam has a studio space in West Croydon where we meet up to work and catch up on how we are getting on. We like to brainstorm first, go out sketching, take photos and soak up the essence of a place before we can start designing. I design from my home studio and we regularly update the other on how we're getting on.
Samantha: We started with the Thornton Heath and South Croydon artworks and developed the other central Croydon locations (East Croydon, West Croydon, a collaged piece and a Clocktower artwork). Out of the six designs we currently offer, two have been designed solely by Danni, two by myself, and the other two are collaborative efforts.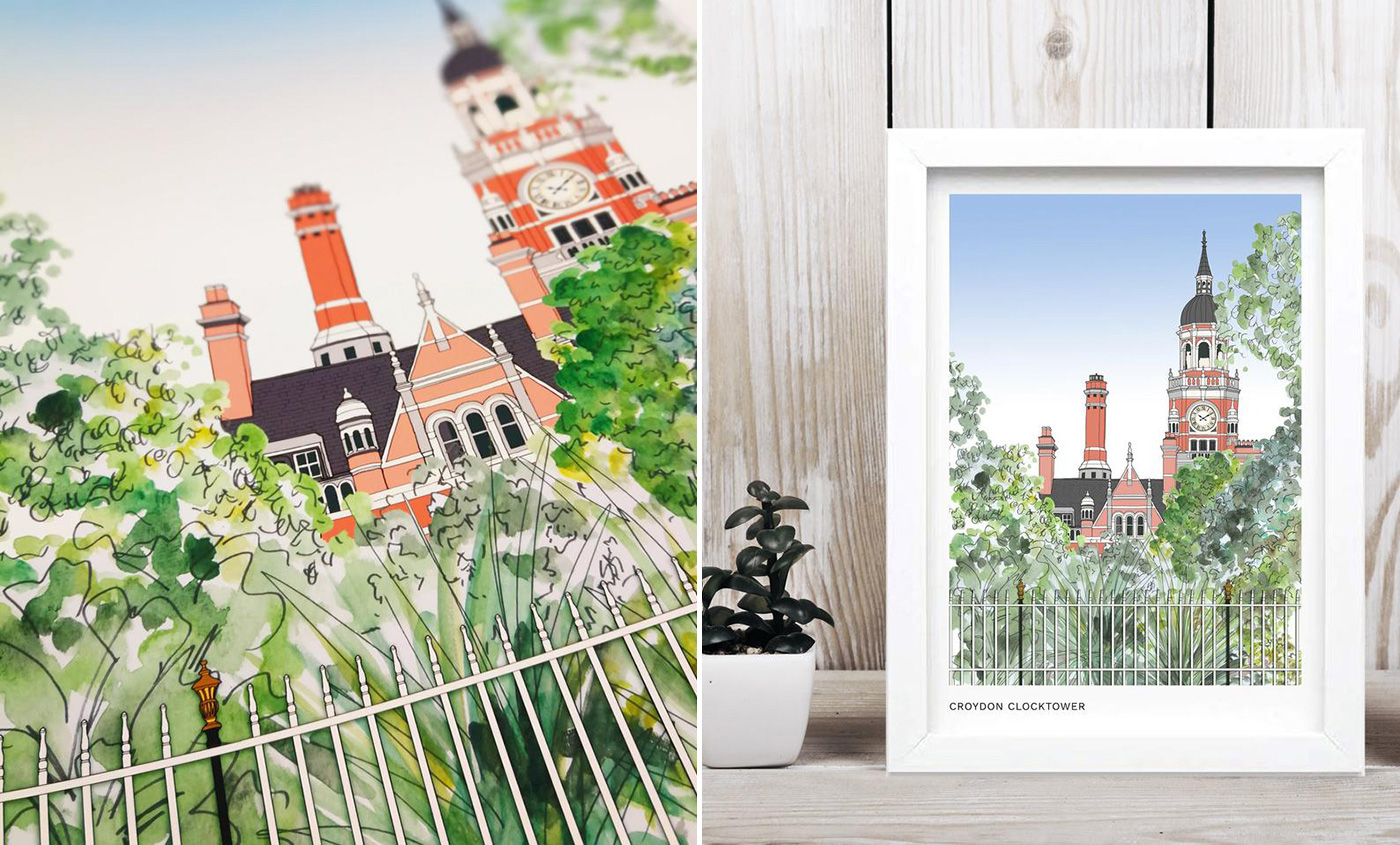 Croydonist: How long does a piece typically take you?
Samantha: From research to completion, about 2-3 weeks on and off. Initially, we visit a location, sit and absorb the surroundings, take photos and make quick sketches. We then go back for further research, different angles, get a better feel for the area and develop our sketches. The next stage is to scan in our drawings and download our photos to work from. We use Photoshop to continue designing, play with colour, scale and composition. It's always nice to come back to a design with fresh eyes so we tend to work in stages, leaving the design for a couple of days before continuing to work on it.
Croydonist: Will you be expanding your collection this year, and any hints at where you're depicting next?
Danni: Absolutely and can't wait to get started! Since we launched we have had some great feedback from local residents, either from the markets we've attended, social media, the first floor space exhibition and Made in Croydon Christmas chalet. We definitely want to take these ideas on board, from other Croydon location requests to specific landmarks too.
Samantha: Yes, we can't wait to design more. As Danni mentioned, we've received requests which we take note of, and have a few sites on our list including Norbury and South Norwood and more outdoor spaces.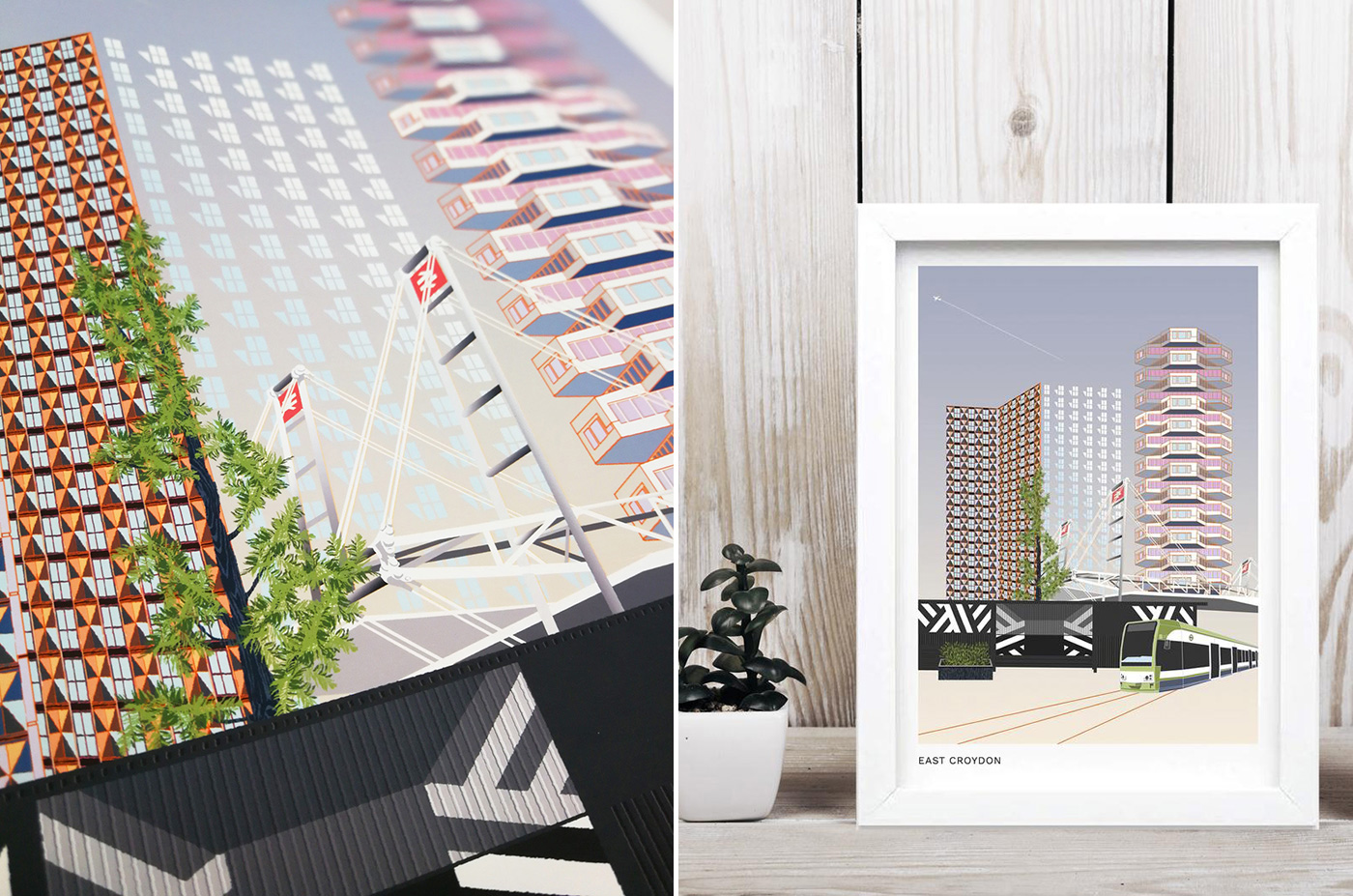 Croydonist: Classic interview question – if you had to invite 3 creatives to a dinner party who would they be?
Danni:
Banksy – artist.
I would be fascinated to meet him/her?! Banksy's artistic statements are so clever and the pop up installation store in Croydon was absolutely incredible!
David Hockney – artist
What an incredible talent. I'd love to learn more about his life and inspirations. His use of colour and composition certainly inspires me.
Phoebe Waller-Bridge – actress/screenwriter
The most hilarious woman, so clever, creative and quick-witted! I'd love to hang out with her!
Samantha:
That's a very hard question. I went down a rabbit hole of lots of people but I'll go with the first few who came to mind.
Both of my grandma's were creative with knitting and weaving. It would be lovely to sit with them and create as it's something I never got to do. Sorry I cheated, can both grandma's count as one guest?
I also choose my brother Mark Warren. He's a very talented architect and growing up, we would love nothing more than letting our imaginations run wild and come up with crazy ideas and inventions. We feed off each other's energy and I know he'd like to hang out with the grandma's too.
And, as it's dinner, I have to pick Heston Blumenthal (who I will cheekily ask to cook).
Croydonist: Where do you go in Croydon for inspiration?
Danni: All over really. I love that you can just wander around Croydon and stumble across some beautiful architecture or an incredible piece of street art. Just look up! So many of the shops/bars in central Croydon are really stunning if you just look above them. There is so much creative talent in the area it's impossible not to get inspired.
Samantha: I live, work and spend a lot of my time in Croydon. I don't go out particularly to hunt for inspiration. I like to stroll, taking time to stop, keeping my ears and eyes open.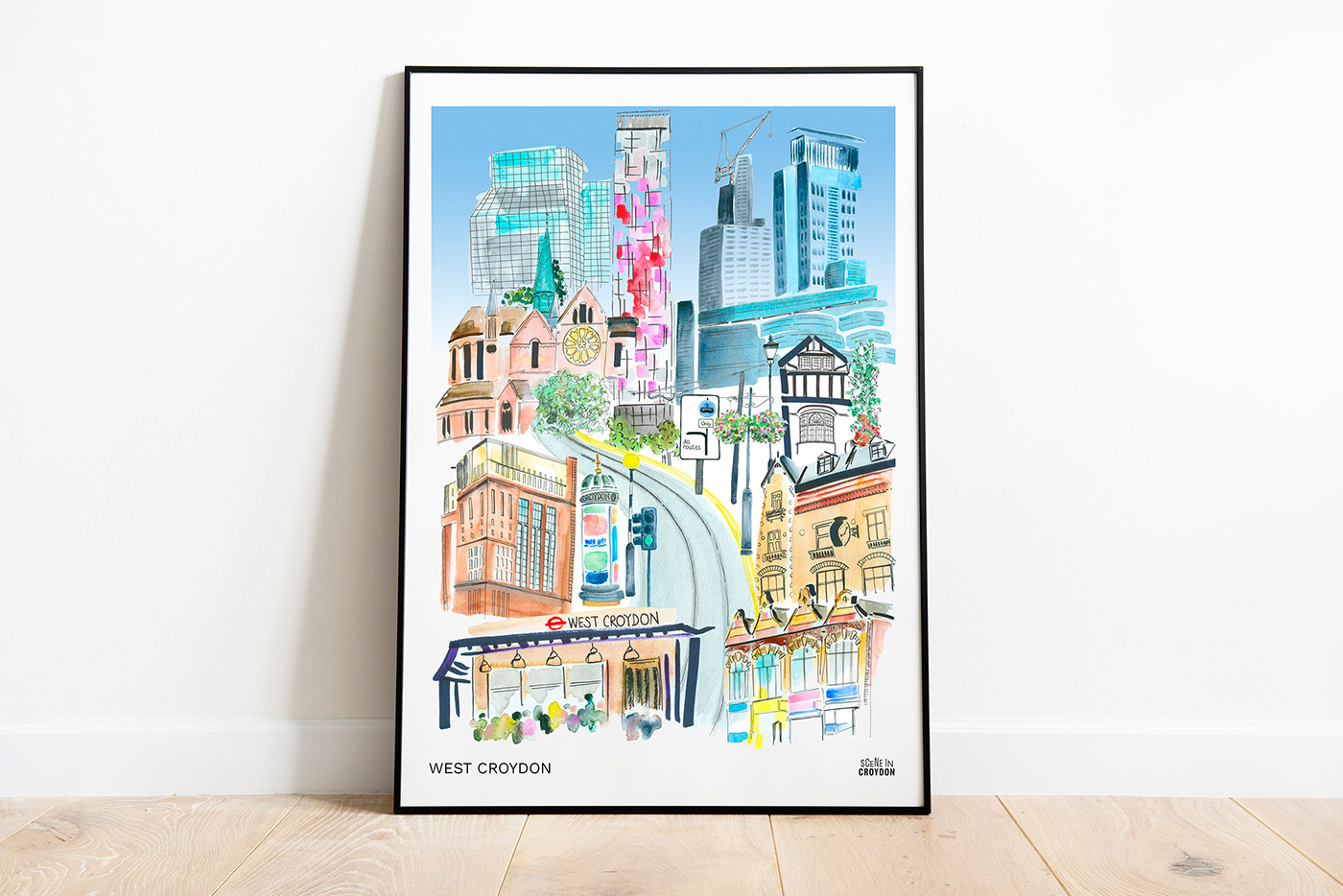 Croydonist: What's your favourite location in Croydon and why?
Samantha: Oak Farm Barns, as that's where I got married. The Croydon Clocktower too as it's a beautiful building and I spent my teenage years and early 20's in the library researching for my A Levels and uni work. The Museum of Croydon is also located in the Clocktower, and if you haven't been, you should. The history of Croydon is fascinating. I recently visited the Croydon Airport which is incredible. It's the first air traffic control in the world and the first airport in UK. I spent half a day oogling over the old photos and documents, it really was something. Take time to speak to the knowledgeable volunteers too who speak enthusiastically about the airport and its history. The first aeroplane seats were wicker chairs, unfixed to the floor, and every customer had to be weighed and sat according to where weight needed to be distributed. It's crazy to think how different Croydon would be today had the airport not closed in 1959. I (now) love Surrey St market for their huge range of fruit and veg. I used to hate my mum dragging me here as a child, but I can get all my veg to make my favourite Filipino dishes. I love the Farthing Downs and Happy Valley too and need to make more time to visit the fantastic outdoor spaces in Croydon.
Danni: Hmm, so many places to choose from. For food, I love to go to The Store in South Croydon for one of their famous brunches or Sunday roasts. (The tiles and decor are pretty amazing in there too) To chill out I like to go for a walk in Lloyds Park. It's a great place to unwind and relax.
Croydonist: You popped up on the Croydon scene (excuse the pun) last autumn, and have already taken part in a group show at First Floor Space. What are your plans for this year?
Danni: We have been overwhelmed with the really positive reaction that we have had with Scene in Croydon so far and hope to continue this success into the new year. We definitely want to create more prints of the area, including looking at the parks and green spaces Croydon has to offer. We also want to get involved in more creative markets and pop ups in the local area.
Samantha: Never excuse a pun:) Aside from expanding our range, we plan to continue celebrating Croydon with our artwork and get more involved with events, including running workshops to share our design skills. There's a lot of positive energy in the area and I think finally the bad rep Croydon has had is starting to shift. Many people talk about moving from Croydon and going on to do great things, but Croydon is where great things are happening and we should celebrate this. This is what we hope to do with our work – celebrate Croydon and bring colour and pattern to an area which has been dubbed the dull concrete city for far too long.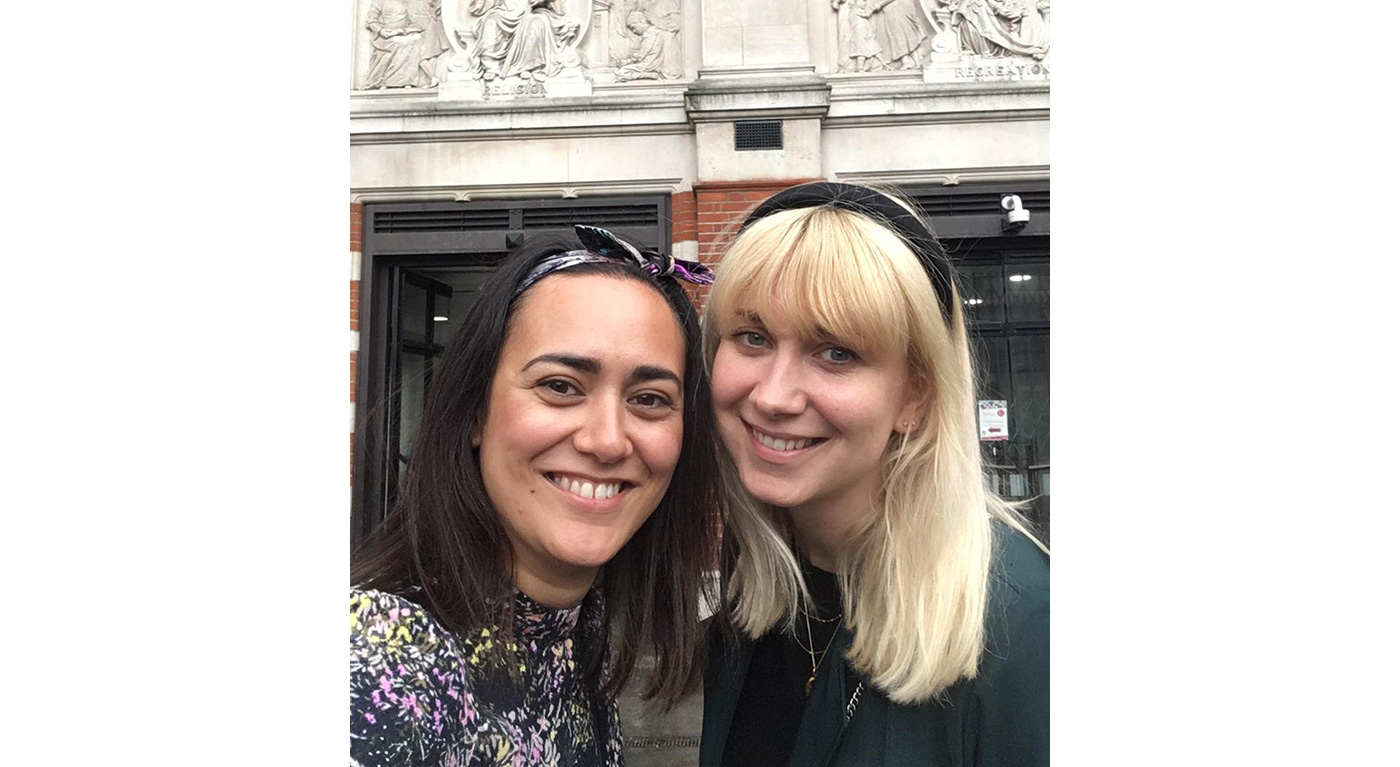 Thanks to Danni and Samantha for chatting with us. Keep an eye out on their social pages for the latest updates: Instagram, Twitter and Facebook: @sceneincroydon
Their artwork is available on Etsy.
All images courtesy of Scene In Croydon.
Posted by Julia