Summer may have come to an end but in the words of Nancy Sinatra, the beat goes on. You'll remember dear readers, a few weeks back, the announcement that Croydon is the capital of music. Fact not fiction, as it's based on some nifty research by Pringles who enlisted global music streaming service Deezer and music journalist Robbie Wojociechowski to research the hometowns of the UK's most streamed artists and find out the country's differing musical tastes.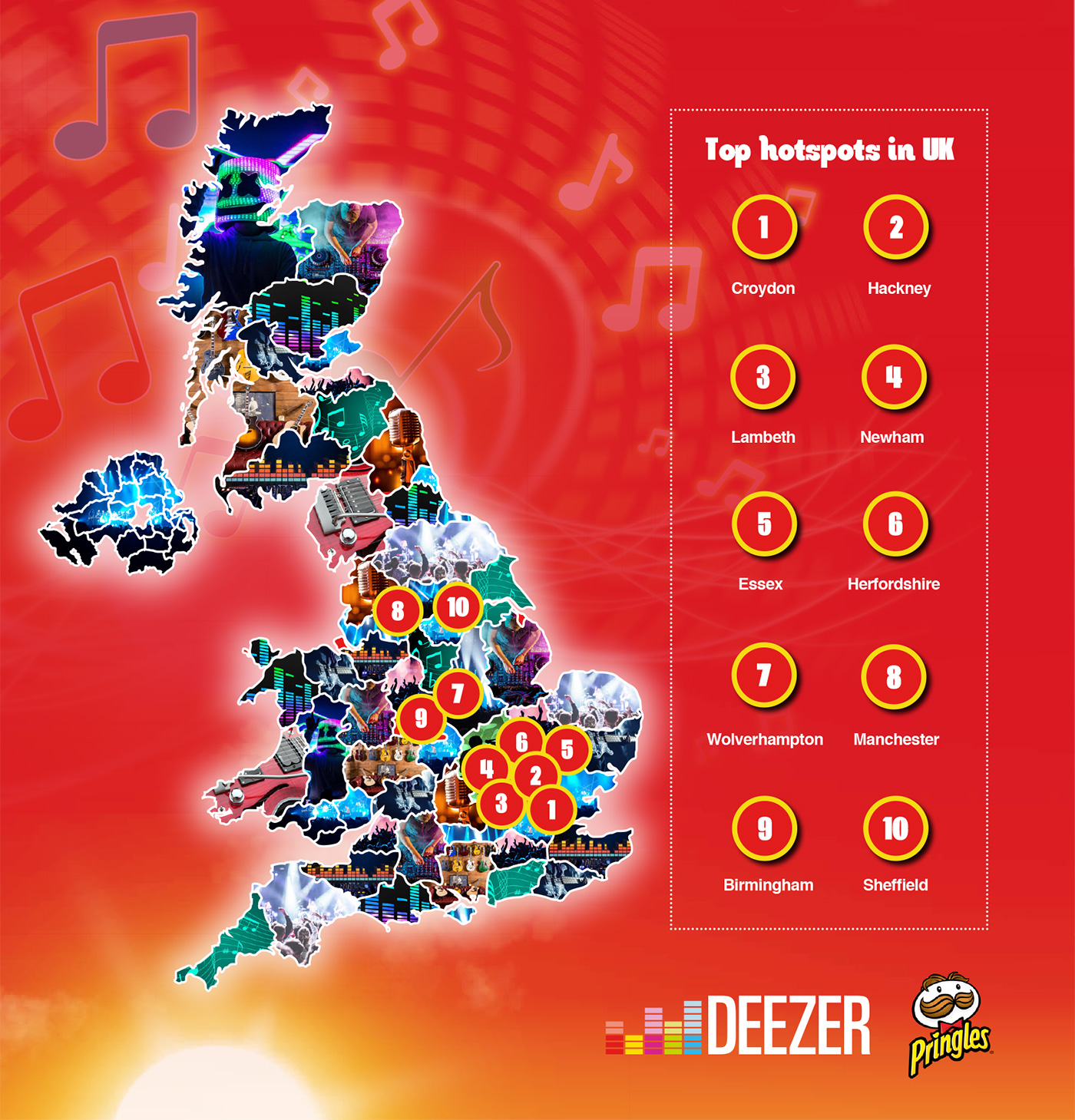 It was another piece of good news putting Croydon well and truly back on the music map, where it belongs. Birthplace of punk, the roots of dubstep, and now the hot bed of grime and rap artists. Before we get onto our hot picks from the Deezer list, it's also worth noting that guitar music is still very much alive and kicking in our borough.
The Scream Lounge in South Croydon is not only a really cool rehearsal space, but also puts on bands for your listening pleasure for only a few of your well earned pounds. Not forgetting our beloved Oval Tavern, where you'll be able to catch anything from jazz to marching bands and almost always for free. If the harder edge of rock is your cup of tea, then keep the weekend of the 3-4 November free for Croydon Rocks at the Croydon Conference Centre. 19 bands over two days and all for the bargain price of £35 (or 20 quid for a day ticket). Bands include Ginger Wildheart, Junkyard and The Weird Things.
Right, back to this Cronx hot list. It's packed with talent, some of which we have featured in the past (read more here about Stormzy and Kirsty MacColl). To celebrate Croydon's musical crown, Pringles created a special platinum Pringles can and presented it to Nadia Rose (more on her in a sec). And are these special cans for sale I hear you ask… well you did actually ask us on social, and the answer is, unfortunately not. Sorry kids!
So, without further delay. Here's the lowdown on some of the artists with the Croydon connection who helped put us as the country's number one.
Benga
A pioneer from the musical realms of dubstep. This Croydon-born artist started making a name for himself from the early age of 15, constructing tunes using a PlayStation. Smart kid! Anyway he got his break from the legendary record store in Croydon, Big Apple, which also ran a label. For those who don't know, ex-employees of this record store include some pretty impressive names including Skream and Hatcha, and if you want to checkout the Big Apple archives, head on over to their Facebook page here. It's impressive.
Anyway, Benga was one of the first dubstep producers when the style was emerging. His work has been featured on many a compilation including BBC Radio 1Xtranniversary mix.
Nadia Rose
Signed to a major label, this lady isn't just clued up on the writing front of some pretty awesome rap music, but she also studied music management at university so is well versed in the business side of the industry too. She was on the shortlist of the BBC's sound of 2017. Did you know that during her studies she also worked in one of Croydon's many betting shops and used to write lyrics on the back of betting slips? Well you do now! Nadia Rose is still only 25 and has a bright future ahead of her for sure. She's already huge on the scene and if you have a listen to her music, you'll understand why. Rhyme stacks, pop culture references, humour and clever musical structures keep your ears hooked.
Nadia says of her success: "At 13 I started writing and MC'ing, taking part in rap battles with other local kids. It seemed for a while that, as a woman, I'd have to fight harder to break into the industry – but surrounded by other budding artists from the area definitely fueled me to get to where I am today." And check out the familiar video location here:
Krept and Konan
A rap duo who hail from Gipsy Hill and Thornton Heath, they are signed to Virgin EMI Records – their debut album, The Long Way Home (2015) entering the UK charts at number 2. Using punchlines and metaphors to weave their way into your musical consciousness this duo are proving to be pretty unstoppable since their rise to fame in 2011. Their break came with the release of a Jay-X and Kanye West cover which reached over 5 million views in just 5 days! The Jay-z legal camp were none too pleased and had the video removed. Boo hiss!
RAYE
Ok, she isn't Croydon born, but moved here when she studied at Woodcote High School and later went on to the Brit School. She's a singer-songwriter who, like Nadia Rose, was shortlisted for the BBC Music Sound of award. Her single with Jax Jones 'You Don't Know Me' peaked at number 3 in the UK charts with rave reviews and a reputation for spellbinding live performances. In fact she has a single out now and is touring, so why not grab a ticket and check it out for yourself. RAYE's next London date is at Camden' KOKO on the 6 November.
Frankmusik
Now I love a bit of Synth pop from time to time and what better artist to send my pulse into a dancing frenzy than Thornton Heath born Vincent Turner (aka Frankmusik). With remixes under his belt for the likes of Lady Gaga 'Eh Eh nothing else to say' and Pet Shop Boys 'Love Etc' you really get a feel for this guy's skills and musical vision. This becomes even clearer when you listen to the cover version to CSS 'Move' and a favourite of mine, 'Such great heights' by Postal Service.
Ok this isn't the complete list from Deezer and Pringles – we could have also mentioned The Kooks, Katie Melua, Dane Bowers, Kate Nash and Swift. There's so much Croydon musical talent out there – the artists emerging from the Brit School could be a book alone. In short, we've given you our top picks of current movers and shakers that we should be proud of. They came from Croydon soil. They started their careers here and they certainly won't be the last.
So here's to Croydon for just being so blooming rich in talent and to Pringles and Deezer for recognising that and singing out about it.
If you want to relive some of our recent sunny days you can listen to Deezer's summer playlist here.
Posted by Angela