The sun is out (hopefully at time of reading) and our Croydon summer is in full swing. This weekend sees a double bill of free festival fun at Wandle Park, with the borough's fourth Croydon PrideFest (and second largest London Pride event) happening on Saturday, and Croydon Mela returning for a third year on Sunday.
With both established festivals celebrating inclusivity (as well as being completely free to attend), we take a look at some of the highlights to whet your appetites.
Saturday 13 July: Croydon Pridefest 2019
This year's PrideFest builds on the success of previous years – the annual parade from the town centre takes us back to Wandle Park for a second summer, but this time with not one but three stages – expect music, cabaret, spoken word, physical theatre, visual arts, community events and more.
This year the festival also has three hosts – award-winning British/Nigerian drag artist Son of a tutu, cabaret artist Danny Beard and Britain's first out Muslim drag queen, Asifa Lahore. Make sure you check out Asifa's official Croydon Pride Anthem below – and see if you can spot yourself in the video!
There is a whole host of awesome events happening throughout the afternoon and evening, with of course refreshments on site to sustain us.
We're very excited to see the London Mozart Players on the main stage (shamefully never having seen them perform before). Described as the UK's longest established chamber orchestra, with an outstanding reputation for adventurous, ambitious programming, we like to think of them as an orchestra with an edge, with Croydon rooftop performances and DJ collabs at Boxpark in recent years this saturday they will be partnering with Croydon artists, including Afrobeats artist Silvastone, hip hop duo Graver Ekow, and the folktronic sounds of Mee and the Band, for what is sure to be an unmissable performance.
There are some thought-provoking events happening in the new Community tent. We'll be interested in heading to the poetry workshop by Thornton Heath linked organisation, Well Versed Ink, as well as seeing the brand new physical theatre performance, Tutu Trouble, choreographed by Vinicius Salles (of Croydonites fame).
The main stage is headlined by David McAlmont (aka the Croydon choirboy). David is best known for some chart smashes such as Yes with Suede's Bernard Butler, but on Saturday he'll be wowing the crowd with his flamboyant persona whilst performing some legendary hits.
Of course there are a few PrideFest faves returning including Croydon indie punk band Bugeye and the incredible Abalicious (AKA the UK's number one Abba Tribute Band). Both Croydon College and Brit School students will also be performing.
This really is only the tip of the iceberg of the fantastic PrideFest programme so please do check out the full line-up here to plan your day. Oh and don't forget the after party…
Sunday 14 July: Croydon Mela 2019
You have sunday morning for a much needed lie-in after Pride's festivities, in order to feel refreshed and ready to go for the opening of Mela at 1pm.
For those of you unfamiliar with Mela, it's a festival celebrating the culture of Croydon's diverse Asian communities – expect music, dance, performances, community arts groups, craft stalls, refreshments and more. If you're a word nerd like me, you'll be interested to know that Mela means 'gathering' in Sanskrit.
This year's mela has been programmed by three women, which is unusual in more traditional Mela festivals, and indeed the festival is not just for the borough's Asian communities but for everyone to enjoy.
The Mela programme also takes place over three stages.
On the main stage DJ Ritu, presenter of the UK's definitive global music show, A World in London performs throughout the day. She's obviously a lady with stamina as she is also DJing on the Cabaret Stage at PrideFest on Saturday.
Festival regular and Croydon-based band Stunflower (think psychedelic rock, funk, Mantra-rock, reggae, soul, blues blended together) take to the main stage mid-afternoon to get us in the mood for more musical artists including Carnatic Rock / Progressive Carnatic Fusion band Project MishraM, joined by British violinist Alice Barron and the stage headlier Bhangramuffin/Reggae Fusion artist Apache Indian (you're likely to know his hit single Boomshakalak which is featured in several Hollywood movies).
The Dance Dhamaka stage is dedicated entirely to dance with interactive sessions for the audience. And let's not forget that Croydon Mela will be remaking the YouTube mega dance hit "Rowdy Baby" from the film "Maari 2" with sessions throughout the day – why not get a head start on learning the dance steps below.
Again this is just a small glimpse of what will be happening – check out the full line-up here.
Here's hoping you have a quiet day at work on monday 15 July, as it'll certainly be a mega Wandle weekender. We hope to see you there.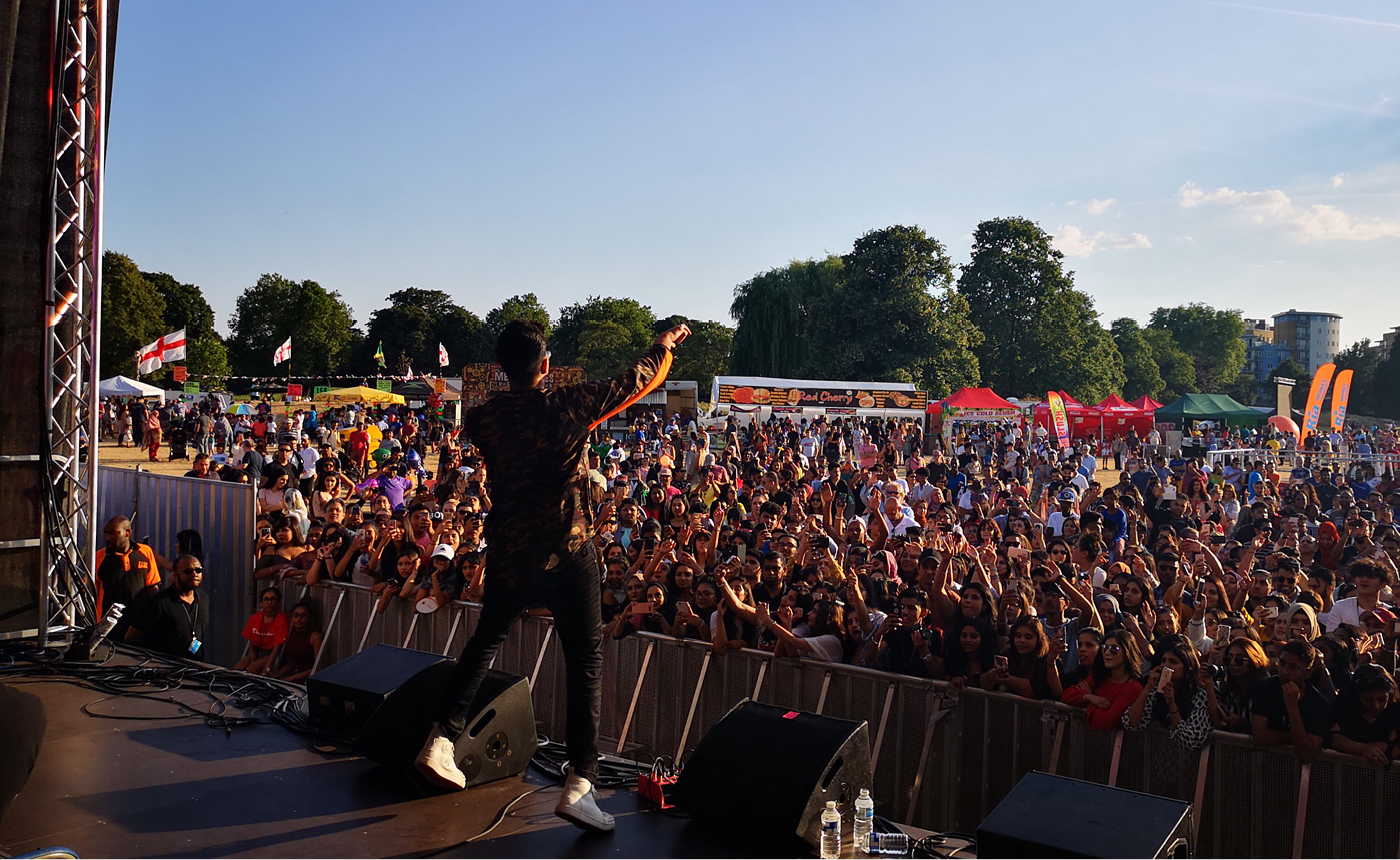 Croydon PrideFest starts takes place from 12 noon until 9.30pm, this Saturday, 13 July. The annual parade starts at noon outside M&S on North End and celebrations begin in Wandle Park at the same time.  
Croydon Mela takes place from 1-8pm this Sunday, 14 July in Wandle Park.
Header image Photo by Sharon McCutcheon from Pexels. Other images courtesy of Croydon PrideFest and Croydon Mela. 
Posted by Julia