This week we chat with local artist and curator Rosie Crane Eckmire ahead of her Pill packet pottery workshop this Saturday, 10 September, which explores the therapeutic properties of clay. The workshop at Turf Projects forms part of this year's Antiuniversity festival.
Croydonist: First of all, Croydon native or convert, and what area do you call home?
Rosie: I'm a third generation Croydoner, born and bred! I've lived abroad and across south east London, but my family now live in Coulsdon, and I now live five minutes away from my childhood home, in Selhurst.
Croydonist: Tell us more about the Pill Packet Workshop you're running this saturday.
Rosie: It's an opportunity for anyone who wants to explore the therapeutic properties of clay to come and have a chat about the long-term use of medication and all that comes with it. I'll share some basic clay building techniques, and we'll experiment with the technique of mark making with pill packets. Everyone is encouraged to bring along their old pill packets and an open mind to discuss our experiences of using medication for chronic mental or physical health issues. I'm interested to share one of my coping mechanisms, which is pottery, and to hear other people's thoughts about the use of pharmaceuticals. The workshop is primarily for people experiencing long-term health issues but as with the rest of the Antiuniversity Festival it's open to all with an open mind!
Croydonist: How did you get involved in Antiuniversity?
Rosie: When I first started out working in the arts, I was applying for opportunities everywhere I could, and just not getting anywhere. I hadn't gone to uni, and had no real experience or much of a portfolio to show. I discovered Antiuniversity and decided to run a workshop on intuitive art as therapy. It was great because I had total freedom over the project I ran and there were no fees or hoops to jump through to participate. The workshop was great, it was a great opportunity to meet like minded people, create some artwork, and do some firsthand research on what kind of art I wanted to make and share. I've attended or ran workshops as part of the festival every year since.
Croydonist: You are a multidisciplinary artist, curator and a programme lead at Turf Projects. How did you get to where you are today?
Rosie: I started volunteering at Turf during my foundation year at Croydon School of Art and have been involved with them ever since! I wouldn't be working in the arts, or maybe working at all, if it wasn't for their support. After leaving education at 18, I just kept making art and looking for opportunities, making my own when I could! That's why Antiuni is so great – I didn't need any experience, just 'an interesting idea and an openness to share it with others in a collaborative way'.
From there, I realised I'm just as interested in making other people's art projects happen as sharing my own work (if not more so!). I started putting together exhibitions and events to share other people's work, and then started getting paid for it – things are starting to pick up again after the pandemic too which is amazing.
Croydonist: What inspires you to create your work?
Rosie: I'm a big believer in art and creativity as therapy, and have used art for years to work through trauma and express difficult feelings. I've been experimenting with pottery for the past year or so, as I find the texture and the process very calming. I use old pill packets that I've been collecting to make textures in the clay and I make a pot or mug with every pill packet that I finish – every piece is different and a bit wonky in its own way! I've been on and off meds since my teenage years and have always used art to work through the complicated feelings I have about that and my wider health issues. Sometimes I get really resentful that I'm so tied to these tiny white pills controlling so much of my life, and making something decorative or functional makes me feel like I have a bit of control over that.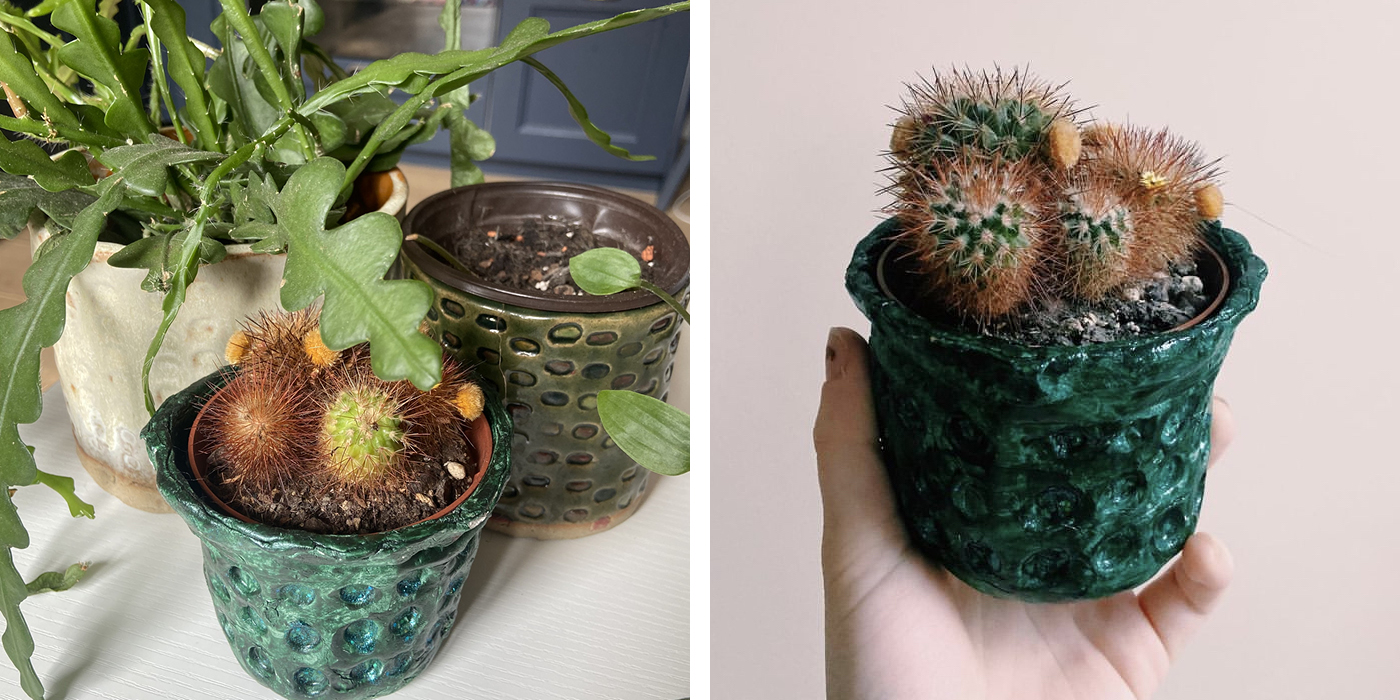 Croydonist: What's your process when creating a new artwork?
Rosie: It's different every time. With larger projects, I spend a lottttt of time thinking about them before they come to any sort of fruition. Like with my pill packet pottery, I've been thinking about medication for psychiatric use for a long time before making art with it, and longer before it translated over to pottery. With other works, like poetry or illustrations, I'll jot them down on the train or on a work break without even thinking about it. Creating is a compulsion for me, I'm glad I get to be surrounded by art every day in my work, but even if I didn't I'd be writing, drawing, and making every day anyways!
Croydonist: Classic interview question – if you had to invite 3 creatives out for a drink (dead or alive) who would they be?
Rosie: First would be David Bowie, as I've been obsessed with him for as long as I can remember! Another is Douglas Coupland, my favourite author, who inspired me a lot as a teenager. Actually, one of his articles was what got me thinking about psychiatric medication to begin with. Then I'd want to invite my old art history teacher, who introduced me to so many inspiring contemporary artists, and chat with her about where we both are now!
Croydonist: Favourite spot in Croydon for inspiration?
Rosie: I spend a lot of time in the Whitgift Centre and I love the glass roof of it… I'm inspired a lot at the moment by all the tall buildings and the patterns that the windows make. It's sad to see Croydon change so much from how I knew it as a kid, and I'm not always a fan of the new builds, but there's something satisfying in the geometry of the architecture.
Croydonist: After Antiuniversity what's next for you this year? 
Rosie: We've got a lot coming up at Turf to be excited about, and I've been quietly working on a solo showcase of poetry and illustrations, which will be the first. And of course more pottery time – I'm hoping to get my shop online by the end of the year, and use the sales to fund more therapeutic workshops.
Thank you to Rosie for chatting with us.
Rosie's Pill Packet Pottery Workshop is at Turf Projects this Saturday, 10 September between 3 and 4.30pm.There are still a few tickets left (at time of writing). It's free to attend but you must register for your ticket here.
Find out more about Rosie's work on her website, Twitter and Instagram. Find out more about Antiuniversity on their website, Twitter and Instagram.
Images courtesy of Rosie.
Posted by Julia