Earlier this week we headed to Thornton Heath Library for the launch of the Rural Croydon exhibition by artist, photographer and writer Ameena Rojee.
Commissioned by This Is Croydon in partnership with The National Gallery, Ameena has been documenting the wilder parts of Croydon over the past few months, from roaming sheep and cattle, to charming meadows, and rare wildflowers in green spaces across our borough, where conservation grazing* takes place.
What does this have to do with The National Gallery  you may wonder? Well, Ameena's Rural Croydon commission has been timed to coincide with the Croydon leg of a national tour of the famous Constable painting, The Cornfield, which usually resides in The National Gallery. A painting which itself depicts a rural British landscape similar to those Ameena has been photographing, it is fitting that Rural Croydon is exhibited at the same time as The Cornfield in the library. You'll have to be quick to catch the Constable as it's only in Thornton Heath until this Sunday (9 July) whereas you can visit the Rural Croydon exhibition until 31 July.

I had never visited Thornton Heath Library before this week, and their two-storey space is great for an exhibition. Ameena's images haven't simply been hung on a wall but have been integrated into the fabric of the building. I particularly enjoyed the juxtaposition of some of the images on windows next to the library's community garden as well as contrasted against the raw brickwork in the corridors.
We have had the pleasure of working with Ameena in the past few weeks on the project website (in our day job as 31% Wool) alongside Croydon-based illustrator Skye Baker who has created a beautiful map for Rural Croydon. Through the map you can find out more about the project and the 'rural' locations documented.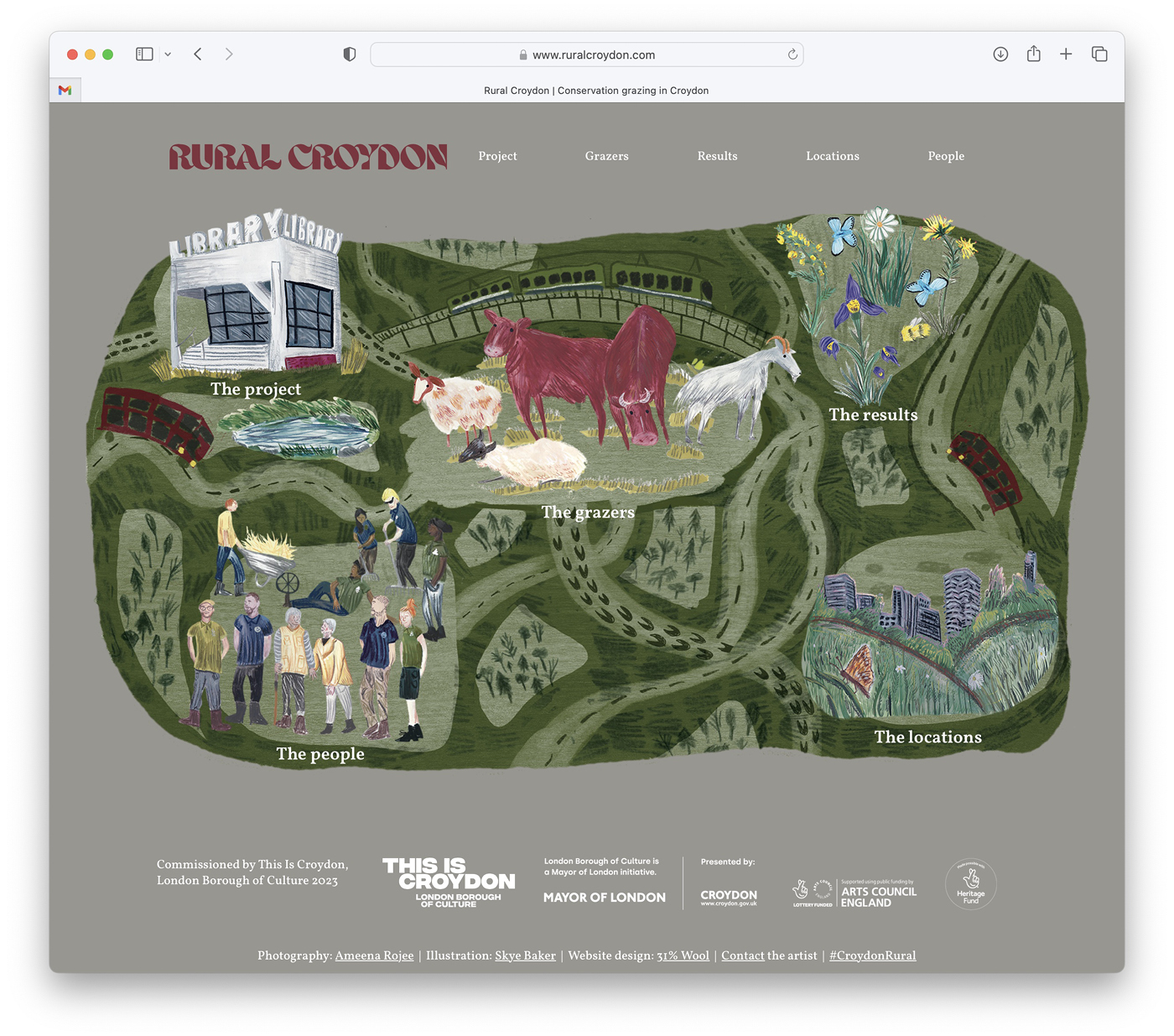 To whet your appetite further on the project we asked Ameena a few questions.
Croydonist: How long have you been working on Rural Croydon and what was your process capturing the rural side of our borough?
Ameena: I started working on this project at the end of May this year, so just about a month and a bit. Before that, I'd already been following the Downlands Partnership Twitter account where they often share what they're doing, where the grazers are, and the results of grazing. I started following them a few years ago and since then I've always had the idea for a project like this in the back of my head. So when I was commissioned, I started with them. I made a plan to document the grazers, the landscapes, the organisation's work, and the people who were behind everything – and later found out about more organisations doing the same, including the City of London's Coulsdon Commons team. I met with several people multiple times, including staff and volunteers, as well as visiting the locations – some of which are usual spots that I often go walking or visit on weekends – on my own or with friends to document anything and everything relevant that I could.
Croydonist: How did the link come about between your project and the Constable painting?
Ameena: This was an exciting one – the commission actually came about thanks to the Constable Visits tour as a way to produce a contemporary artistic response to 'The Cornfield', Constable's painting that has been on tour around the country and concludes in Croydon this weekend. Because of the nature of it all, it had to be kept secret until the day of the launch! And I wasn't even let in on the secret initially – I was asked to pitch a commission around the themes of "green", "rural", and "nostalgia". Incredibly, the stars simply aligned – I'd already been ruminating on this idea about conservation grazing, and here was the perfect opportunity to realise it.
Croydonist: If you had to pick only one of the green spaces featured as your favourite which would it be?
Ameena: It would have to be Farthing Downs. It's the one I come back to over and over again, the one that I've brought local friends to who also never knew much about Croydon's green spaces either (or the conservation grazing which resulted in some funny reactions to seeing the cows!). It's such a gorgeous landscape that's survived now for centuries, so abundant with incredible wildlife that I'm only truly learning about now with this project, yet it's so close to central Croydon, which you can even see from the highest points of this area.
Croydonist: Tell us something usual you learned about Rural Croydon during your project that our readers might not know.
Ameena: I learned some really amazing facts while working on this project, and I think one of my favourites is this – there are EIGHT species of orchid which are rare to the rest of the UK but found in abundance here in several spots in Croydon thanks to the conservation efforts. And they're great species too – there's the fly orchid which looks like a fly, the "man" orchid which looks like a stick figure, the twayblade which sounds like it should be a Pokemon, and my personal favourite – the bee orchid, which has evolved to mimic the appearance of a bee in order to attract them to pollinate. In other words, a plant that's pretending to be a bee!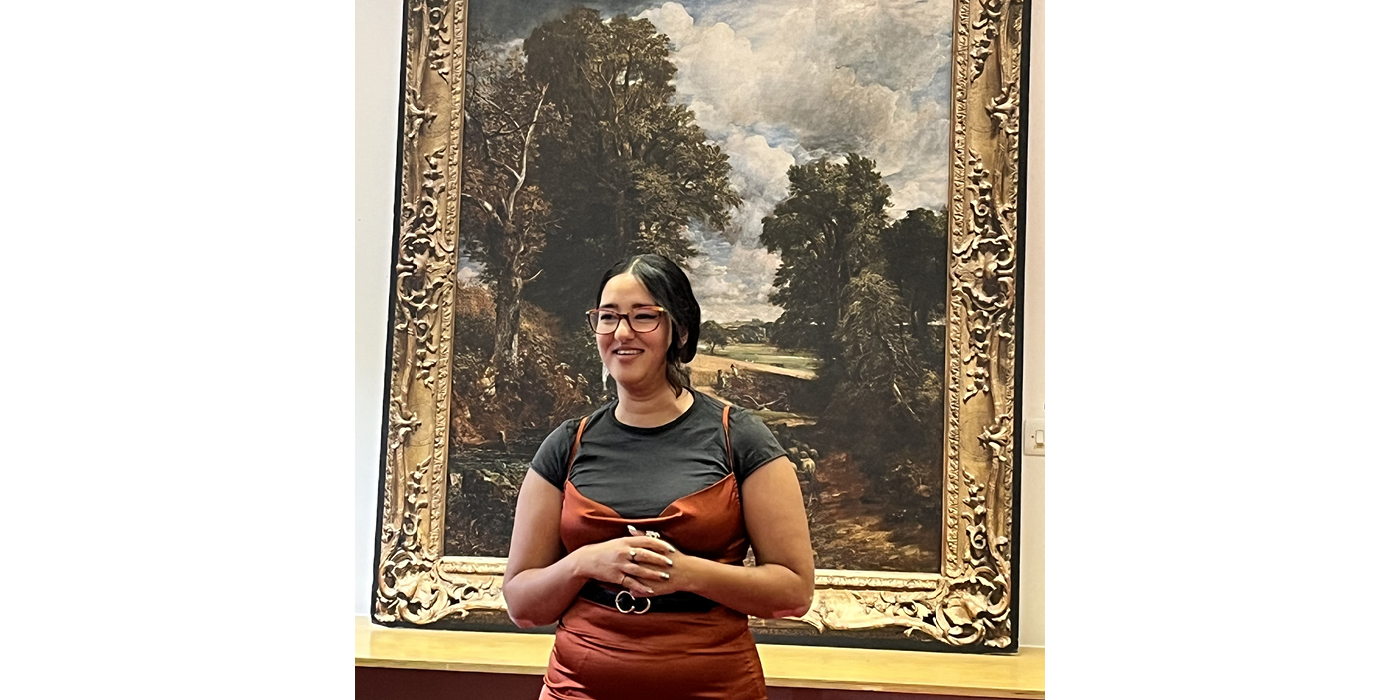 Thank you to Ameena for chatting with us (as well as the orchid facts). Find out more about Rural Croydon on the website and follow Ameena on Instagram and Twitter. You can see Rural Croydon at Thornton Heath Library until 31 July 2023, and/or get out and about in some of Croydon's green spaces by following the maps here. Share your adventures on social media using the hashtag #croydonrural.
*Conservation grazing is a centuries-old land management method that uses sheep along with cattle and goats to graze the land, and in recent decades it has seen a return as several organisations and charities work towards restoring the deep biodiversity and rich wildlife unique to this edge of London.
Header and captioned photos by Ameena Rojee.
Posted by Julia