If you don't already know about SDS (or Setting Da Standards), it's time you do, as they are a community arts company on the rise, right here in Croydon. They are literally 'setting da standards' in the borough, working with young artists to give them a safe space to express themselves through various mediums including rapping, singing, poetry and comedy. This month they launched their new website, funded through the The Arts Council's National Lottery Project. The site provides a hub for local talent to exchange ideas, do interviews, perform live sessions, cultivate their own fanbases, as well as supplying knowledge about various business and contractual aspects of the music industry.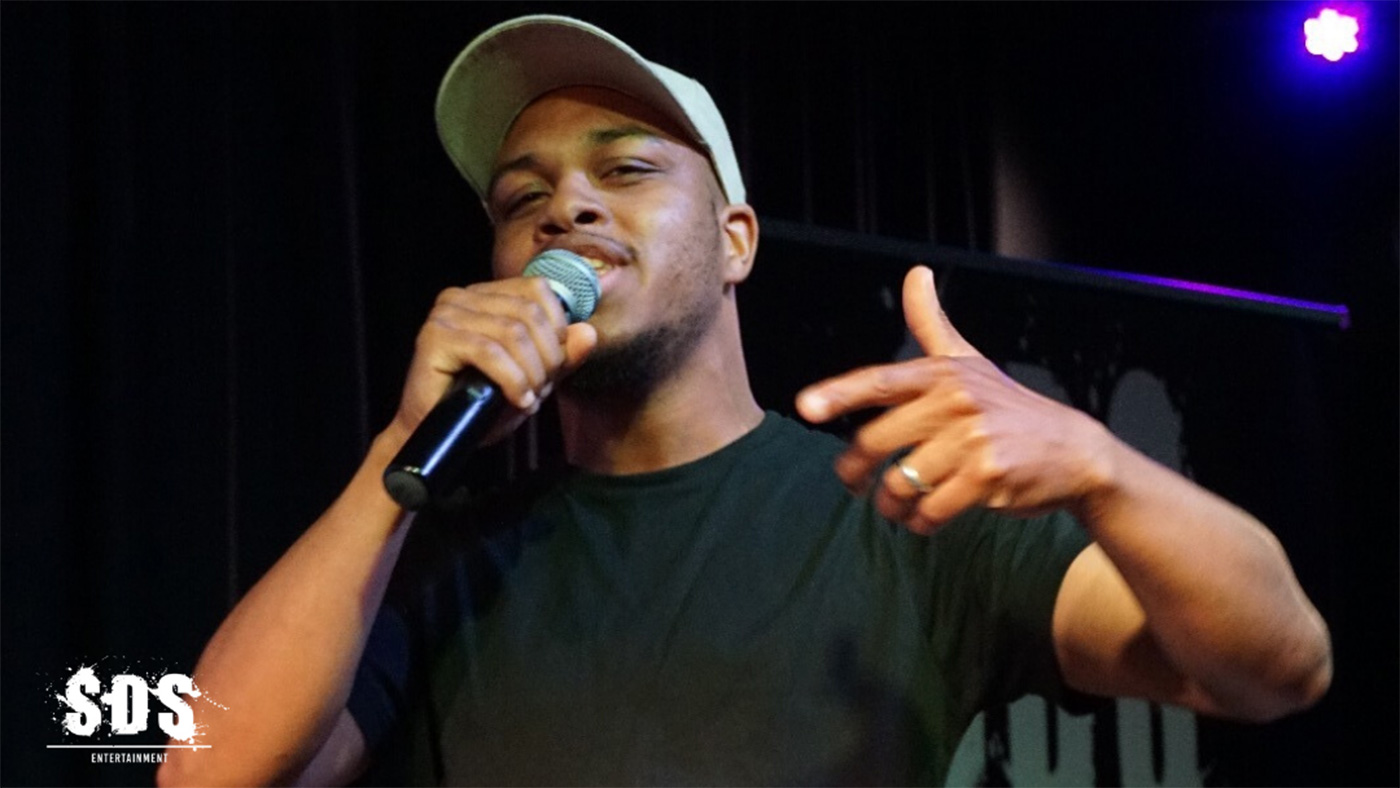 SDS Entertainment was founded in 2018 by Makeda Bennett-Amparbeng and Jade Reid, and came about after Makeda's involvement in the abolishment of the controversial and racially-motivated, risk assessment document Form 696, which had a hugely negative impact on Croydon's art scene. After witnessing firsthand the effects of Form 696, Makeda sought to curate an initiative to rehabilitate Croydon's arts community for young creatives via live performances, workshops and exhibitions. You may already know SDS from attending their monthly SDS Hub Nights at The Front Room, or their more intimate Frith Road Sessions at the legendary Reggaemasters record shop.
SDS also played a pivotal role during The ENDS Festival last year, connecting the organisers with a collective of homegrown talent to be considered on their 'Future' stage. This led to Marc Jones (pictured above) being added to the festival bill – a once in a lifetime opportunity for a young artist. Marc now has over 3 million streams on Spotify.
SDS has achieved an impressive amount, in only two years, to help drive much needed change in the borough. We wanted to find out more from the founders themselves so we caught up with Makeda and Jade for a chat.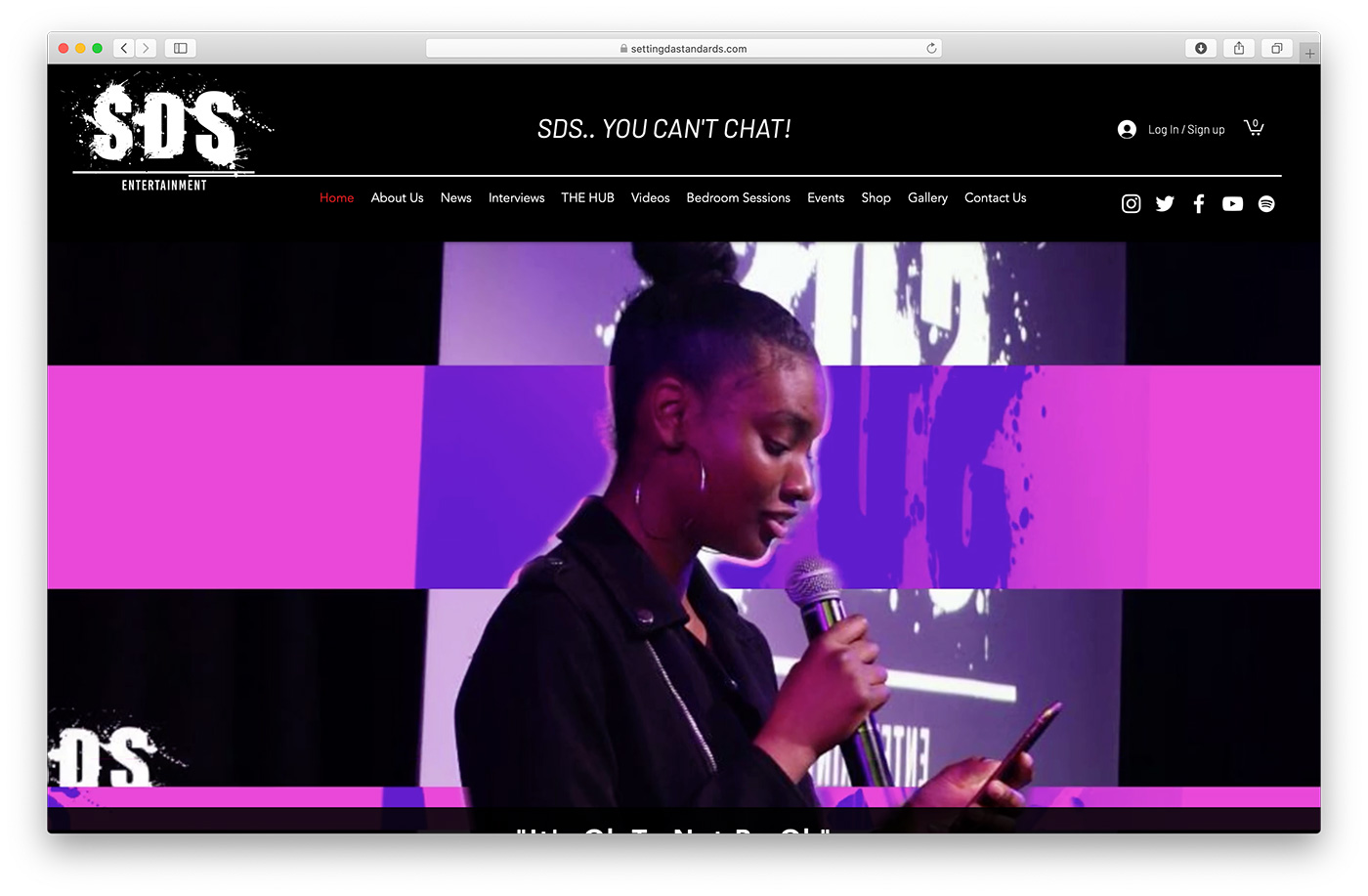 Croydonist: First of all, are you Croydon natives or converts, and what area of the borough do you call home?
Jade:​ Yes, we are Croydon born and raised! South Croydon is home for me.
Makeda:​ Thornton Heath is home for me.
Croydonist: How did you meet each other, and what are your music backgrounds?
Jade:​ We both studied the same music course at The University of Westminster. Makeda asked me to come on board with an idea she had about SDS and the rest is history. In addition to SDS, I also work in management and currently manage a singer-songwriter called Deanna Chase.
Makeda:​ I started out as a music producer. That was my main focus, but I was really interested in the business side of music. I wanted to be my own boss. The original thought behind SDS was for it to become a music label but as time went on, I thought it would be more beneficial as an entertainment company focused on helping up and coming artists.
Croydonist: Can you tell us a bit more about the meaning behind your name 'Setting Da Standards'?
Makeda:​ Setting Da Standards is a phrase I grew up with, family and close friends would always say "we're all about Setting Da Standards". I just loved it, so as the next generation I wanted to carry that phrase on but make it known by everyone.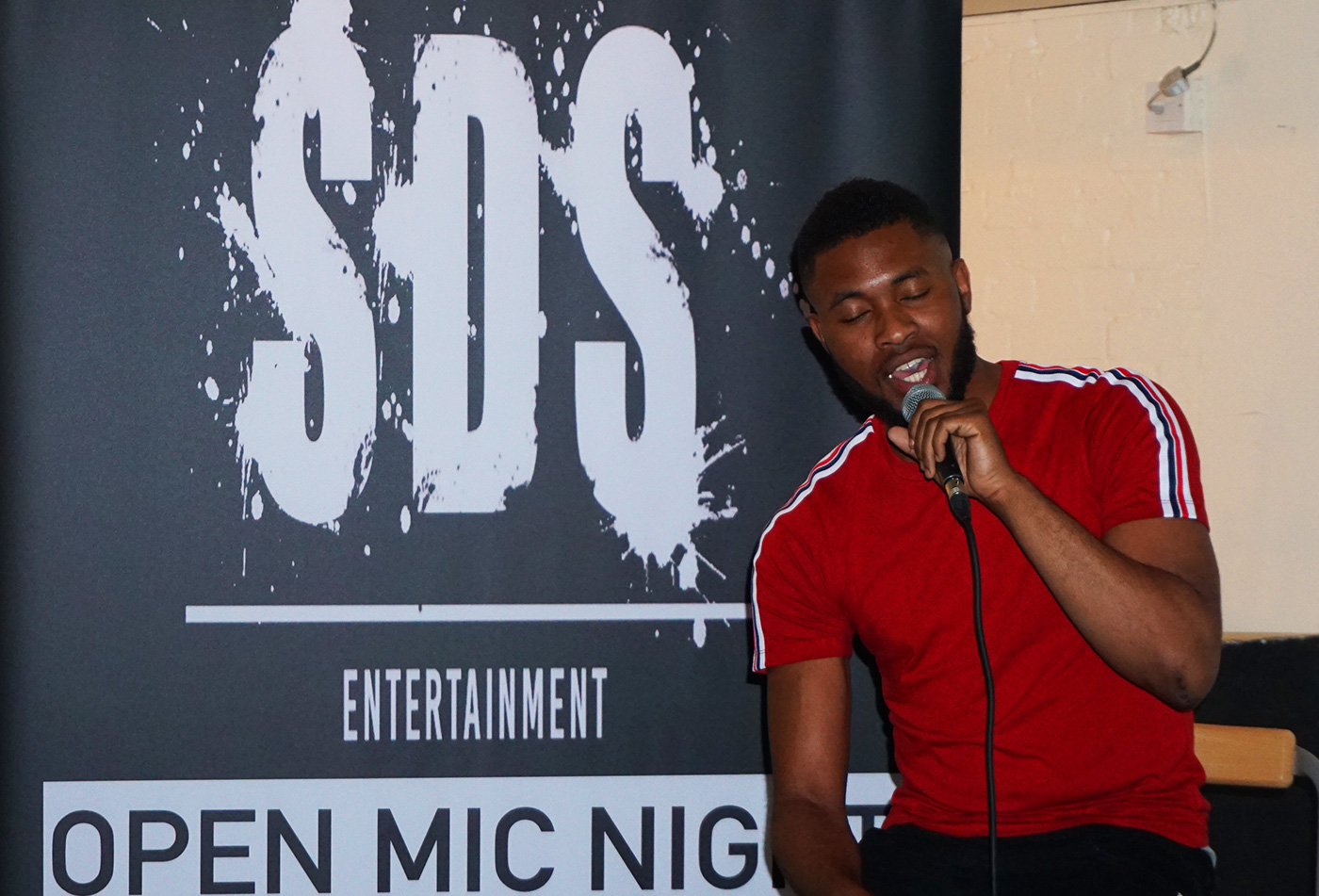 Croydonist: The focus of your work is creating safe spaces for young local talent to express themselves. How many members do you have and where could we see your members perform (in life before lockdown)?
Makeda and Jade: We don't have a members list, but the number of artists who have performed on our stage since we started is well over 90. We produce monthly SDS hub nights at The Front Room in Croydon. The live hub is a space for creatives to come down perform and network. The borough doesn't have enough live music events or spaces for creatives to call their own and this is why we produce our events.
Croydonist: You've recently gained funding from the Arts Council and Croydon's Cultural Partnership Fund, and have launched your new website, which includes The Hub which you describe as 'Tinder for creatives without the drama'. Can anyone in Croydon join?
Makeda and Jade: Anyone can join the online Hub, there is a small membership fee to be a part of the community. We have a limited lifetime offer on our Gold Membership at the moment which is £2.99 a month – cheaper than a meal at McDonald's!
Croydonist: Setting aside the obvious current difficulties the arts scene is facing because of Covid-19, in what ways have you seen the local arts scene flourish since the scrapping of Form 696 that you helped abolish?
Makeda: To be honest, the form was step one in helping the scene. It can no longer be used as a tool to stop events but that was just one issue. The damage and the implications caused by the form has left reverberations on the borough – Croydon's music scene isn't what it used to be. Venues closed down and the whole scene crumbled. We feel local creatives are still dealing with the fallout so there is still a lot more work to do to really see the scene flourish.
Croydonist: SDS is a black female led entertainment company, so I imagine you're very used to having to address issues of inequality on two fronts. The Black Lives Matter campaign is at the top of the media agenda at the moment and we need to keep it there until change truly happens. What should we be addressing at a local level to ensure the arts scene is more equal going forward?
Makeda and Jade: The sharing of information needs to be worked on; things happen but we find information isn't pushed out enough to reach all areas of the community which leads to people missing out. Providing creative pathways and equal opportunities for black youth is key – the creative arts scene is especially overlooked in this borough.
Croydonist: How important was The Ends Festival for Croydon, and for SDS in the growth of emerging local talent?
Makeda and Jade: The Ends Festival was one of the first stepping-stones in showing the rest of London what we as a borough had to offer. Letting everyone know we're still here, so stop sleeping on us. We ​are a​ London borough so stop trying to deny us. We feel the 'Future Stage' at the festival gave Croydon artists more hope, because there aren't enough opportunities for them at the moment.
Croydonist: At SDS you work with director of the Black Music Research Unit at the University of Westminster, Mykaell Riley, as well as Wozzy Brewster OBE (recent recipient of Music Week's Women in Music Roll of Honour). How did these collaborations come about, and in what areas of SDS do they work?
Makeda:​ Mykaell Riley used to be our lecturer at university! He became a mentor to me and after university, we stayed in touch because of his Bass Culture project. Through the work I was doing with Form 696, we worked on the first grime report together. He then invited me to radio talks and invited SDS to participate at the Bass Culture Exposition.
I met Wozzy at an industry event, we then had a meeting and she helped to develop some ideas and provided me with contacts to look into. We invited Wozzy down to our first event back in Aug 2018. Wozzy loved what we were trying to create in Croydon and a partnership was formed. Both Mykaell and Wozzy are advisors/consultants.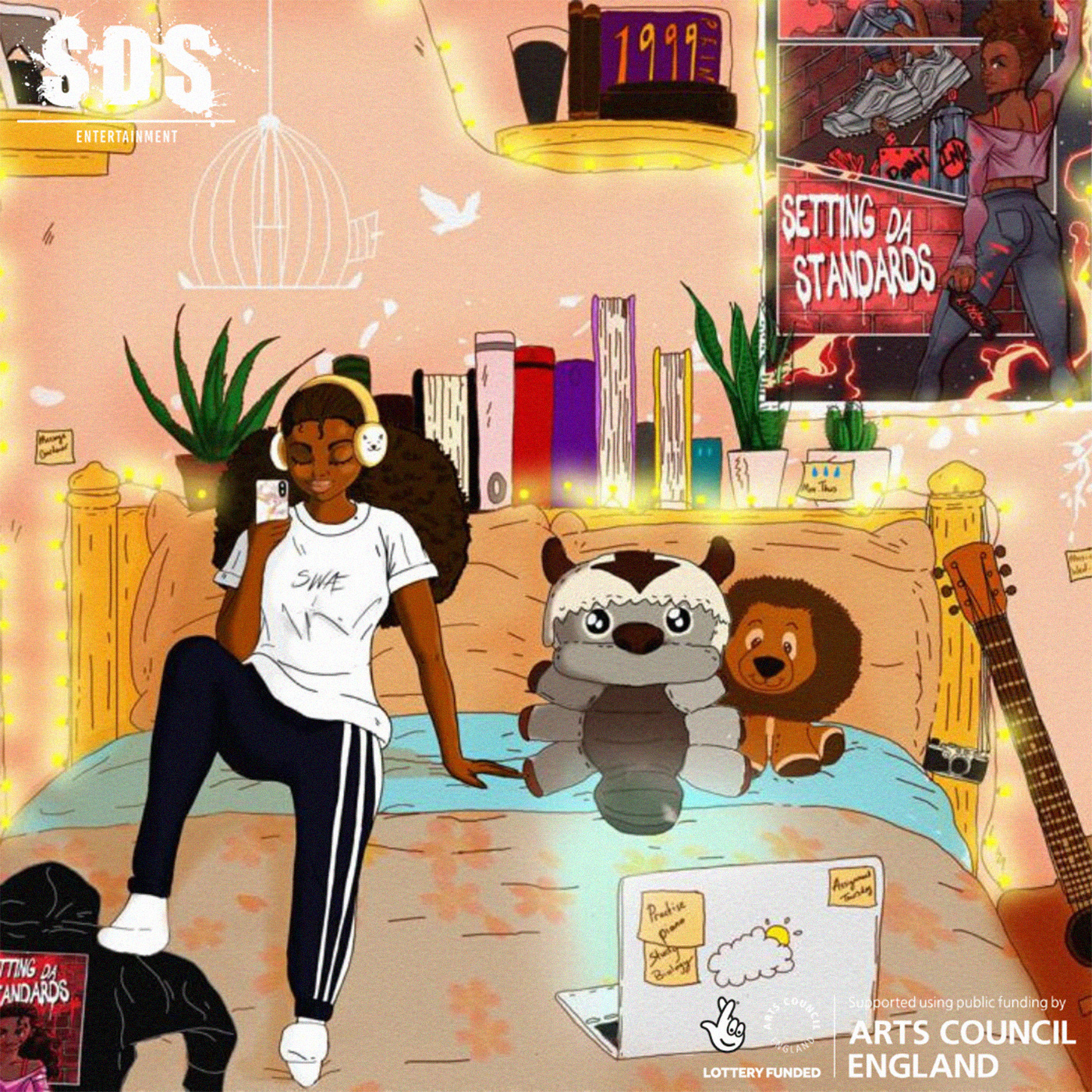 Croydonist: You started the Bedroom Sessions at the beginning of April – a live-streamed weekly radio show set up to help out artists who have lost income due to Covid-19. Do you think you would have started a radio show if it hadn't been for lockdown and will you continue when events can happen in public again?
Makeda and Jade: To be honest, no. Bedroom Sessions was an idea we developed due to the pandemic. We produce events, so we were hit hard when the pandemic struck. There is a possibility that Bedroom Sessions could continue once everything has gone back to normal.
Croydonist: What in Croydon inspires you?
Jade: ​I think Croydon culture inspires me. I personally have a multicultural background, so I guess I've never felt uncomfortable being in a multicultural setting. There are so many walks of life in the borough, so I've always been able to learn and develop from other people and their cultures.
Makeda:​ Knowing that there's a crazy amount of untapped talent in Croydon inspires me. I think people overlook the borough in terms of all the things we have and what we have produced.
Croydonist: What are you most looking forward to doing when restrictions start to ease?
Jade:​ Getting back to producing events and eating out! I love my job and I'm a massive foodie!
Makeda:​ Definitely agree with Jade! But mainly not seeing queues to places I want to go to. I can't wait for that!
Big thanks to Makeda and Jade for chatting with us. Keep up to date with SDS on their website, Instagram, Twitter and Facebook.
All images courtesy of SDS. Header image is a detail of the Bedroom Sessions illustration by Tatenda Michael Manyarara.
Posted by Julia