It's been a few years since we last caught up with MD of Signal Brewery Charlie Luckin. Tucked around the corner from Therapia Lane Tram Stop and Croydon Ikea, Signal have been busy expanding in recent years. Next Saturday (29 July) they launch their Summer Pay Day parties – a series of affordable events of free beer tasting, pizza, DJs and more, with tickets just a fiver, designed in response to the cost-of-living crisis.
---
Croydonist: We last chatted in Summer 2019 and a lot has happened in the world since then. How have the past few years been for Signal? 
Charlie: Great to see you again! It's been a mixed run, with a grim hangover through Covid, and we are grateful to be out of the other side and now expanding extensively.
We have embarked upon some excellent partnerships, including with Sutton FC, iFLY indoor skydiving and most recently a pop-up bar in Wimbledon village. The Taproom at the brewery remains a failsafe way of spending a day with friends and family and putting the world to rights. Our mantra for 'natural' production remains throughout our products.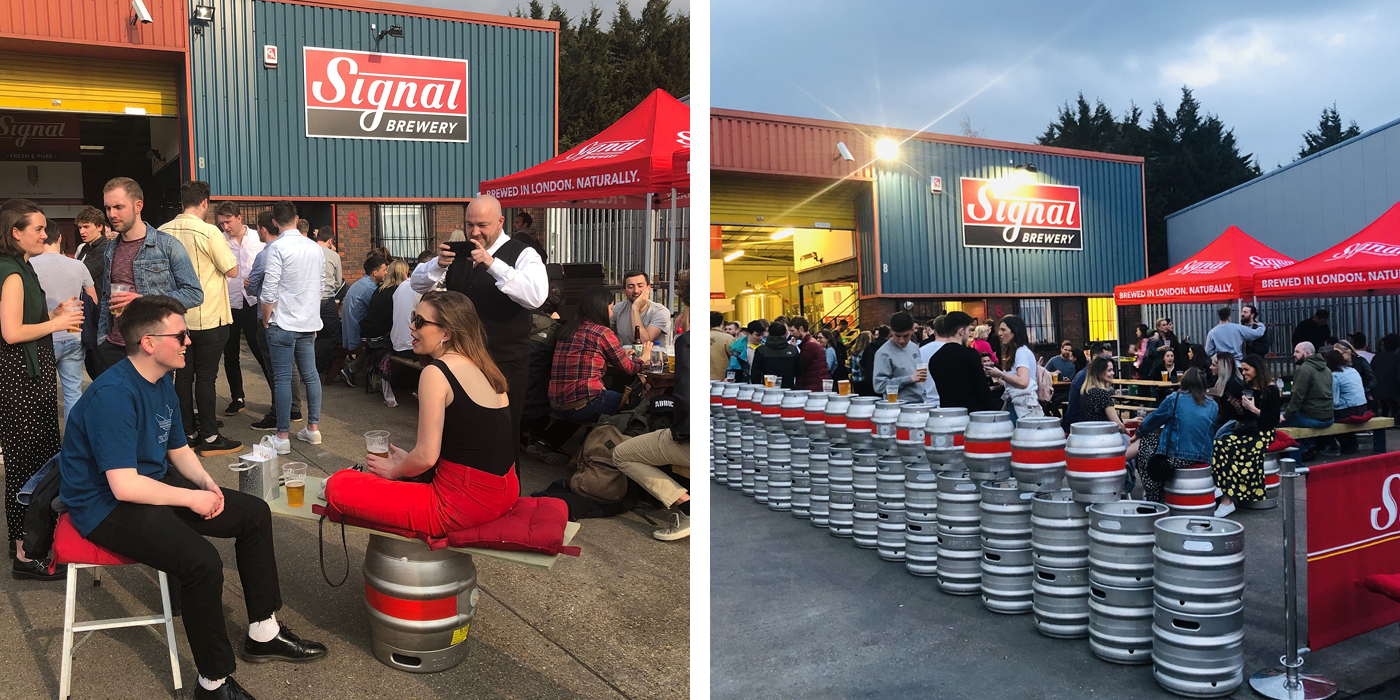 Croydonist: Tell us about the idea behind your Pay Day parties that launch at the end of this week. 
Charlie: We are cognisant of inflation and the rising cost of living that people are feeling so we would like to offer a little respite, even for a day or 2. Beer prices at bars and pubs have risen exponentially so why not drink it fresh, at source, at a price that is a little more palatable? The prices for the Pay Day party will also apply at Cloud Nine; our bar at the 02 arena if you are there for a show, or shopping in the retail outlet.
Croydonist: Shamefully one half of the Croydonist team doesn't drink beer (sorry!) but we hear it's not just beer you produce at Signal now. What other drinks do you have on offer and can we sample them at the upcoming parties? 
Charlie: No apology required! It's diverse! We offer softs, low alcohol options, wine and bubbles, and delicious craft gin, vodka and rum from our sister distillery near Tunbridge Wells. We have also linked up with an excellent cidery called 'Against The Grain' so now offer Signal Cider, and of course, at this time of the year, a well-mixed Pimms!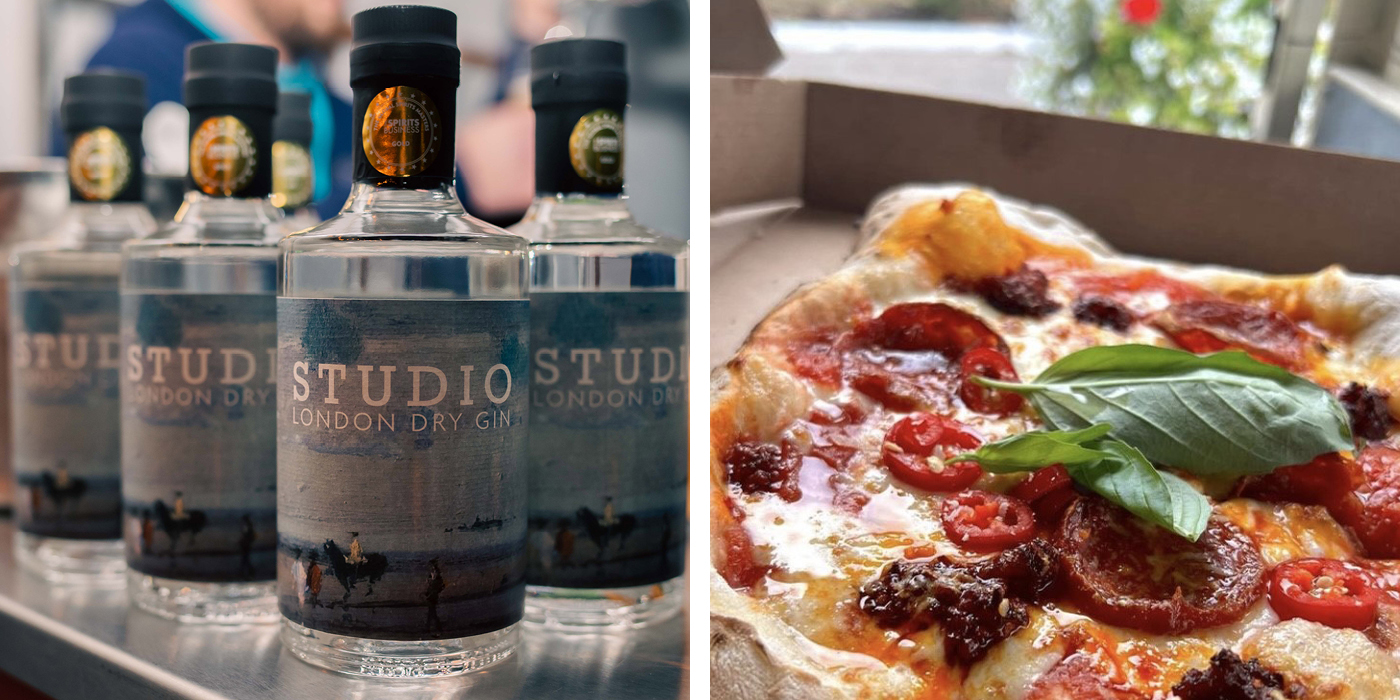 Croydonist: We also hear that Signal has been involved with royalty and tennis this year. Tell us more. 
Charlie: We were very fortunate to have had The Prince and Princess of Wales pouring a new cask ale called Kingmaker beer in the Dog & Duck in Soho just prior to the coronation. This was an ale we designed with The Beer Company and alongside Nicholson's Pubs. It went nationwide and sold out rapidly. William did not rate his pouring technique but we reckon he did well !
Croydonist: Three reasons our readers should book a ticket to one of your parties?
Charlie:
A warm welcome (literally – it's a real suntrap!)
7 cold, fresh beers
DJ and freshly cooked pizza what a combo!
Croydonist: Where else can our readers enjoy Signal's beverages between parties? 
Charlie: We are in masses of outlets across London and the UK now, both in big Pub chains and independent sites. Check in to our website for cans and spirits. Use the code 'Beermenow!' and Croydonist followers will receive a discount for their initial order!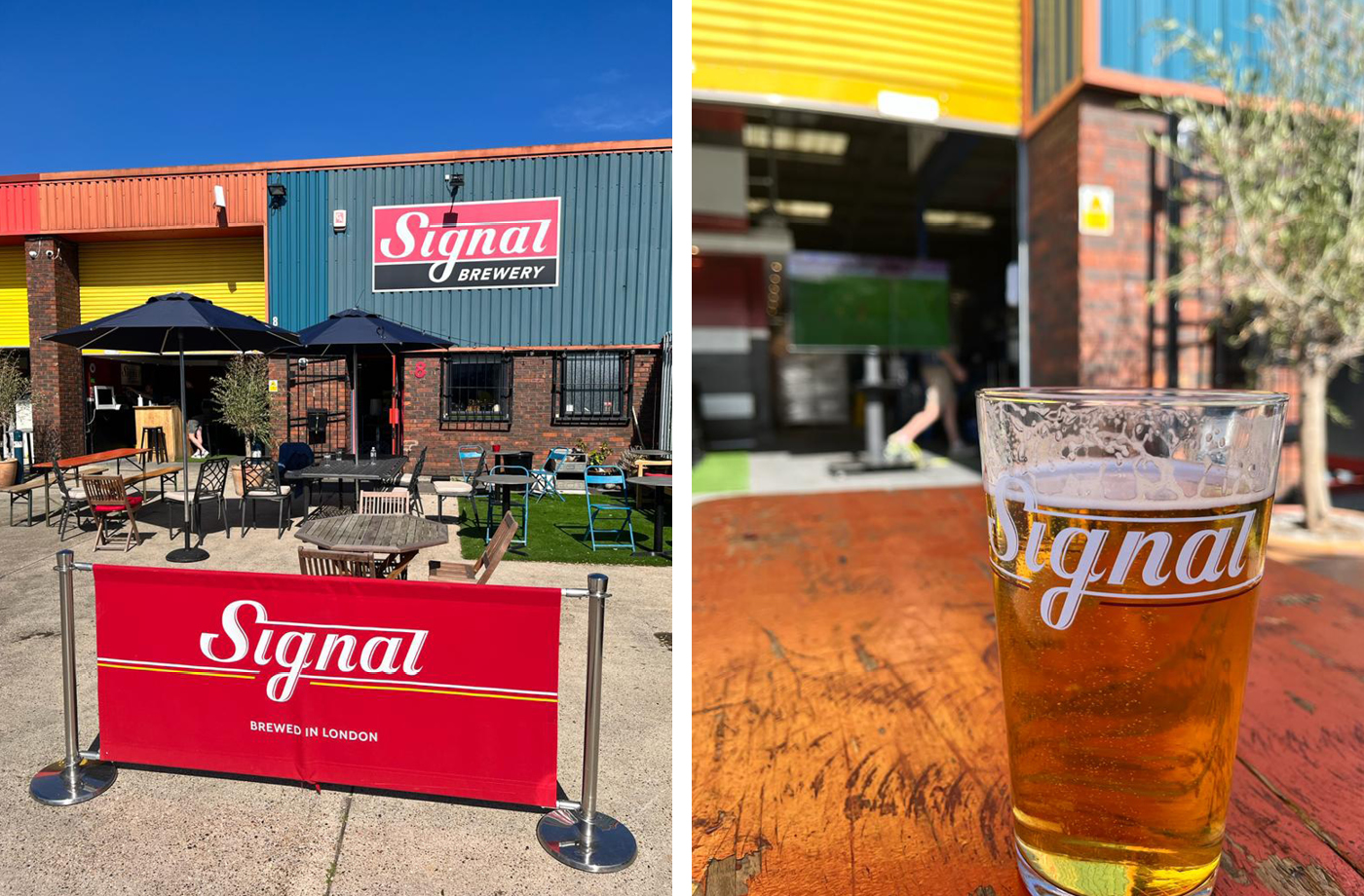 ---
Thanks to Charlie for chatting with us, and we hope to bump into some of our readers at one of Signal's summer parties.
Signal's Pay Day Parties are on the last Saturday of the month (29 July, 26 Aug and 30 Sept). Tickets cost just £5 per person and include a pint of beer and slice of pizza on arrival. Parties take place from 12pm to 7pm. Happy Hours run from 1pm to 4pm. Find out more and get tickets on the Signal Brewery website. Follow Signal on Twitter, Instagram and Facebook.
Images courtesy of Signal Brewery.
Posted by Julia