To quote the Lauren Baker neon artwork under the bridge on Surrey Street Market, 'A simple hello could lead to a million things'. A group of third year students on the Kingston School of Art graphic design degree course took Lauren's advice. They immersed themselves in the Croydon community and chatted to various members of our borough to find out how they could create projects which might enhance local society, and came up with – well perhaps not a million – but many interesting and unusual proposals.
We were invited along to some of the Social Design crits and presentations by Kingston School of art tutor Emily Wood to hear about the students' ideas on Croydon.
For those of you who haven't visited Croydon Arts Store yet in the Whitgift Centre, Kingston School of Art has a research space there to investigate the role of arts and culture in our borough with a focus on a future Croydon Art Biennale. The Social Design project culminated in a presentation day in late November, which was held next door to the research space in First Floor Space. The public were invited along to give their opinions and feedback.
Some of the students' proposals looked at Croydon as a whole, whereas others centred on specific areas, from youth projects in New Addington to making Surrey Street Market more sustainable.
Let's take a look at a few of the proposals.
Lydia Barba, Scarlett Chetwin, and Bailey Hawcroft-Hurst collaborated with the Wayside Community Centre in New Addington to help them talk about their Croydon Auto Bike Scheme (CABS) by creating a promotional film. CABS has been running for nearly 20 years and gives young people the skills to fix up bikes and ride them safely, whilst helping prevent anti-social behaviour.
Emma Clarke and Hani Dresner focussed on the amount of fruit and veg that goes to waste each day on the market. They produced a selection of chutneys, jams and dried goods made from the stalls' food waste, which they aptly named 'Croydon Conserves'. Their proposal is to set up a social enterprise based on Surrey Street to help local young people learn culinary, as well as business skills. The profits would also go back to the stall holders.
Emma Crampton, Rose Dunster and Emily George also spent their time on Surrey Street. After observing how many of the throw-away blue plastic bags are used each day they created reusable bag prototypes made from the sturdy sacks in which fruit and veg are delivered to the stall holders. They then played with the vernacular of market stalls, including produce signage, to create brand concepts for the bags. We love the idea of '1 bag 2 another'. The trio have already extended this project to other products – check out their instagram account to see more here.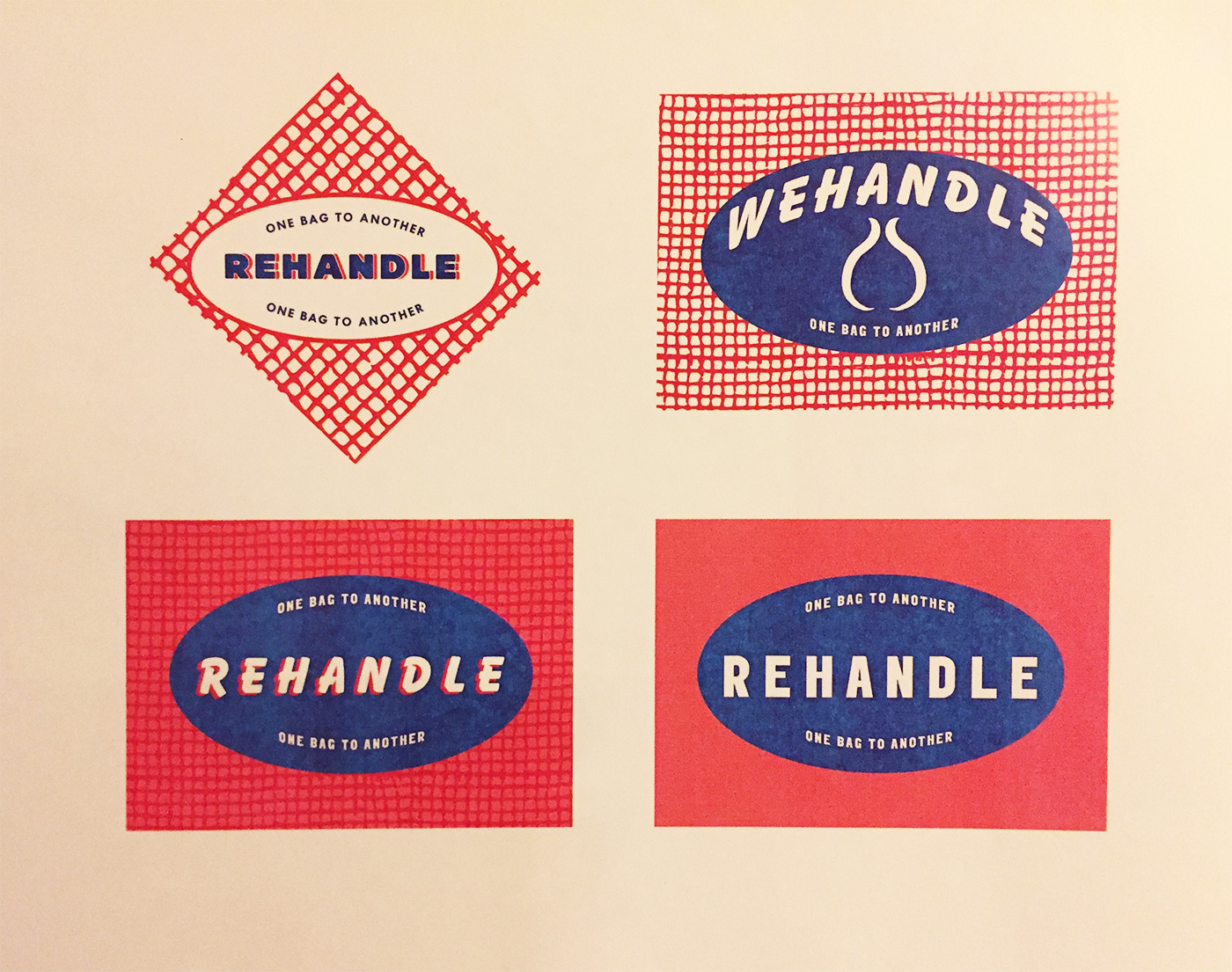 Charlotte Allen and Seb Price wanted to highlight the issue of the many empty office blocks in Croydon, so they created some prototypes for public art pieces. These would be built from old office furniture from the unused office blocks to make seating in the town centre's public spaces, thus illustrating the problem.
Anne Danao and James Gowdy proposed a set of maps 'to show the diversity of Croydon's art, shopping, food and nightlife'. On their first few visits they found the town centre hard to navigate, so felt they should address the problem. They also wanted to target Boxpark visitors, using the maps 'as a way to get them out of the box and into the town. A cool, colourful, isometric, hand-out map with collectable fold-out poster seemed like a great way to make new visitors feel welcomed and well informed.' We hope Anne and James will be creating more in the set this year.
Anya Landolt held an example workshop on presentation day – her workshop would be to engage people from different backgrounds in a creative way to discuss the future Croydon Art Biennale. In her example workshop people were encouraged to use the geometric foam shapes (reminiscent of Croydon's angular architecture) with concrete coloured paint to create whatever images they felt like, in order to open up a conversation about art and culture within Croydon. (Our rather abstract attempt below right).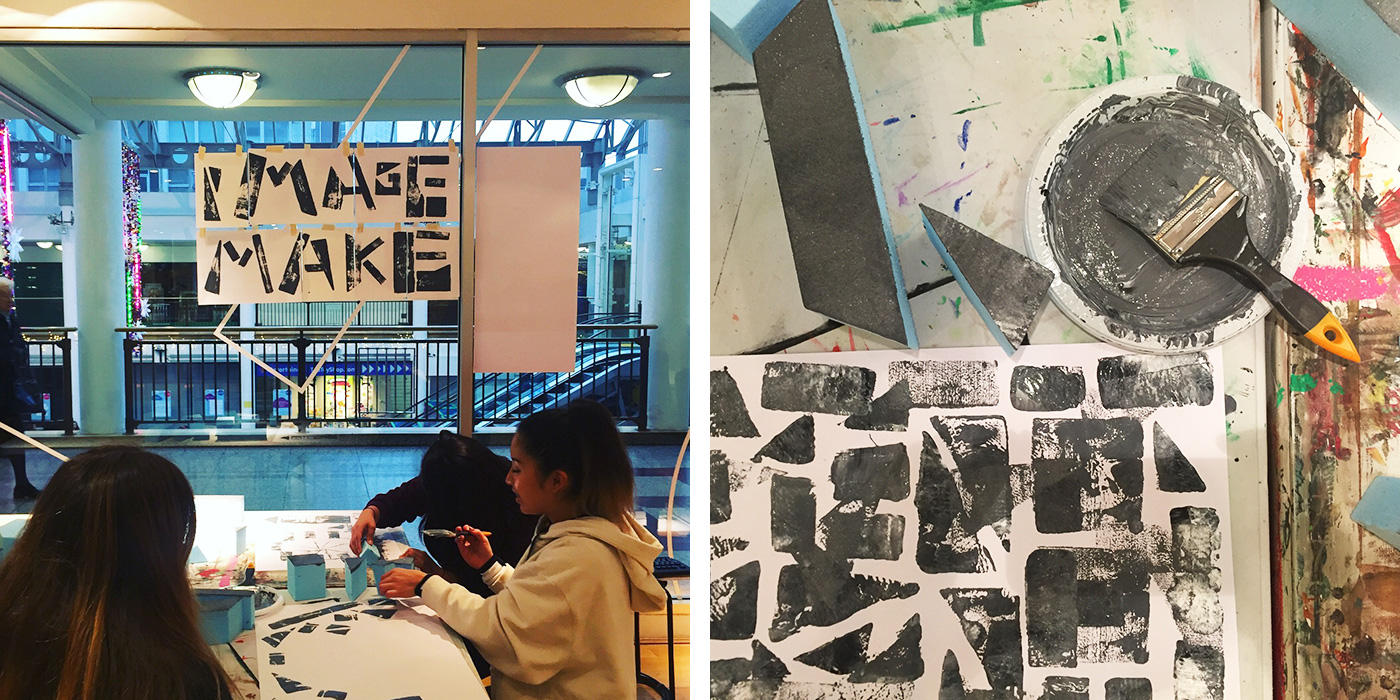 We look forward to seeing how these concepts develop in the students' portfolios this year. We'd love to see some office furniture public art! And why not say hello to your fellow Croydonians when you're out and about on our streets – it leads to a more inclusive community and a friendlier 2018.
Thank you to Emily Wood, Rose Gridneff, and all of the third year Kingston School of Art students on the Social Design strand.
Header photo by Rose Gridneff
Posted by Julia