It is almost the festive countdown to Christmas stockings and dinner with all the trimmings! My dad, believe it or not, has already put up his Christmas decorations to make the most of the warming glow of lights and paper chains that make you feel like a kid again. Yes it is a bit early for all that, but not for a roast.
With the change of Summer to Autumn and the need for a warmer coat, my appetite for a roast returned, so the invitation to visit South Croydon's Store was a welcome one.
I was pleased to see that The Store (previously known as The Joker) has retained the decor and character of such a beautiful space. Perhaps you haven't the foggiest what I mean by this, so a brief recap.
The restaurant, so aptly called The Store, was in fact a Sainsbury's… no, not the present day Sainsbury's local, but an original provisions store circa 1900. You didn't have baskets and make your way up and down isles before heading to the self check out back then. You entered the store to find counters running down either side with staff at the ready to weigh and package up your goods for you.
Ok history lesson over!
Today you can still see the original decor of tiles and mosaic flooring which is reason enough to visit this establishment. At the back of The Store you'll find old photographs on the wall of just how it looked as a Sainsburys, the staff in their splendid white uniforms and an old newspaper article highlighting the opening with new departments serving Devonshire beef and veal and also Southdown Mutton and Lamb.
Now The Store has a different menu for Sundays, and you guessed it, it's all about the roasts. Dry aged sirloin of beef, slow roasted pork belly, half roasted chicken and a nut roast, all served with carrots, crispy roast potatoes, seasonal greens, yorkshire pudding and gravy.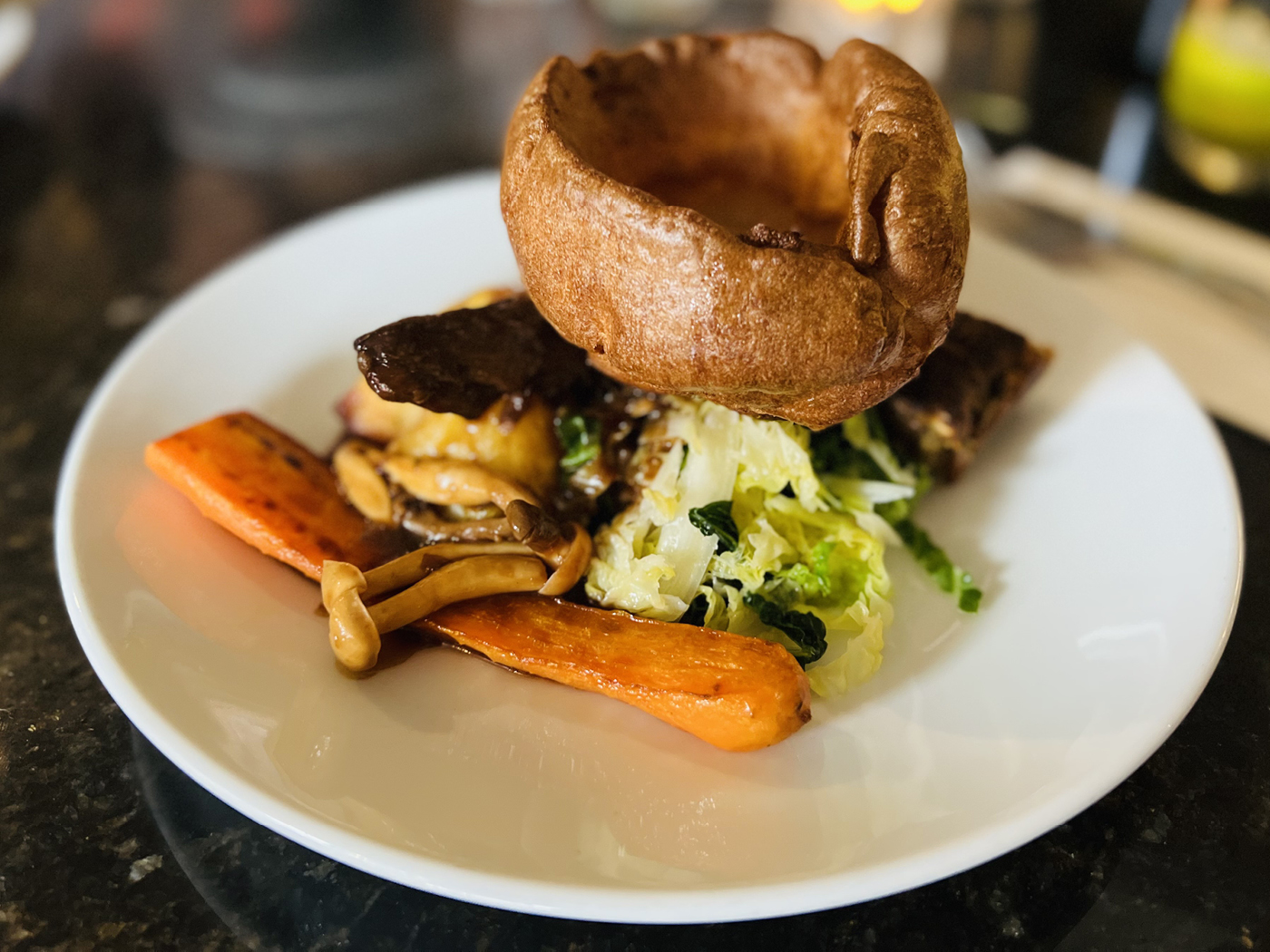 Being vegetarian, we of course went for the nut roast. I was expecting your standard Sunday roast done well, but what appeared on our plates was much more exciting for our taste buds. In the nut roast, they used spelt, shallot, thyme and garlic as the base, then chestnut, almond, hazelnut and a few spices before roasting in the oven. The result was a warming dish with a slight kick. Not too dry like a lot of nut roasts, but not too moist either… in the words of Goldilocks, it was just right… perfectly right.
Roast potatoes – cooked to perfection (you really don't need to mess with roast potatoes or yorkshire puddings – they are what they are, just cook them properly). Seasonal veg was nicely done, but what really added the personal touch of The Store to this dish, which I haven't seen before with a roast, was the nut roast sauce which was a wild mushroom jus. Simply done, but full of flavour and worked with everything on my plate. Why the heck isn't this standard with roasts? Certainly a winning combination in my book!
We also enjoyed a side order of cauliflower cheese and truffle and parmesan fries. Not that you really need sides with the incredible roast, but it's a nice touch if sharing with friends. Both dishes certainly ticked the box, especially the fries as the truffle and parmesan just works so well with them.
To finish off our Sunday outing we shared a couple of desserts, an all time classic and favourite of mine, sticky toffee pudding and a rather decadent ganache (70% chocolate ganache, hazelnuts with winter berries). Devilishly delicious and worth saving room for.
All in all, I am super happy that it is roast season again, but more so that I have discovered the culinary delights of The Store – history and food in one. The perfect Sunday.
To find out more about The Store, visit their website or follow them on Instagram  https://thestorecroydon.com
For more historical photos visit The Store's gallery or Sainsbury's archive.   
The Store can be found at 73 South End, Croydon, CR0 1BF
Historical image © The Sainsbury Archive, Museum of London Docklands 2022, all other photos by the Croydonist.
Posted by Angela