For a long long time Croydon has been a town of architectural development, from our space-age skyscrapers of the sixties to the regeneration going on right now. I'd never really thought much about where the architects and developers creating the buildings came from, apart from assuming it was elsewhere to here. That is until I happened upon Common Ground Architecture – an architectural design studio based right in the centre of Croydon, designing buildings for our borough and beyond.
The team at Common Ground is made up largely of Croydon-based architects. Straddling the worlds of the public and private sectors, their philosophy is that characterful and joyful architecture should be an everyday staple for everyone.
The studio is headed up by Chloë Phelps, who has been designing homes in and around Croydon for more than ten years. Her skills have been recognised across the industry, including being included in Property Week's inaugural 40 under 40 list. We caught up with Chloë to talk about the importance of history and sustainability for new architecture, as well as what she's been designing for Croydon.
Croydonist: First of all, Croydon native or convert and what area do you call home?
Chloë: Convert for sure. I grew up in Essex, so that's still home for me deep down.
Croydonist: You have been a finalist in the Architects' Journal's Emerging Women in Architecture Awards – how did you get to where you are today?
Chloë: A mixture of hard work and following my heart, I guess! For me it's important that my work is something that I believe in. With Brick By Brick and Common Ground Architecture, that means designing really good quality, affordable homes for local people with all of the sales profits being reinvested in the community.
Croydonist: What's been your most unusual project to date?
Chloë: I designed a new Teenage Cancer Trust Ward at Birmingham Children's Hospital at my previous practice. The design itself was unusual – a bold extension to the side of the hospital that required a great deal of coordination with the existing structure, but it was also a really rare opportunity to work on a project that made such a difference to the lives of teenagers going through an awful experience. Seeing the patients move in really demonstrated how good design can have a positive influence on people's lives and should be accessible to everyone.
Croydonist: How many building projects have you worked on in Croydon and what's been your favourite?
Chloë: Through my work in the Placemaking Team at Croydon Council and the smaller sites programme with Brick By Brick, I've been involved with quite a few projects across the borough. With Common Ground Architecture, we've designed about 14 projects so far that are at the planning stage or beyond. I couldn't pick a favourite, but there's definitely a soft spot for Pump House (by Norwood Junction Station) as our first completed residential project.
Croydonist: I understand Pump House has been influenced by an Art Deco cinema, which once stood near the site. Do you think referencing the history of an area is important when creating new buildings?
Chloë: Understanding the history of an area is so important when designing new buildings! It's part of the character of the place, and you find out such interesting things from talking to local people. Finding old photos of the Odeon on Station Road really helped us to appreciate how the High Streets in South Norwood developed. It also allowed us to create a clear personality for the building, with the striking white brick main elevation referencing the Odeon, which is then slotted into a curved red brick building. Without that information the design would have been very different.

Croydonist: Why is the development named Pump House?
Chloë: It is a nod to the pumping station that once stood near Portland Road, for an Atmospheric Railway System from London to Croydon. The pump stations were quite tall and ornate and would have been a real landmark in the area at the time.
Croydonist: As a team at Common Ground, how do you go about designing a new building?
Chloë: First and foremost, we think about the people who will actually use the building. With new homes, it's important that everyone has enough space and storage and their own private balcony or terrace – lockdown has shown us all how vital these are. Details like material palettes and kitchen and bathroom specifications also make a huge difference to how people feel about their homes and so we strive to make them as attractive and practical as possible.
Designing a building is something that involves a cast of many, so talking is key. Understanding the area, talking to neighbours and doing our research all lay really important foundations. It's especially important for me that each building should have a character, so getting to know the place and its history is vital.
Croydonist: How important is sustainability for you when you're designing?
Chloë: Protecting our planet for future generations is critically important. We're working to become a 'One Planet Leader' which means we want our new homes to help create happy, healthy and economically stable communities that can live within the world's natural resources. Budgets for projects are often very tight, but where we can, we are looking to maximise the amount of on-site solar power and make the buildings as energy efficient as possible.
Croydonist: If you had an unlimited budget what would you love to build or redevelop in our borough?
Chloë: It would be great to take over some of the large roads in central Croydon, get rid of the cars, and transform them into public spaces.
Croydonist: Favourite Croydon building?
Chloë: There are so many! Number 1 Croydon always offers a new angle to look at, and it's just so Croydon! My favourite though is its lesser known sibling by the same architect; Corinthian House, on the other side of the station. The canopy and faceted soffit are so elegant. I'd love to see that space be used for a market or event space – it's wasted on the cars.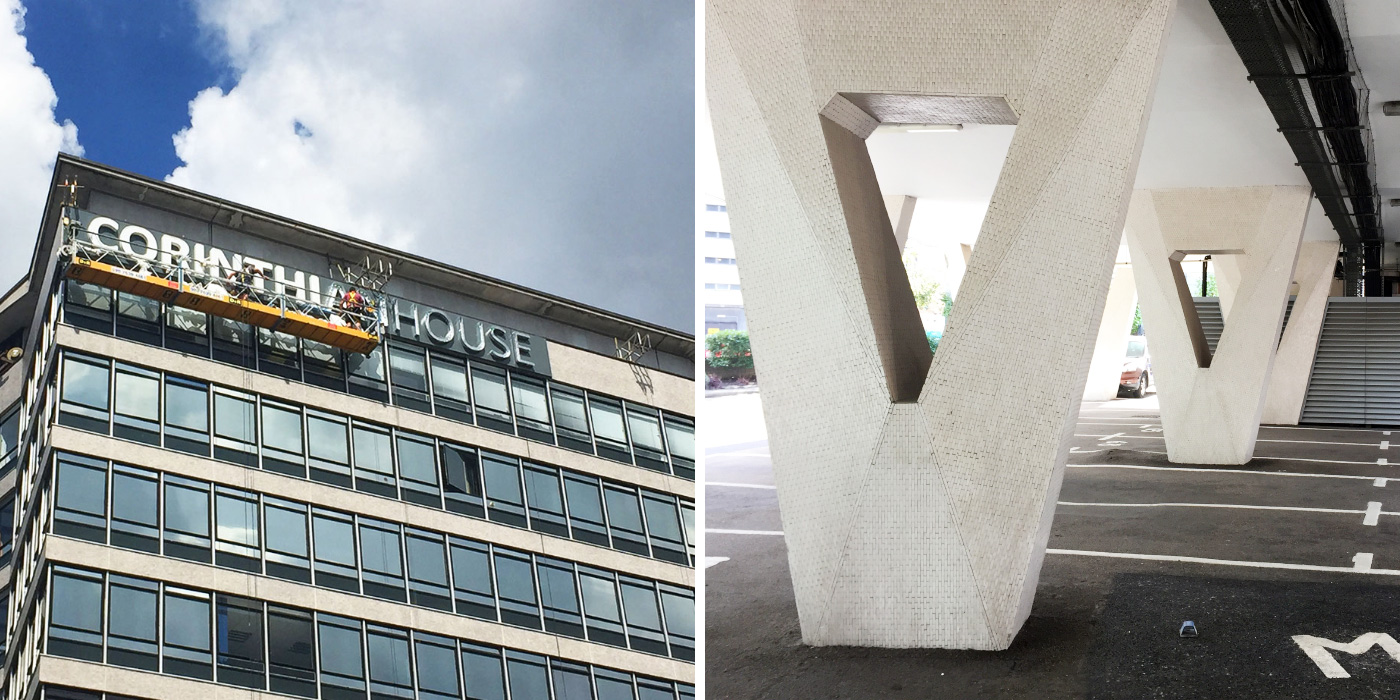 Croydonist: Favourite architectural style?
Chloë: I always return to Modernism. There are a lot of things to learn from their mistakes, but the buildings are so bold and innovative.
Croydonist: Where do you go in Croydon for creative inspiration?
Chloë: Croydon is so diverse, I love it. You find something different in each area you go to. The variety of the place is great for creative inspiration.
Croydonist: What are you working on next?
Chloë: As an architect, I feel a duty to address the climate emergency so I'm currently working to make our homes as sustainable as possible. We've just redesigned the internal finishes in all Brick By Brick homes to make them even more environmentally responsible, and they look great too.
Thanks to Chlöe for chatting with us. Follow Common Ground's projects on their website, Twitter and Instagram.
All images courtesy of Common Ground, except Corinthian House which is by the Croydonist. Header image shows an early model for the Pump House project.
Posted by Julia