Last autumn Centrale & Whitgift put out a call for local artists and collectives to submit ideas to be included in an art trail stretching across their shopping centres with the theme of 'Croydon Music City' – to celebrate the diversity and creativity of the borough's music scene past and present. Submissions needed to link to Croydon's musical heritage and also be accompanied by a relevant selection of songs that inspired the artwork. This sounded right up my street so I submitted a proposal for a graphic-based piece that linked to the punk roots of Croydon.
Earlier this year I was excited to find out that I was one of the eight artists selected to make the art trail a reality, so there followed a flurry of activity whilst us eight created the final pieces actual size with some of the artists creating their pieces as live installations.
No doubt you will have already seen some of the art (in reality or on social media) as the trail has gradually been installed over the last month. But now that Lockdown is over and the shops are open for business again the trail has officially opened complete with an interactive element so you can listen to the Croydon-related tracks that inspired each piece of art. Oh and there is a competition for trail-goers too – you simply need to snap a selfie with your favourite trail artwork and tag Centrale & Whitgift on their Instagram to enter the chance to win a year's subscription to Spotify or some BEATS Wireless headphones. If you download the Centrale & Whitgift app you can follow the art trail on their digital map.
With most of us used to doing the majority of our shopping online these days it's great to have a reason to venture out into reality with something a bit quirky to enjoy, whilst we give our Amazon habits a break – as Joanna Bailey, the General Manager from Centrale says, 'We know our customers are looking for an experience when they visit us, and the Art Trail is one example of that. Croydon is home to incredible talent, and we've loved celebrating that and seeing each artist bring the Croydon Music City theme to life.'
So without further ado, let's find out a bit more about the artists, and I couldn't resist asking some for their thoughts on what it means to be part of the art trail.
---
No Limits by Dani Yani (Whitgift)
Dani is an independent artist from Croydon who creates digital art with a "Dani Yani" twist! She describes her art as divaesque, dreamy and divergent, creating bespoke cartoon versions of people and surreal illustrations for any concept.
She says 'the only time a lot of people see themselves is probably 2/3 hours a day in the mirror. Seeing yourself in a 2D medium and from different eyes is an intriguing experience, I love connecting the 2 different dimensions, and as an artist it gives me so much purpose being able to show someone a different version of themselves'.
I also asked Dani about her trail piece: 'To have my artwork displayed in my hometown is a privilege and an honour that I will celebrate for a lifetime. The main message behind my artwork apart from Croydon's music scene is, dreaming big. Never limit yourself, always aim for the stars and beyond. There's a whole community ready to receive your talents, your ideas and you. I hope everyone meets an opportunity that believes in their vision like Croydon Art Trail believed in mine. Keep creating because the world would be dull without the beautiful sounds of music, and gloomy without the alluring sights of art!'
---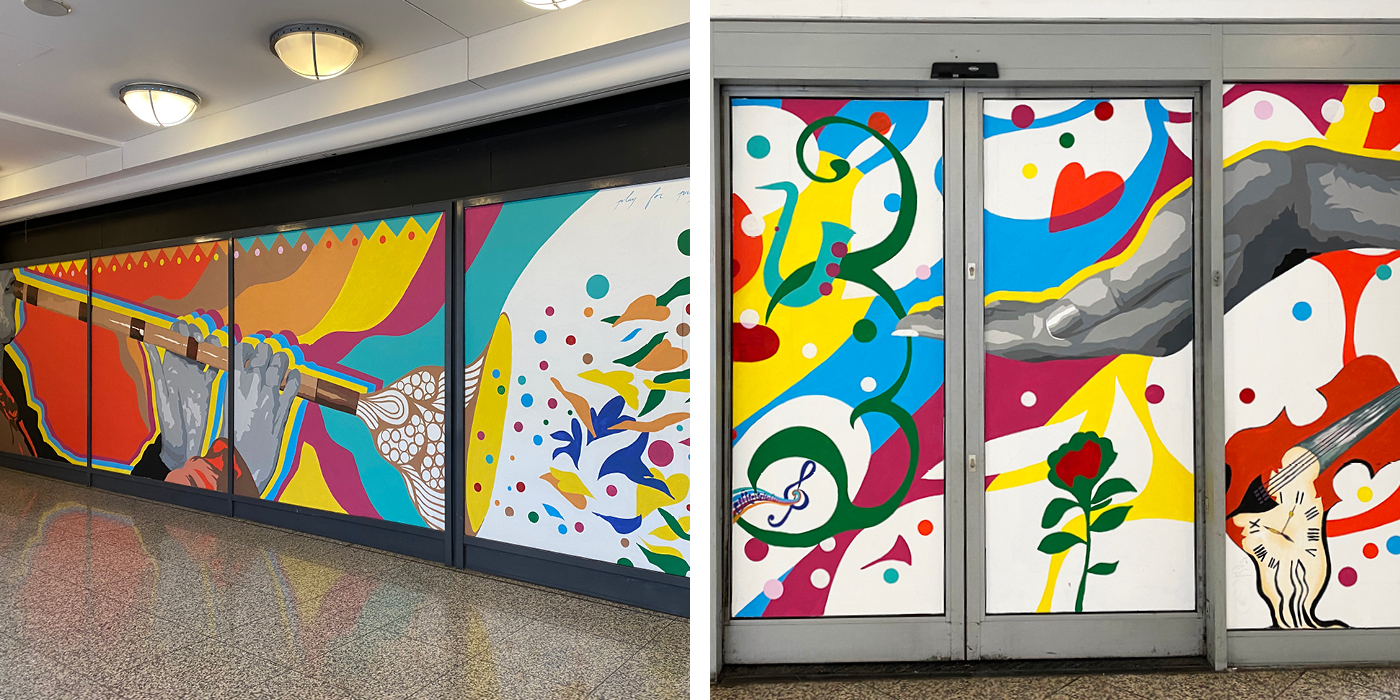 Soundscape by Play for Progress + ATMA (Whitgift)
Play for Progress is all about using the power of music and arts to celebrate diversity and fuel community. They are a small charity that runs therapeutic music and art classes to support asylum-seeking young people in Croydon and curates and hosts collaborative exhibitions and performances to encourage positive community bonding. They work exclusively with unaccompanied refugees and asylum seekers aged 15-21 from all over the globe who now call Croydon home.
ATMA (recently featured on BBC for his 200 nationalities mural) is an extensive collaborator having worked with renowned institutions such as the Lazarides Gallery, Victoria & Albert Museum, Punch Drunk, and in association with Lufthansa, Dulux, Camel and HTC. He believes that mural art is a tool for social justice, it can change perception of a neighbourhood or community and can create a sense of belonging.
ATMA says of his trail piece, 'I hope my mural "soundscape" brings joy, ignites dialogue and reinforces community as it celebrates young refugees that call Croydon home and use music as a healing tool. It's an honour to be part of the art trail and it was so much fun to paint at the Whitgift, transforming an unused space into a corner of colours and hope.'
---
Birthplace of Punk by Julia Woollams (Whitgift)
Yes that's me – if you're a regular reader you'll know I'm a graphic designer by trade. Being a Croydon native with a love of both art and music, it's an absolute honour to be amongst the other talented trail creatives. My trail piece visually fuses together punk, past and present – utilising the typical punk aesthetic of spraypaint and the bright pink and yellow punk colours from the 70s with the graphic icon used in the Cro Cro Land and Croydonist logos (symbolising Croydon's famous landmark No.1 Croydon) to create a bespoke modular typeface for 'birthplace of punk'.
---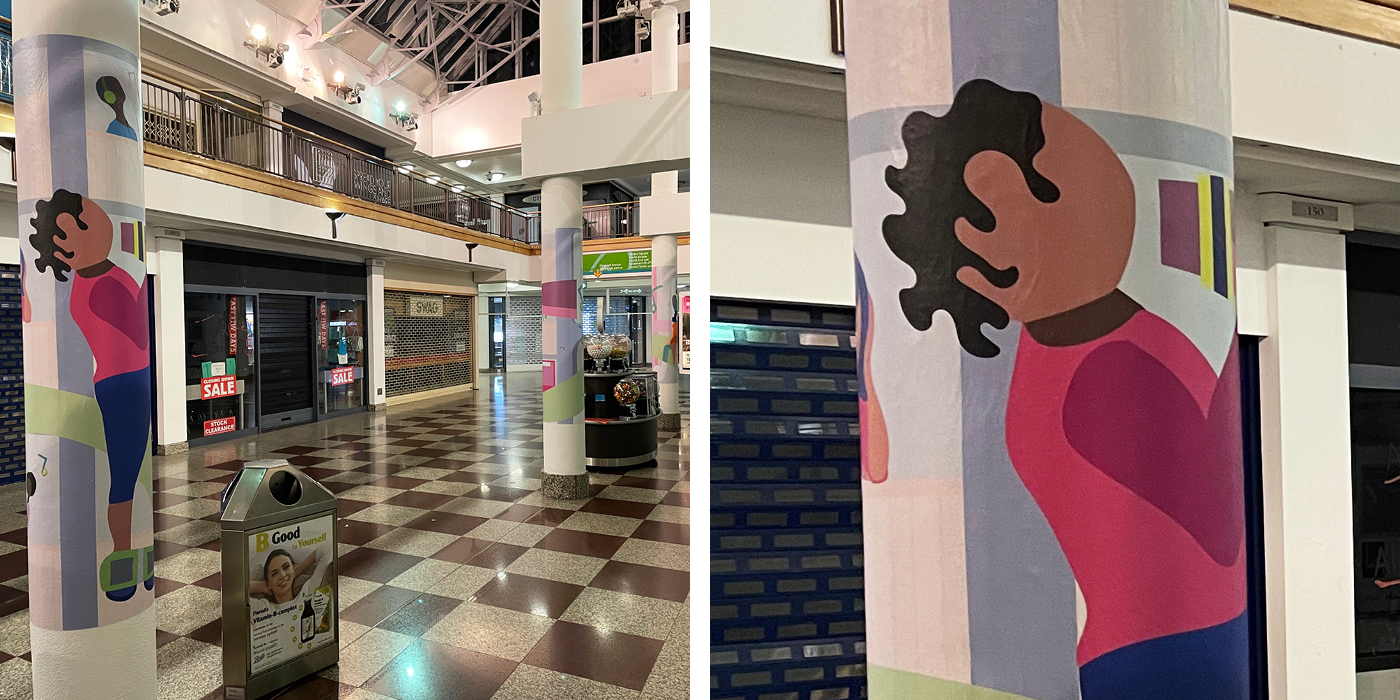 Living Orchestra by Wadzanai Chanel  (Whitgift)
Wadzanai was raised in Croydon and is a designer who has just completed her masters in Architecture. Her approach to art and design is based on social or environmental commentary. In the years after studying art in college she says she has not kept up with finessing her skills, however due to lockdowns she has been able to experiment and get back into the love of creating.
One of Wadzanai's song choices that helped inspire her for the work is 'Mahombi – This City' she says this helped her to define what she likes about Croydon: The trams, the IKEA towers and the diversity in all forms.
---
Croydon: The Sound of a Town by The Town That Love Built (Centrale)
Gavin Kinch is a well-known Croydon artist with some of the most mesmerising futuristic scenes appearing across Croydon over the years. Gavin likes to draw his hometown as he says it feeds his imagination.
Gavin says of his piece, "As well as being an artist I'm also a musician, a producer and live engineer and have proudly worked within every facet of the Croydon music scene for many years, so you might imagine I'm pretty touched to be included – particularly amongst such inspiring artists. I chose to explore the expanding universe of music production by illustrating a regenerating architecture of technology to reflect the symbiotic energy of a dynamic town and the music that evolves within it. It was a real blast to be able to run wild for this project, and – as somebody who seeks the journey and not just the destination – I loved it.'
---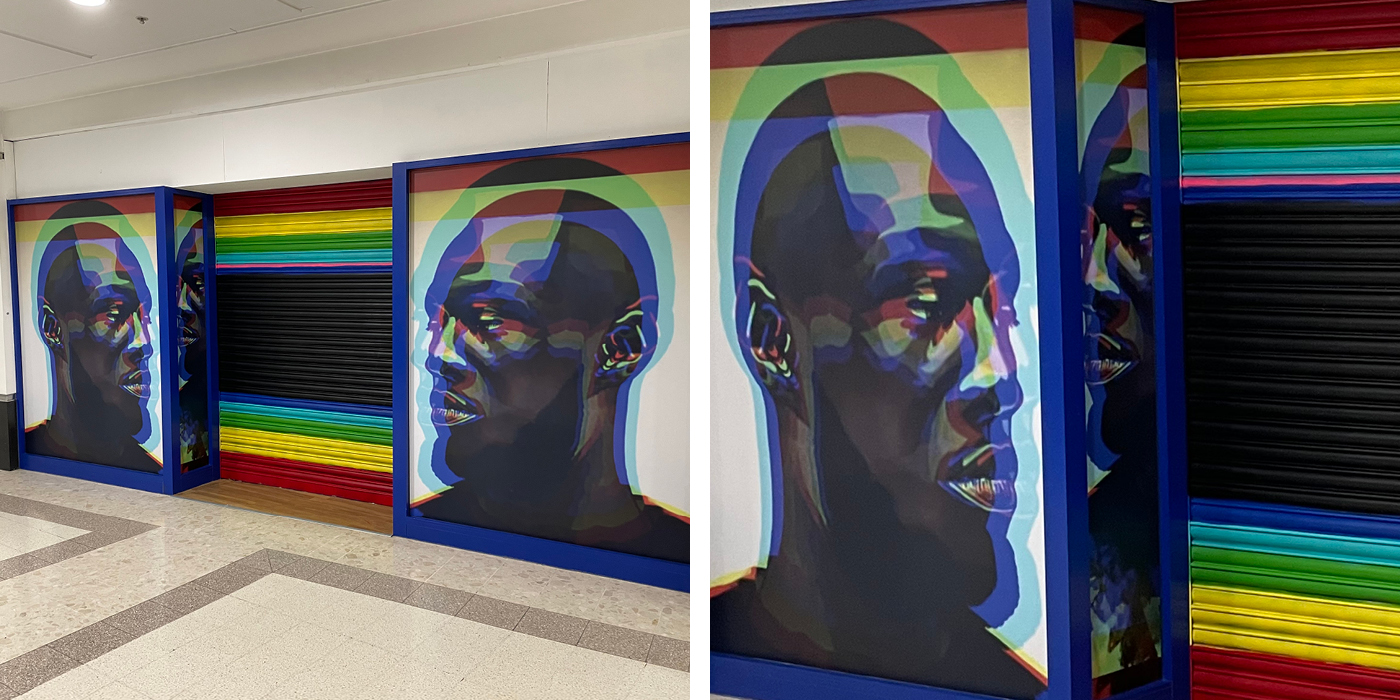 Electric Stormz by Alec Saunders (Centrale)
Alec is a Croydon-born artist and Head of Art at a local Primary School. He strives to inspire and create opportunities for tomorrow's adult generation, through art, sport and charitable causes.
On the trail Alec says, 'One of the amazing things about the art trail is that it showcases artists that live and work in Croydon. Genuine art and skill that comes from here, portraying and showcasing some of the world-class art and music that has been born from here. It ignites Our community's creativity and elevates us all, injecting confidence. Echoing CDN's piece [below] and meaning that the talent is already here, it just needs to be nurtured and believed in. Thank you Centrale & Whitgift for walking the walk and being the ones to trust us artists as a collective and believing. Croydon is powerful, Croydon is divergent, Croydon is beautiful.'
---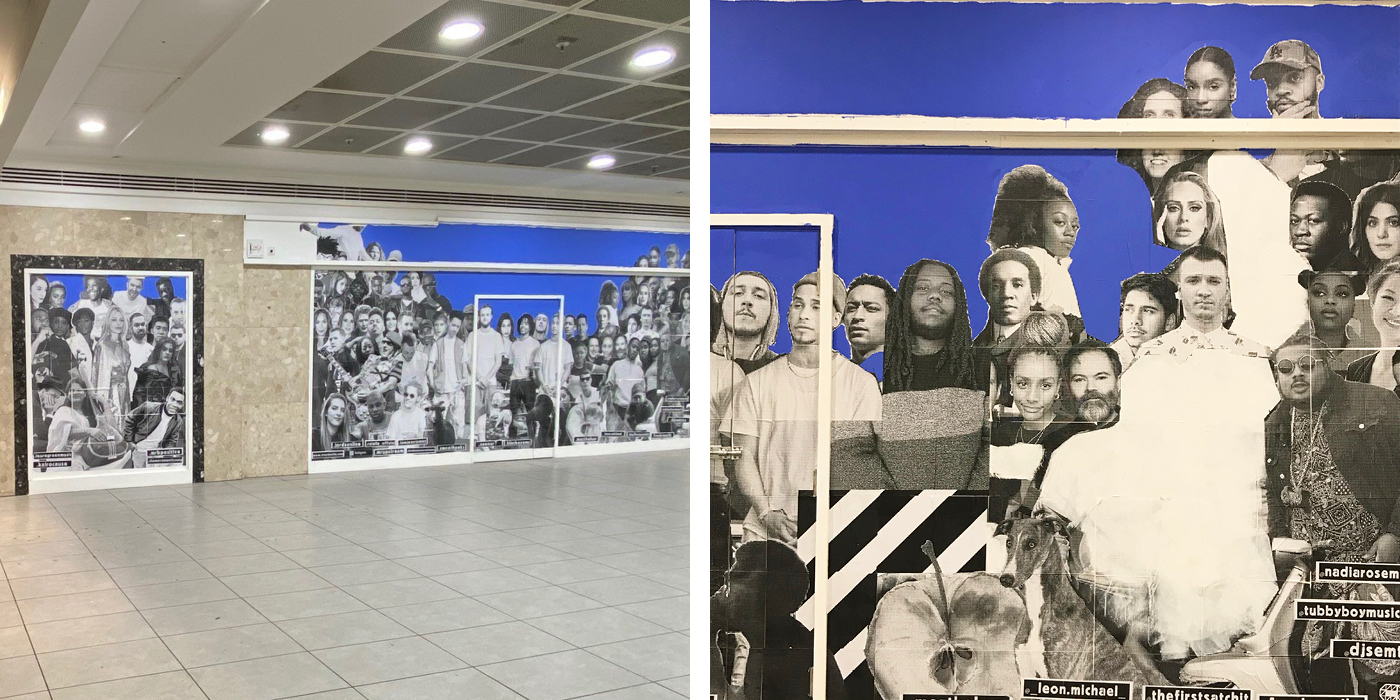 Never Mind The Concrete, The Talent Is Here by Wesley Baker (Centrale)
Wes is a well-known Croydon artist and photographer and creator of CDN.
Describing himself as 'one of Croydon's biggest fans' Wes says he has always been passionate about Croydon since his childhood, admiring the skyline, the ambition we've had to be a city and that bit more than the usual suburban area.
Wes started travelling across the borough to photograph Croydon back in 2007 with the aim of showing people what Croydon is really like. His style of work aims to change perceptions based on stories of crime and rankings of town charts. He likes to use his art to highlight what's great about Croydon and local icons who hail from it.
Wes says, 'It was an honour to be chosen to be in an art trail with artists I've admired for years. The opportunity to be able to create and install an idea I've had for years was a dream come true and it's been heartwarming to see how touched people featured in it have been. I hope passersby look at it and realise despite anything negative they believe about Croydon they discover there's so much positivity.'
---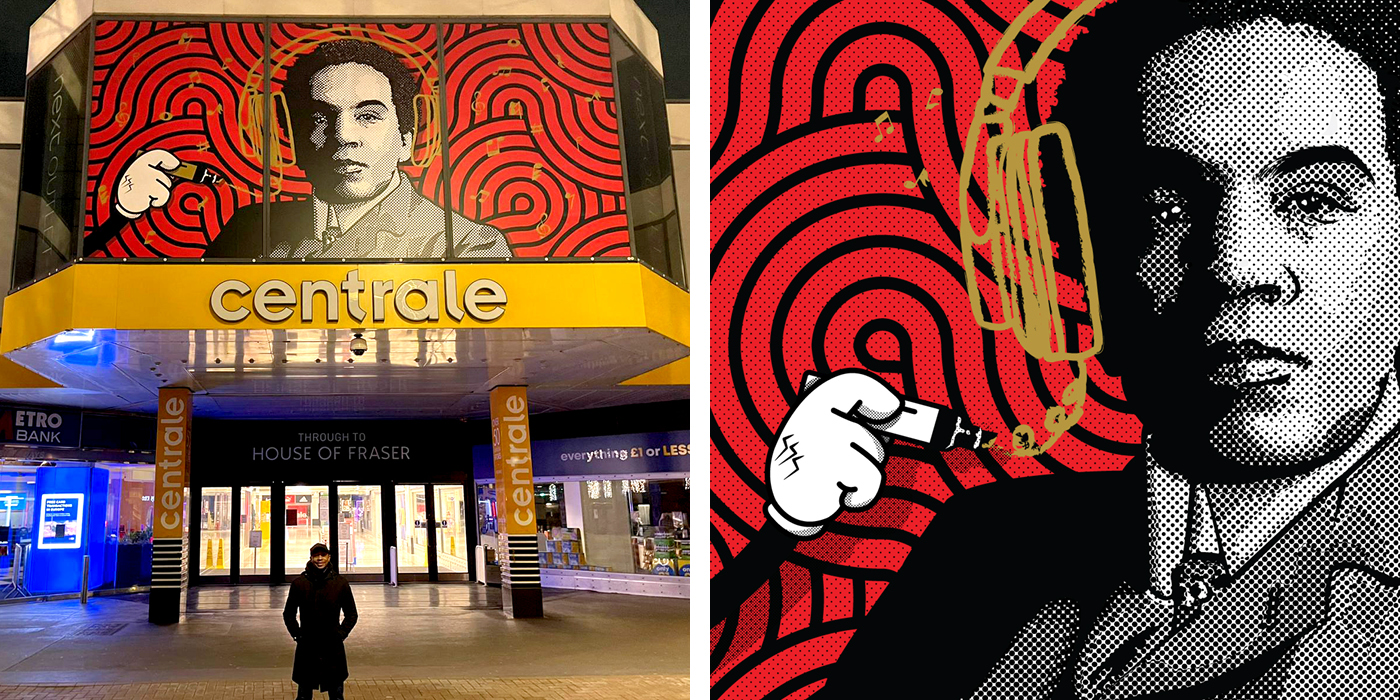 Samuel Coleridge-Taylor by Bareface (Centrale)
And last but by no means least, Bareface is a Croydon artist with an obsession with Pop Culture, Pop Art and Street Art. His work quickly gained recognition in the UK and internationally when he started pasting his eye-catching self portrait and art pieces around London. This earned him a place in the Global Graffiti and Street Art collective, The Secret Society of Super Villain Artists (SSOSVA). Bareface is also a member of local community based creative group Heath Collective.
Bareface says of his piece, 'It's an honour and a privilege to be selected amongst some highly talented artists for the art trail. I hope my piece ignites a sense of child-like play and introduces people to an unsung musical hero's works and makes my mum proud.'
Check out the video of the Bareface artwork being installed below.
---
The Centrale & Whitgift Art Trail is on until 30 September 2021 on the ground floor of Whitgift and Centrale shopping centres.
You can have a sneaky listen to the trail's Spotify playlist here, although I won't give away which songs relate to which piece – it's more fun to listen as you view… and don't forget those selfies. The competition closes on 18 June.
Download the Centrale & Whitgift app here.
Images courtesy of Centrale & Whitgift, the artists and the Croydonist.
Posted by Julia