This week we chat to the author of Black Enterprize, D. A. Miller. I first came across Dwayne's work when Black Enterprize, which tells the stories of successful black innovators through history, was turned into an exhibition at Boxpark as part of their series of events to celebrate this year's black history month. We find out more from Dwayne about the ethos of the book, his publishing house and what projects he has in the pipeline.
Croydonist: First of all, Croydon native or convert, and what area do you call home?
Dwayne: I was born in Jamaica but Croydon is home.
Croydonist: Tell us more about your background as an entrepreneur and writer. How did you get to where you are today?
Dwayne: I started my entrepreneurship while at school (I went to the now closed Selhurst High For Boys). I started a t-shirt label with a close friend and my appetite started from there. I progressed to Events and Media and I'm currently in the Consultancy space. My journey as a writer sort of started trying to write about social and community issues.
Croydonist: How did the idea come about for your book Black Enterprize?
Dwayne: I had written a few blogs about Generational Wealth and Gentrification and I intended to write Black Enterprize as a blog but after the quality of people I found with interesting stories I decided it needed to be a book. So I entered the Merky Books prize where I was a finalist and took it from there.
Croydonist: What was the process of creating the book, and how long did it take you (from concept to publishing)?
Dwayne: I started the journey of the book in 2017 and it finally came to life in 2020 so it took 3 years, however to be honest, I have been researching for a lifetime.
Croydonist: How did you go about choosing the figures from history who feature in the book?
Dwayne: I sort of wanted to focus on people who didn't fit a particular stereotypical background for black public figures. In the book there are next to no sports stars or entertainment legends. I also didn't want to pick well known or ultra famous black leaders – no Oprah, No JayZ (as much as I love them) or anyone famous as they already have huge visibility. I wanted to focus on people who are equally as important but didn't have the social coverage. I also wanted to showcase that successful black figures isn't a new phenomenon – so I started the journey in the 17th Century and led up to the year 2000 with the intention of doing a post 2000 follow-up book.
Croydonist: Which figure in the book resonates with you the most and why?
Dwayne: I really enjoyed all the stories in the book, they all inspired me individually as they all faced different struggles but also the same struggle. With that being said, Reginald Lewis was a figure I hugely admire. He was the first black man to helm a billion dollar corporation and did this with pride and elegance.
Croydonist: What was your biggest challenge in realising Black Enterprize?
Dwayne: Support and funding. I did it independently which I am very proud of and I wouldn't change this for the world.
Croydonist: What did you enjoy most about writing the book?
Dwayne: I enjoyed learning as I did research. After a challenging few years in the media and in life in general for black people I was able to feel proud and empowered by the brilliant stories I was discovering – largely untold stories really could change the mindset and outcomes for how black youth view themselves and also how society can view black people.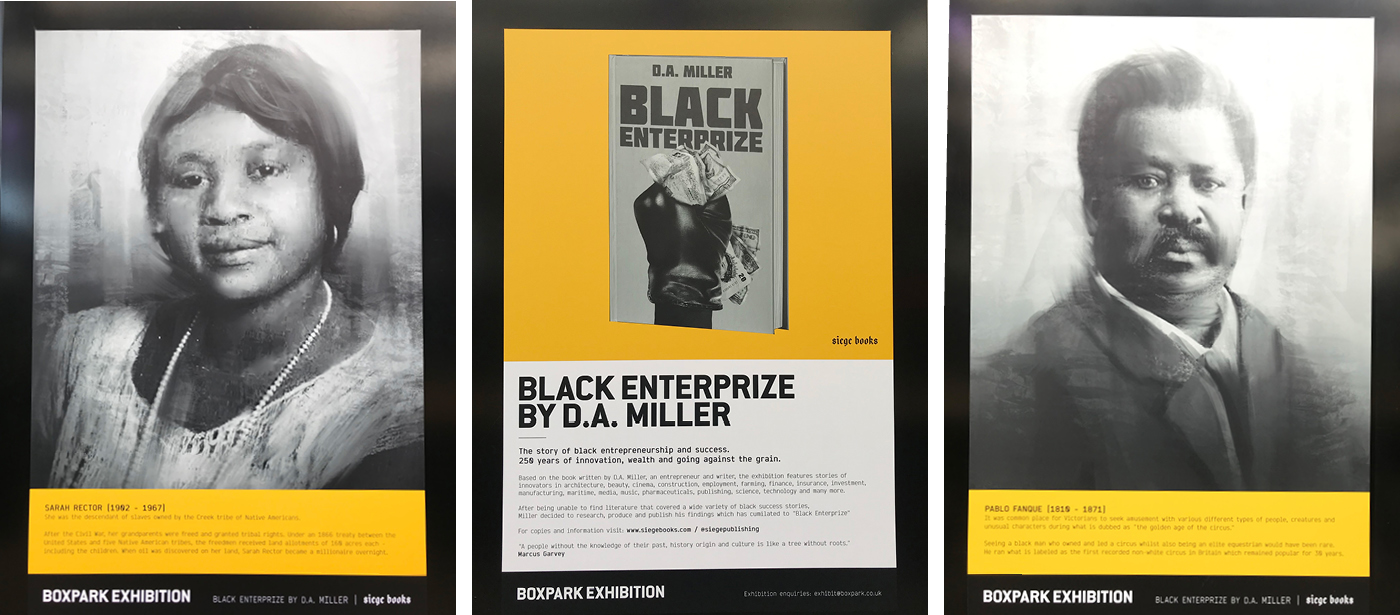 Croydonist: How did you turn the book into an exhibition?
Dwayne: I wanted to expand the book and make it into a journey over several years and this was one of the main ways I thought about doing this. A great friend of mine was able to connect the dots on my behalf at Boxpark and they understood and were instantly ready to embrace the project which is extremely rare. Boxpark are great people!
Croydonist: Random interview question – if you had to invite 3 black historical figures to a dinner party who would they be?
Dwayne: I would pick the people who were most skilled at conveying the message the black community needs to hear most (in my opinion), so naturally my picks would be Marcus Garvey, Malcolm X and then Tupac. Great orators over different generations but all exceptional at articulating the message they want the community to hear.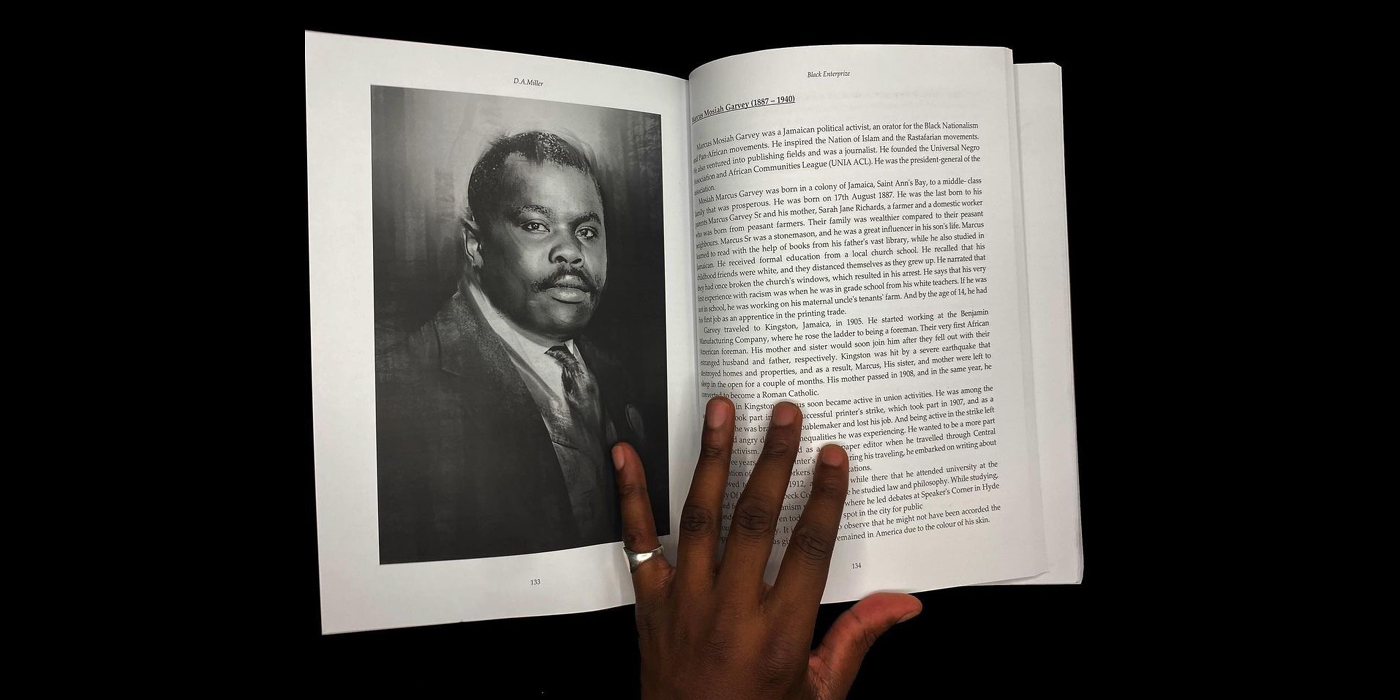 Croydonist: Where or what in Croydon inspires you?
Dwayne: I am most inspired by the unique nature of Croydon and also its diversity. It's one of the few places left in London where you can find compact communities that all seem to get along.
I've always been a big advocate of Croydon – I want to see us achieve city status one day as I truly believe Croydon could rise to global visibility like Canary Wharf or Shoreditch with the right investment and approach. Croydon is producing national stars yearly now and I think it'll only get more intense from here.
Croydonist: What's next for you?
Dwayne: I already have several other books scheduled for release under my publishing house now, including my next release. I also intend to start working on some short films and work on launching my first theory which I first developed for my debut TedX. Global projects are also in the works. We'll see.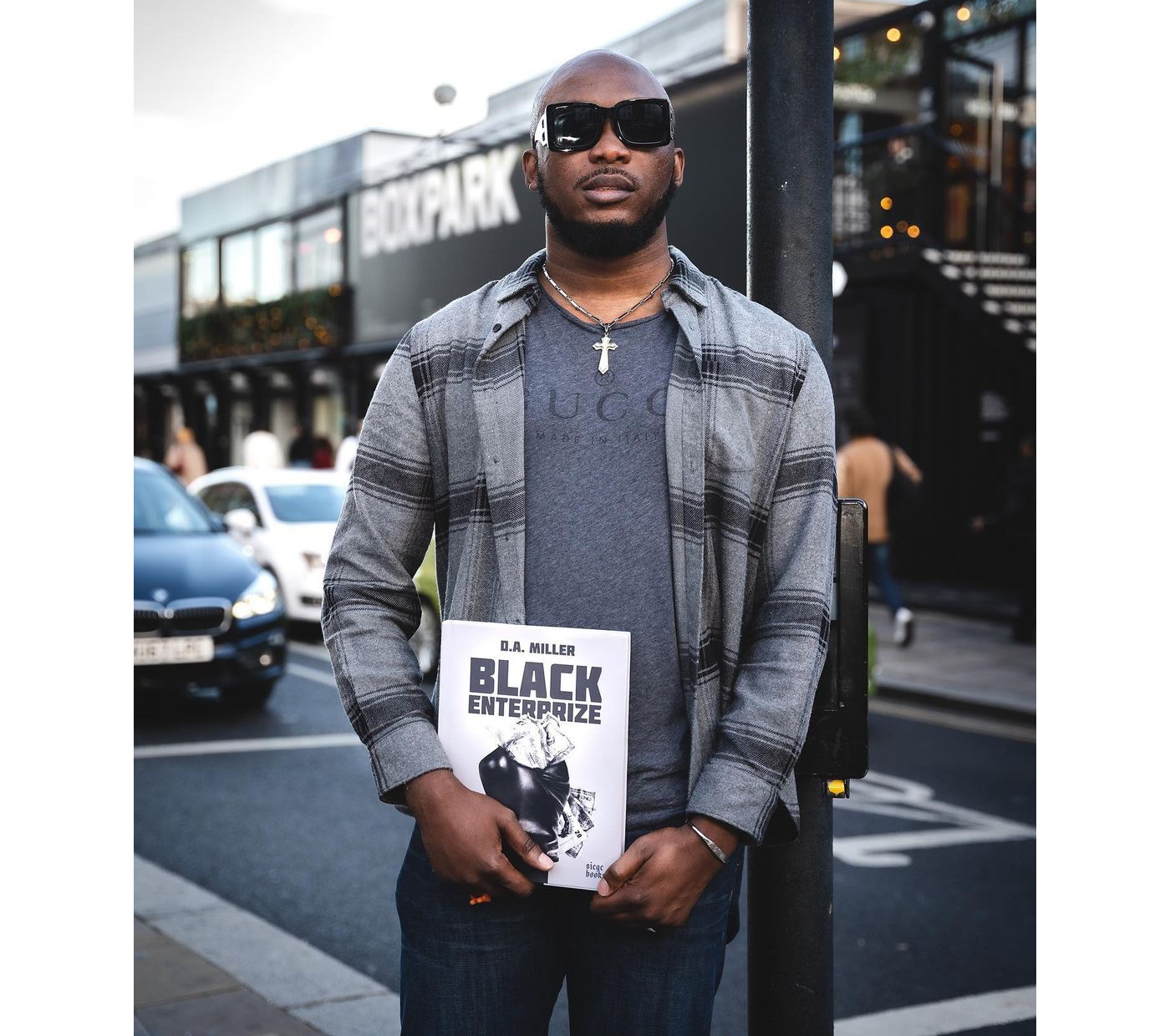 Thank you to Dwayne for chatting with us. Keep up-to-date with his projects at Siege Books and on Instagram.
Photos courtesy of D A Miller (Boxpark exhibition photos by the Croydonist).
Posted by Julia