Last week I took to the skies of Croydon and crossed off an activity that's long been on my bucket list. No, not a plane or a helicopter or even a hot air balloon, but a glider… yes an aircraft with no engine.
I grew up on the edge of the borough on the border of Kenley and Whyteleafe, a short walk from both Kenley Common and Riddlesdown, so I was very used to gliders whirring above our house from the aerodrome when I was growing up.
I never plucked up the courage to give gliding a try on my own, nor ever found a willing victim to accompany me. So gliding has just sat on my list for years – that was until Croydon-based photographer Christopher Hope-Fitch mentioned that his dad Richard is an instructor at the Surrey Hills Gliding Club and that he could take me up on a trial flight.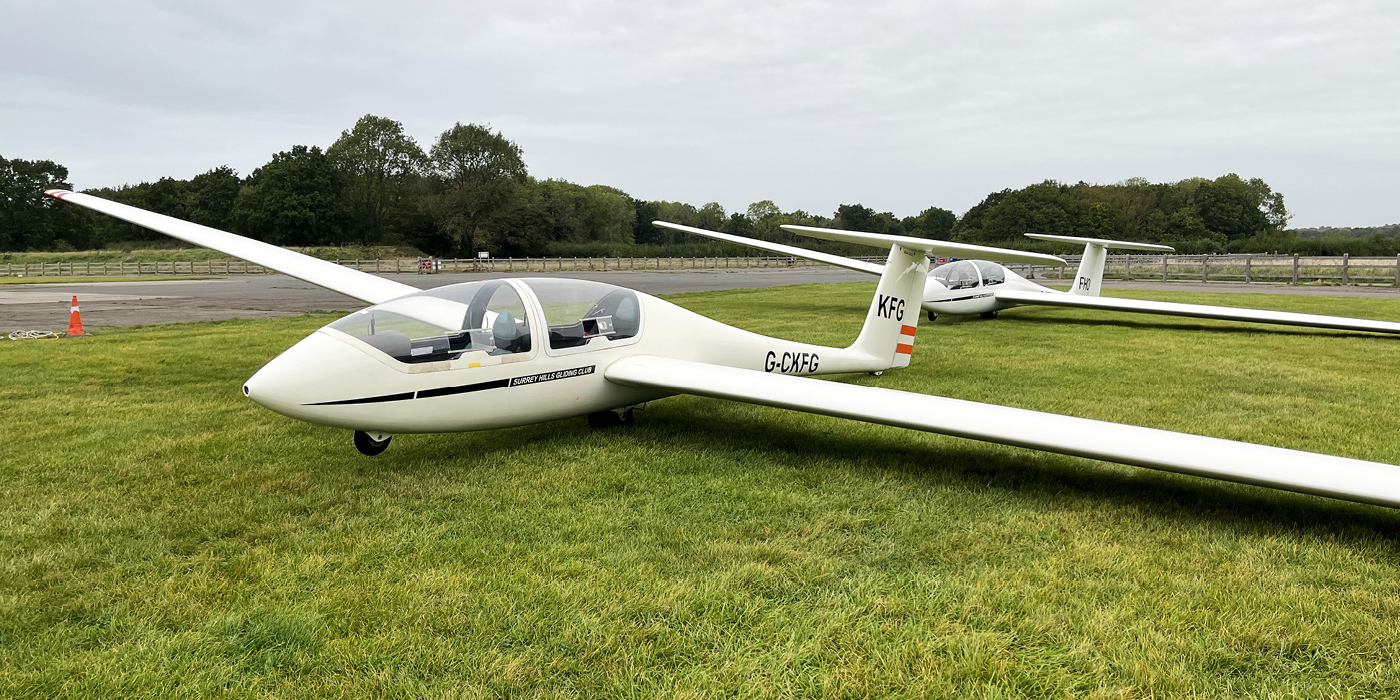 Nine things I didn't realise about gliding before I took to the air:
Gliders are really light – perhaps obvious, but you can easily lift the wing off the ground and tip the aircraft in the other direction.
You have to wear a parachute – again I guess pretty obvious (but they are heavy!)
When you go up in a dual seat glider you sit at the front (yes the front!), and the pilot sits behind you. You also have all the controls in front of you which move when the pilot controls them.
Gliders can travel far – I had never considered that they could fly to other airfields, and it would be possible to fly from Kenley to Glasgow given the right conditions.
The gliders don't actually take off on the concrete aerodrome runway, but on the grass.
The winch automatically detaches itself from the glider when it reaches a certain height.
There are different pilot licences to fly at different heights.
You can't fly too high at Kenley as the Heathrow airspace is above.
There is a portable tower (called a launch caravan) which is driven over to near where the gliders take off, so a club member within can relay the launch signals from the person launching the glider to the winch driver.
Being that Richard is Chief Flying Instructor of the club, I felt in very safe hands. He made my first flight a relaxing experience – even in the surreal moment when he was explaining how to bend my legs upon landing should I have to activate my parachute!
Another club member had equated 'take-off' to going on a rollercoaster as he drove me across the aerodrome to where the gliders had been set out, so I was bracing myself as the glider was winched into the air. Being that the glider goes from 0 to 60 in 3 seconds, and is in the air pretty much that quickly, there isn't really any time to register the take-off (I'd imagined bumping across the grass for 30 seconds or more, akin to an Easyjet plane taking off…)
It was a completely different experience from flying in an aeroplane. It felt so light and peaceful (no noisy engine), and not scary at all. We were soaring in the sky like a large bird. Richard pointed out local landmarks as well as London sights during our flight, and I even managed to pick out my mum's house from the air.
Landing was smooth as we came down (this time) on the concrete runway of the aerodrome, and I got out of the glider immediately wanting to try it again. I'll be back when the sky is a little sunnier.
Thank you to Christopher and Richard for arranging. If you fancy trying a flight (or indeed want to learn to fly a glider yourself, you can head over to the Surrey Hills Gliding Club website to find out more.
Header image courtesy of Chirstopher Hope-Fitch, other photos by the Croydonist.
Posted by Julia