Last year we saw the celebrations of a 100 years since the first women in the UK got the vote. Croydon held various events to mark the occasion. 1918 was really just the start of change, as it was only women over the age of 30 meeting certain criteria, who were permitted the vote. 1919 saw the first female MP, Nancy Astor enter the Commons, and it wasn't until 9 years later in 1928 that women aged between 21 and 30 were allowed to vote. (Neither men* nor women could vote between 18 and 21 until 1970 incase you were wondering). The women's movement continued, and still continues to strive for equality. We're still not completely there, but we have come along way.
With all that in mind it's great to see that there are new cultural events this year to mark women's suffrage.
This month the wonderful Croydon Cycle Theatre – who had a busy calendar of events last year for #vote100 – are premiering their show about suffragette Rosa May Billinghurst at Zoo Co's Theatre on the High Street next thursday lunchtime (24 January), and currently you can see a new art exhibition at the Museum of Croydon showcasing artist in residence Mireille Fauchon's work inspired by a Croydon suffragette, Katie Gliddon.
I popped along to see Mireille's exhibition 'Don't Believe the Papers' last weekend and was beguiled by her striking graphic illustrations, using book pages as her canvas. Naturally I wanted to find out more.
First a bit of background about Katie Gliddon. The Twickenham born artist, writer and Croydon suffragette was sentenced to two months in Holloway Prison in 1912, for smashing a post office window during the mass glass smashing campaign. Whilst imprisoned she kept a secret diary, including her thoughts and drawings in the margins of a poetry anthology of Shelley. They are quite fascinating – you can check some of them out here.
It's these diaries that are the focus of Mireille's ongoing body of work, which form part of her PhD research at Kingston School of Art, where she's been visually interpreting and creatively responding to them for a modern day audience.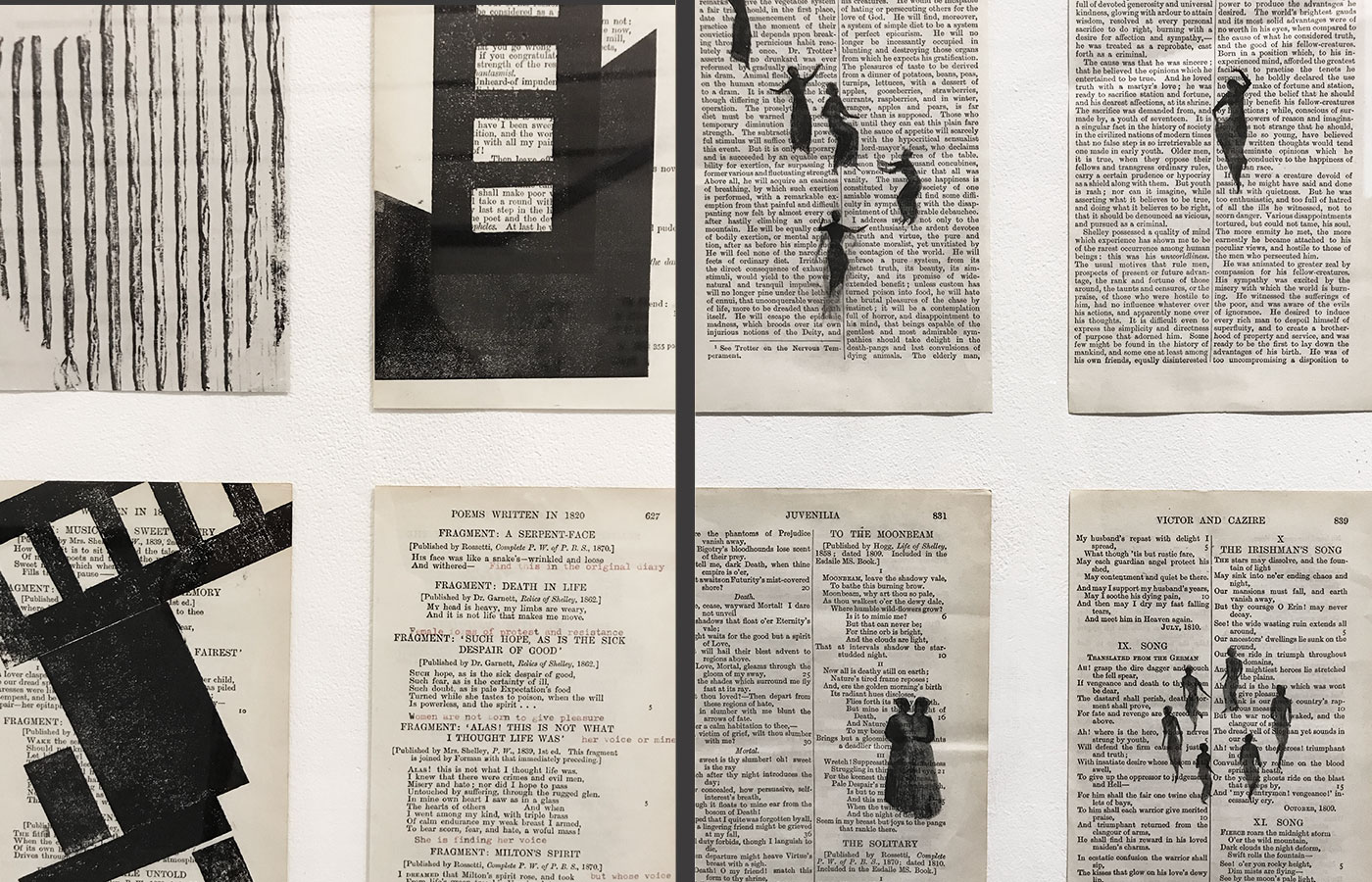 I wanted to hear more from the artist herself about her work and how she discovered the Croydon suffragette, so I caught up with Mireille for a chat.
Mireille: My practice-based research is fundamentally concerned with how illustration, specially my practice as a visual storyteller, can be applied as a social research tool. I had no inkling at the beginning of the project that I would be addressing such an important historical narrative let alone working with the writings left behind by a Croydon Suffragette.
My work has always concerned local and personal histories. I have always been intrigued by what, how and why particular information is preserved particularly within the locations of experience.
I was born in South London, and as a general rule I tend to work in response to stories in the places I know, that I feel I can claim as my own. There is a particular kind of narrative I'm drawn to; the rumour, gossip, local lore, the everyday lived experience that on second consideration is extraordinary in some way. It also became clear with a little reflection early in my PhD that female narratives were prevalent within all my work.
I came to know of Katie Gliddon after a meeting with an archivist at the Women's Library when I was seeking out possible case studies for the research project. After talking her through some previous projects and explaining the themes of interest she suggested the Suffragette prison diaries may be of interest. She gave me some pointers as to how to navigate the archive and with little knowledge of the details of the collection the first request I made was the papers of Katie Gliddon.
This was to be the most fortunate event of my research journey.
And there you have it – serendipity has led to a thought-provoking and creative exhibition on women's suffrage. Thank you to Mireille for chatting to us about her work.
The location of this exhibition is particularly apt as well, since the Croydon branch of the Women's Social and Political Union (of which Katie was a member from 1910) used to hold their meetings on Katharine Street outside the Town Hall.
'Don't Believe the Papers' is open Tuesday to Saturday, 10.30am to 5pm, until Thursday 31 January at the Museum of Croydon. You can take part in a creative storytelling workshop this Saturday (19 January) between 11am and 2pm (adults only), and there's a group reading and listening performance on Saturday 26 January between 11am and 1pm. The exhibition and all events are free, so perfect January activities. See more of Mireille's work here.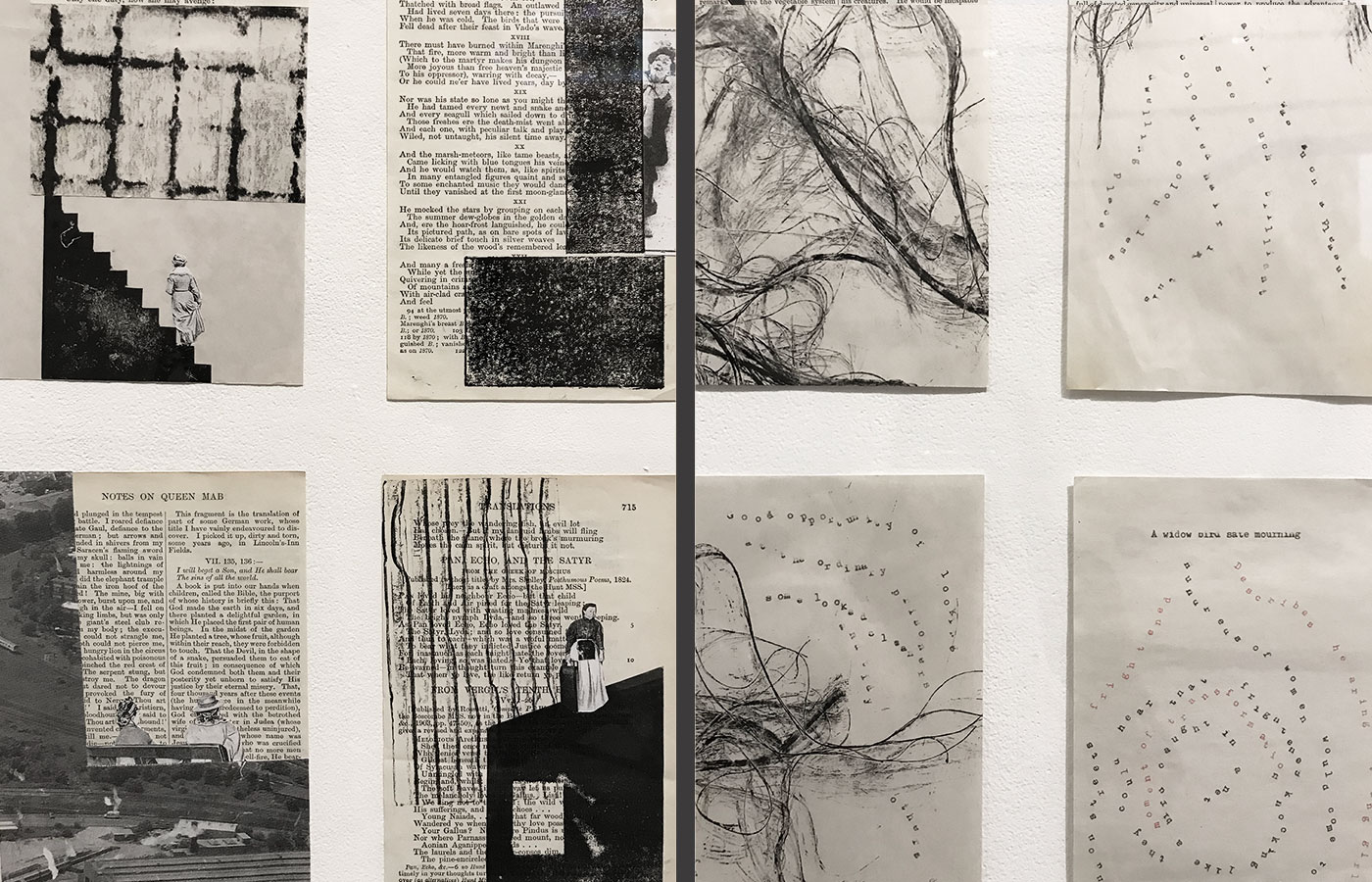 *This was except men in military service turning 19 during WW1 who were given the vote in 1918 irrespective of their age (just to complicate matters)
Images in the header courtesy of the artist.
Posted by Julia