In June this year when we met Croydon community arts company SDS we were also introduced to visual artist Tatenda Michael Manyarara who regularly works on commissions for the organisation. We were immediately taken by his artistic style – how he creates portraits that are more than just skin deep, conveying the hidden qualities of a person in his work. His name may already sound familiar as we invited Tatenda to be our social media header artist over the summer.
Originally from Zimbabwe, Tatenda moved to the UK to further his passion for art and design, turning his hobby into his career, by studying Mixed Media Fine Art at the University of Westminster. We catch up with Tatenda for a chat about his work, from his process, inspirations and influences, to his current series for Black History Month called Unknown Heroes, where we are pleased to see another local link, his portrait of Croydon-raised composer Samuel Coleridge-Taylor. Although not based in our borough, Tatenda is evidently an honorary Croydonian…
Croydonist: First of all, what's your link to Croydon and where do you call home?   
Tatenda: My link has mostly been thanks to my friends and team at SDS Entertainment, who have always helped stretch my creative potential by having helped set up my exhibition there. In regards to home, I'd have to say a mixture of Hastings and Harrow. Hastings is where I grew up and Harrow was where I met most of my friends and in some cases, grew more into my power.
Croydonist: Your work almost always includes people – how would you describe your artistic style?  
Tatenda: I think my style is more so tied to creating a new perspective in regards to how people view themselves. I have always been drawn to extract a hidden quality to a person, be it their personality, the elusiveness in their eyes and gesture, or even the innocence they have. Be it digital or traditional, it's about connecting the person more to themselves, and with others.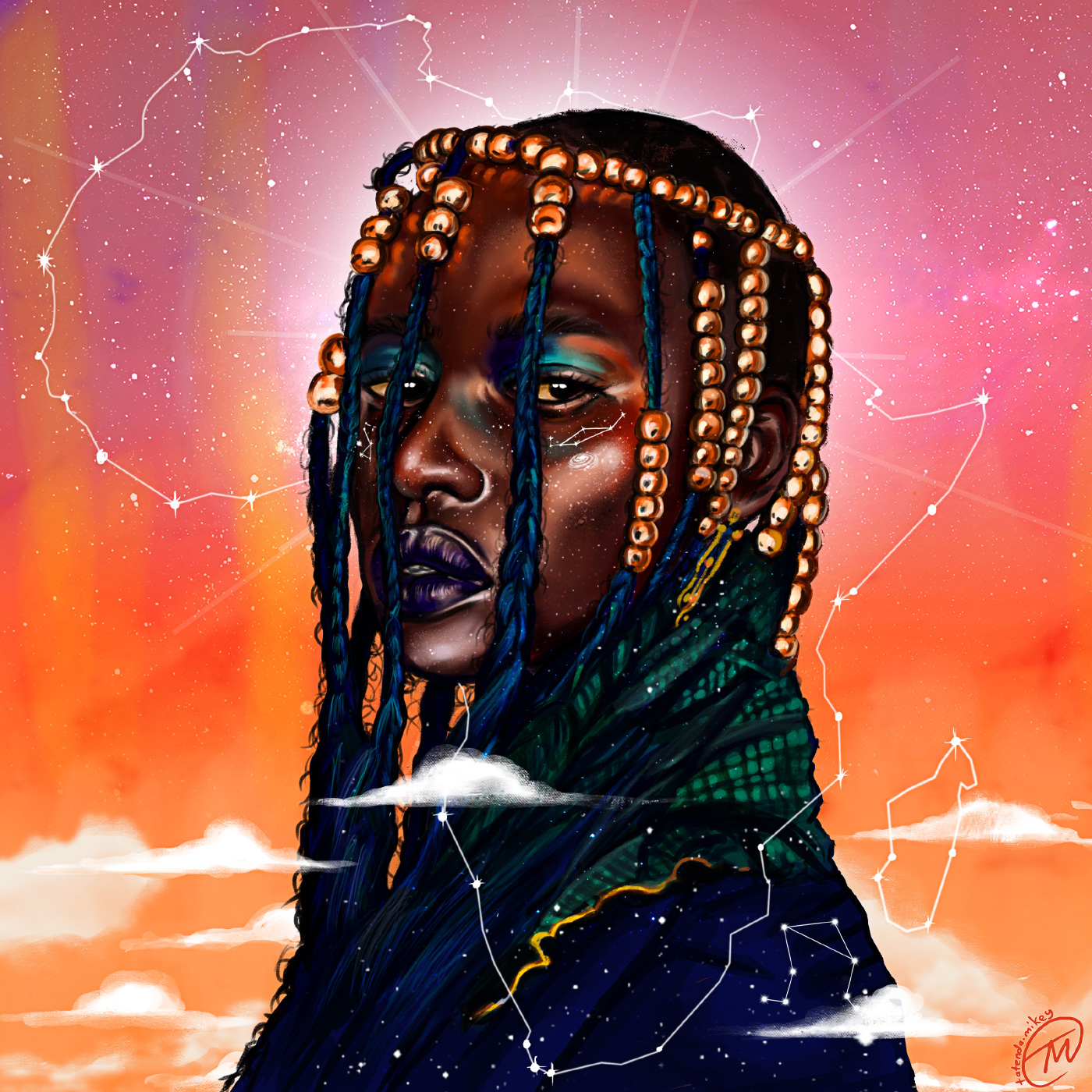 Croydonist: How did you get to where you are today?  
Tatenda: In all honesty, it's all thanks to my amazing family and friends from Zimbabwe and here in the UK. My sister and father were my main motivators as they encouraged me to pursue this talent I had. But the main source of inspiration was my mother as she was the first person I drew, and it was a means to connect with her as she moved to the UK to support the family when I was 4 years old.
Since Zimbabwe, I have sought to go beyond into portraiture and even character illustration, any means that can help me see more of my potential and inspire others.
Croydonist: Where do you create your work?  
Tatenda: I mostly make my work at home in Hastings, but I tend to work wherever I'm inspired. Be it on the train, in a park, cafe, or even in a lecture, the world is my studio regardless of the venue.
Croydonist: How do you choose a person to depict?  
Tatenda: I think I look at what their expressions and gestures make me feel and also how I complement what they are evoking to me. I mostly look at the eyes as they are the windows to the soul, and say their pose can inspire me to better represent them perhaps in a new light.
Croydonist: What's your process when you're creating a piece?   
Tatenda: I mostly start with a sketch, to get the feel of how best to capture, say, their pose and gesture. From there, it's more about proportions, then depending on the mood, I can choose to either exaggerate some of them or focus more on their greatest attributes, be it their eyes or smile – it's all about bringing more of who the person is.
Croydonist: Can you tell us about your UnKnown Heroes series which you are currently running on Instagram?  
Tatenda: The project is based on highlighting key Black British people for Black History Month. I've always wanted to learn more about those who paved the way for some of the greatest artists, musicians, and even athletes of today. So I decided to digitally draw a few people that either took the first step in the industries or contributed to them. I'm starting with the creatives but I'm working to span it into other areas from sports and even writers as well.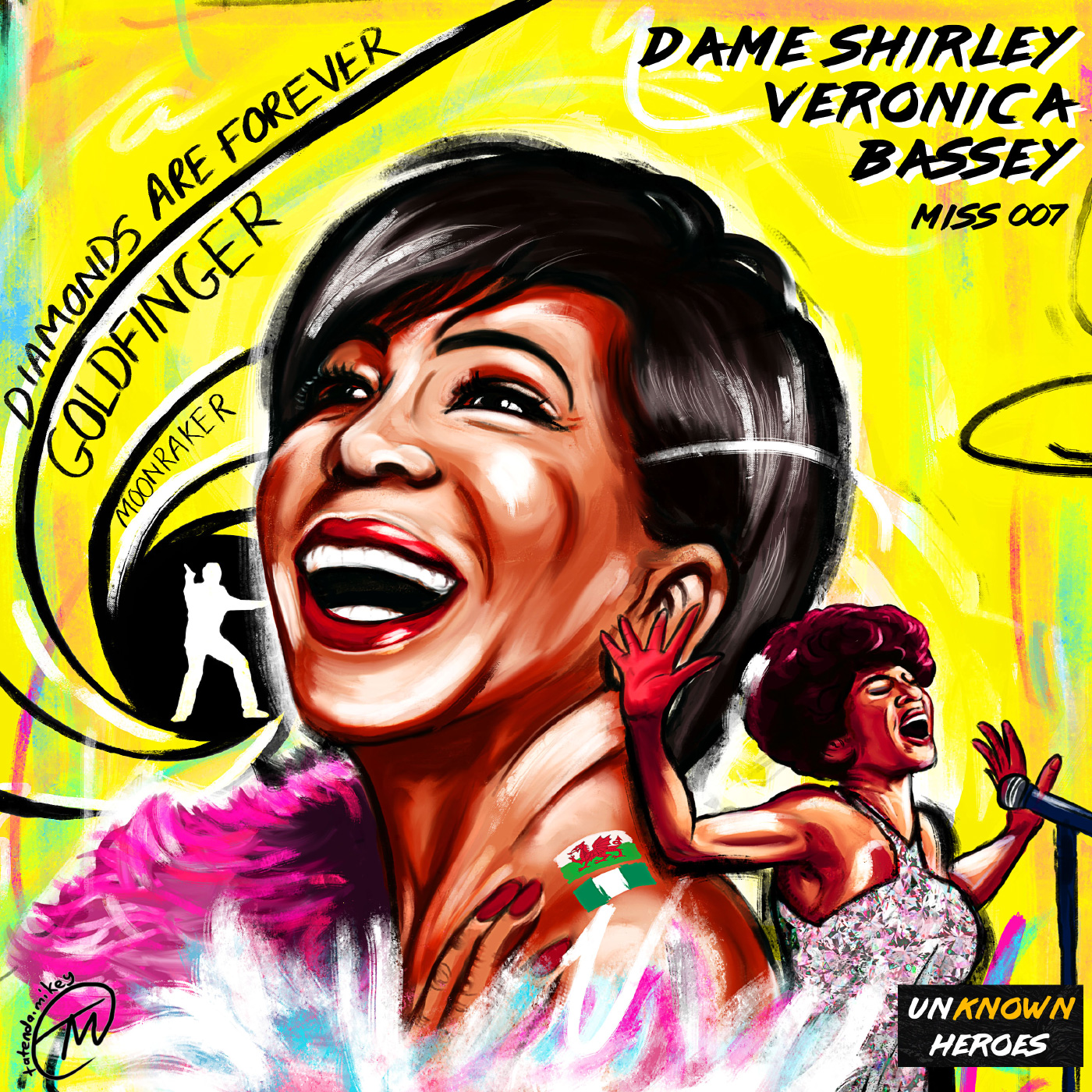 Croydonist: Who's been your favourite hero to research and draw so far?  
Tatenda: I think it would have to be Shirley Veronica Bassey or Miss 007. Her story although it had a tragic beginning, blossomed into her being an inspirational figure. Besides the success at being the musical sensation for the James Bond franchise, she stood out as one who through tenacity and passion, could rise to success. It didn't matter about her past, or that she was biracial, it was her passion, her love for music, and the confidence to blaze her path that made me smile as I researched her story and I did my best to capture her zeal through her expression.
Croydonist: What's been your most challenging piece of work to date?  
Tatenda: It would have to be the CHADWICK I did in honour of Chadwick Boseman. Next to Spiderman, Black Panther inspired me more than any other film to date, and it's more so due to Chadwick's personality. His death left me in tears as I felt I lost a big brother, and so making this piece difficult as I wanted to do my best to immortalise him but I couldn't help but get emotional when I was drawing his eyes. Nonetheless, I'm grateful for what he did for the black and African community as it inspired everyone, even me, to do better and be better for our sake and those who come after us.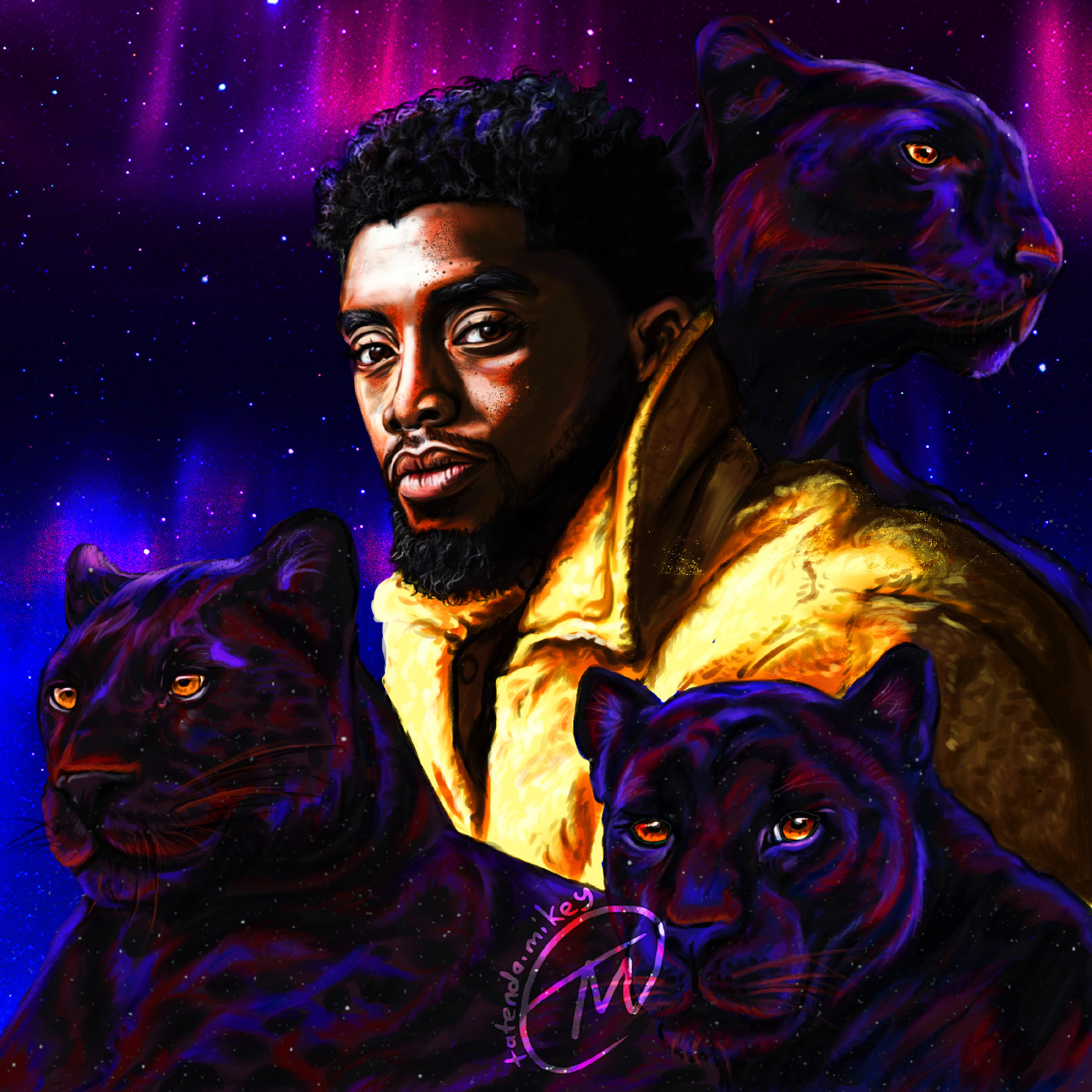 Croydonist: How long does a piece typically take you?  
Tatenda: Depending on what material or medium I choose to use, it can span from 4 hours t0 even 5-8 months. It's quite difficult to set a timeframe for some of the work especially if it's personal, so it varies.
Croydonist: Classic interview question – if you had to invite three artists or creatives out for drinks (obviously socially distanced and outdoors) who would they be?  
Tatenda: Ohhh that's tricky. I think I'd say Kehinde Wiley for his process in making his paintings, Stan Lee on his inspiration to turn ordinary people into heroes, and Picasso on how he's able to make emotion feel feasible like cloth.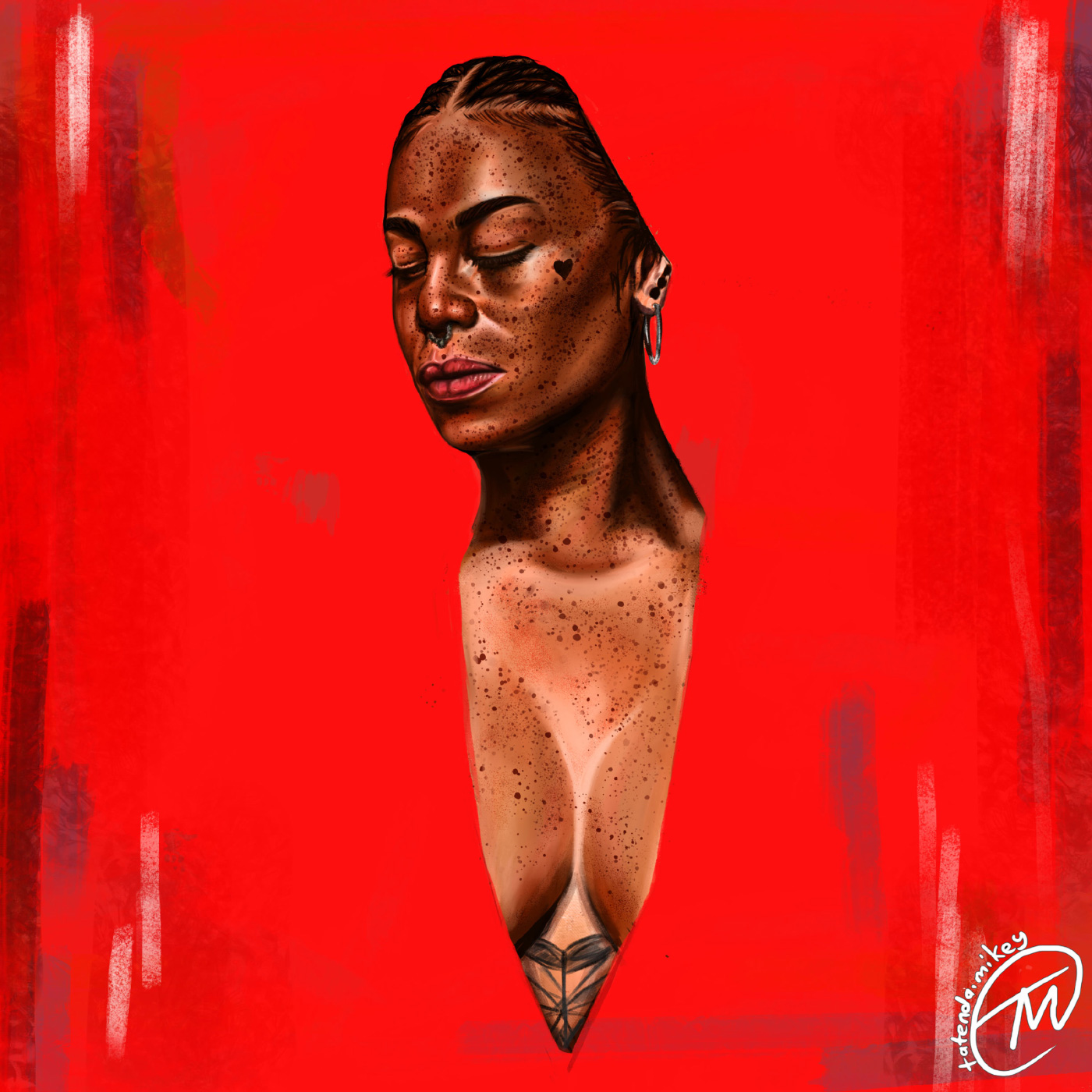 Croydonist: Where do you go for inspiration?  
Tatenda: Besides stories in movies, animations, inspirational people on social media, and in-person, I guess at the end of it all, I go to myself. I know it sounds crazy, but I was always told by my grandmother that you can find all that you want by looking into the person staring in the mirror. Be it what I like, what scares me, or even something I'm curious to convey, I can always find more about creating by looking into what I can see, not see, or haven't yet seen about myself.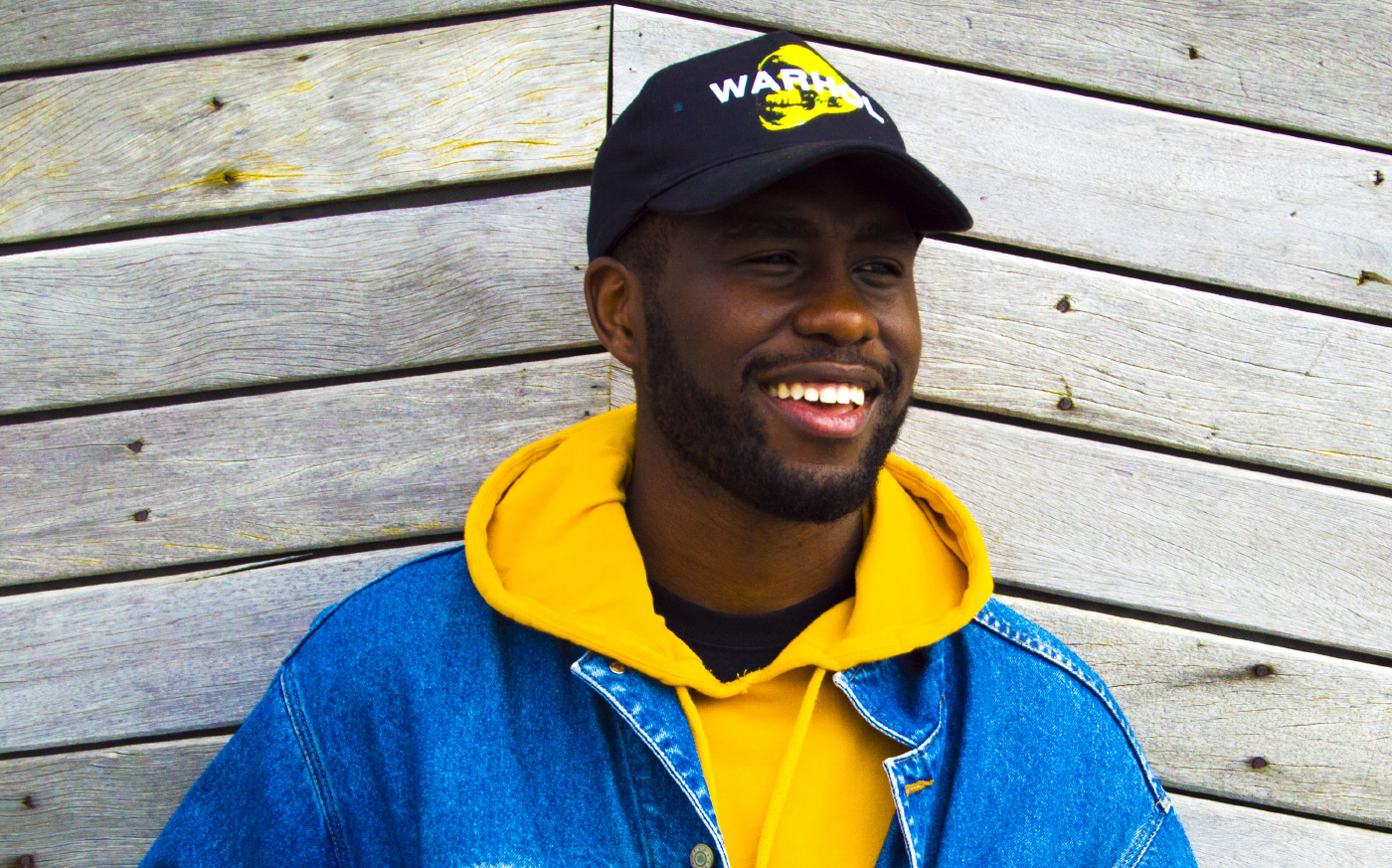 Thank you to Tatenda for chatting with us. Follow him on his Instagram to keep up-to-date with his work.
All images courtesy of the artist. Header image is a crop of 'Holly Rose' (@realredwoman).
Posted by Julia