Croydon is now officially the London Borough of Culture, so this week we continue our chats with creative organisations involved in the programme. Here we chat with Fashion Meets Music co-founders, sisters, Lizzy Lambie and Dennica Abdo. Fashion Meets Music, a marketplace for black creatives, describes itself as a retail space, with an events state of mind, fusing runway shows, live music acts, art, pop-up vendors and networking that showcase all emerging forms of creativity. We find out more from Lizzy and Dennica.
Croydonist: First of all, Croydon native or convert, and what area do you call home?
Lizzy: We are both Essex/East London natives, both of us are well travelled but East will always be our home.
Croydonist: Can you tell us a bit about how Fashion Meets Music started?
Dennica: Fashion Meets Music started in Los Angeles as an event. Runway shows, artist performances and vendors. Living in Los Angeles at the time, trying to get my brands into events and shows was very expensive so as a creative, I decided to start my own event.
Croydonist: How will you be involved in Croydon's London Borough of Culture?
Lizzy: We are a flagship project for Croydon's London Borough of Culture with our Reuse Recycle Fashion Show through Centrale Whitgift Mall.
We will be involving local designers and makers, repurposing unwanted clothes and furniture donated by the general public for resale. We'll also be taking over empty spaces for pop-ups, workshops and more.
Croydonist: When did you open your HQ in Centrale, and how important is it to FMM to have a physical space?
Lizzy: We opened our HQ in Centrale in November 2018. Croydon was our 5th store, after previous long term projects at the Stables Camden and Westfield Stratford City. We felt that it was important for emerging brands to have physical spaces in high profile areas to retail and test out their brands, their first step on the ladder.
Croydonist: What sort of events and programmes does FMM offer?
Dennica: We encourage and help all brands to develop their own fashion shows. music events, showcases, artist launches, art exhibitions, sip and paint events, young entrepreneurs weekends, and black creatives pop-up events.
We support, guide, engage and develop young designers and musicians (in age and or vocational development/advancement) to give them a platform to showcase their brand and receive ongoing support.
We also deliver tailored creative educational programmes and stand-alone workshops. Or a range of industry sector opportunities in-house or within our vast network of employers and organisations.
Our mission is to provide end-to-end guidance and support for individuals or brands ready to take their idea and dream to the next level, whilst using creativity as a tool to engage participation and tailoring the delivery to individual needs.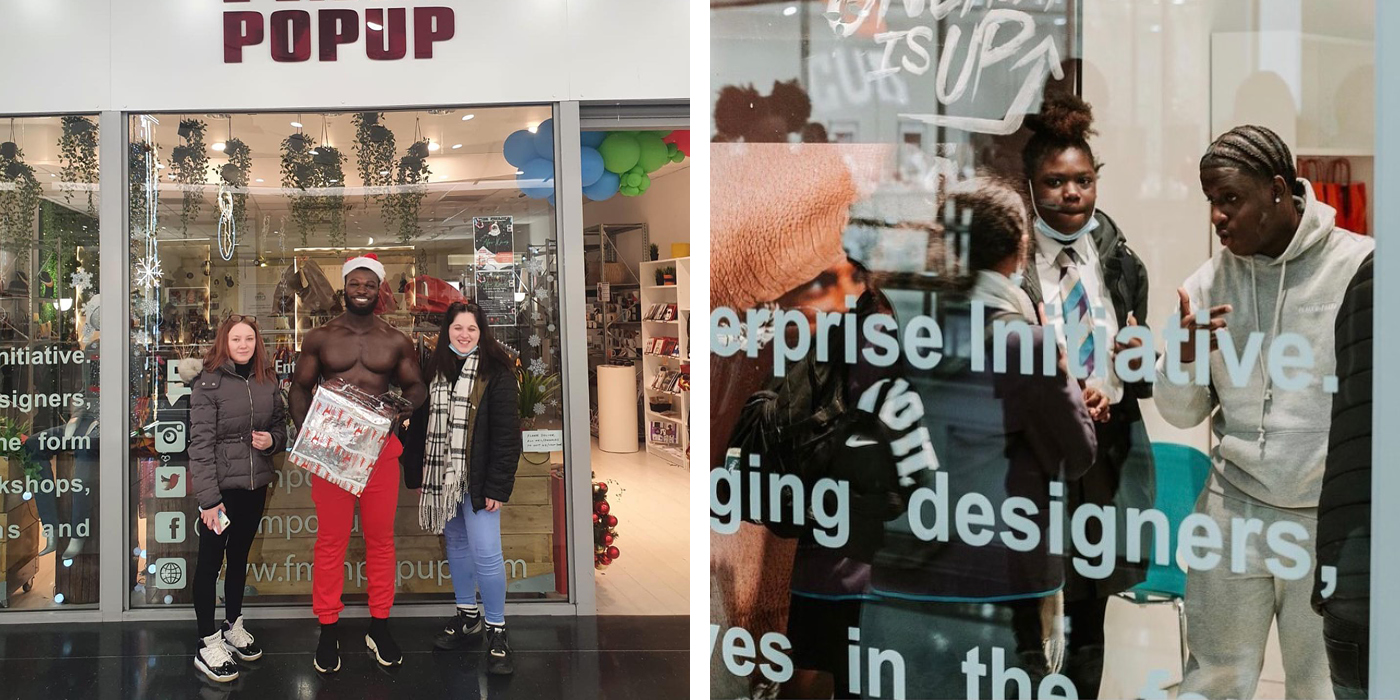 Croydonist: What has been your most memorable event to date?
Lizzy: We had a large New York Fashion Week event sponsored by Spiegel in 2012 with a performance by Amanda Brown, a contestant on the third season of The Voice, US.
Croydonist: Classic interview question – if you had to invite three creatives over for dinner (dead or alive) who would they be and why?
Dennica:
Michael Jackson – the ultimate creative, who I would want to question for hours about his childhood, his thought process when creating his masterpieces and about his business acumen.
Richard Branson – his business mind is out of this world.
Bob Marley – ahead of his time, was always to bring change and unaware of the impact he made through his music, and still relevant years later.
Croydonist: What are you most looking forward to about the London Borough of Culture? 
Lizzy: I'm looking forward to showcasing how wonderful Croydon is to the world and being instrumental in giving emerging creatives the opportunity to be part of such a large scale national event.
Croydonist: What are your top three favourite places to go in Croydon?
Lizzy: The Fashion Meets Music store in Centrale Mall, Delly's in Thornton Heath, and Joyce's Palace.
---
Thanks to Lizzy and Dennica for chatting with us. Find out more about Fashion Meets Music on their website, and follow them on Instagram, Facebook and Twitter. 
Read our first Borough of Culture chat with Queer Croydon here. 
Read our second Borough of Culture chat with Subrang Arts here.
Read our third Borough of Culture chat with Apsara Arts here.
Read our fourth Borough of Culture chat with Birdgang Ltd here.
All images courtesy of Fashion Meets Music.
Posted by Julia