I'm sure you're all aware that around the centre of Croydon we have a series of underused subways in all their 60's mosaiced glory. I didn't quite realise until writing this that there are in fact six different ones spread across the Old Town, Central Croydon and East Croydon areas.
Last November the Council set a competition to reimagine the use of these subways as they are now largely redundant due to pedestrian crossings being used above ground in their place. The competition was open to all – from professional practices, to individuals, students and schools. I have always been fascinated by underground spaces, from the tunnels making up the tube network to underground spaces that have been converted into bars and the like. For me there is a secret magical quality about a subterranean world, where life is going on in spaces beneath our feet.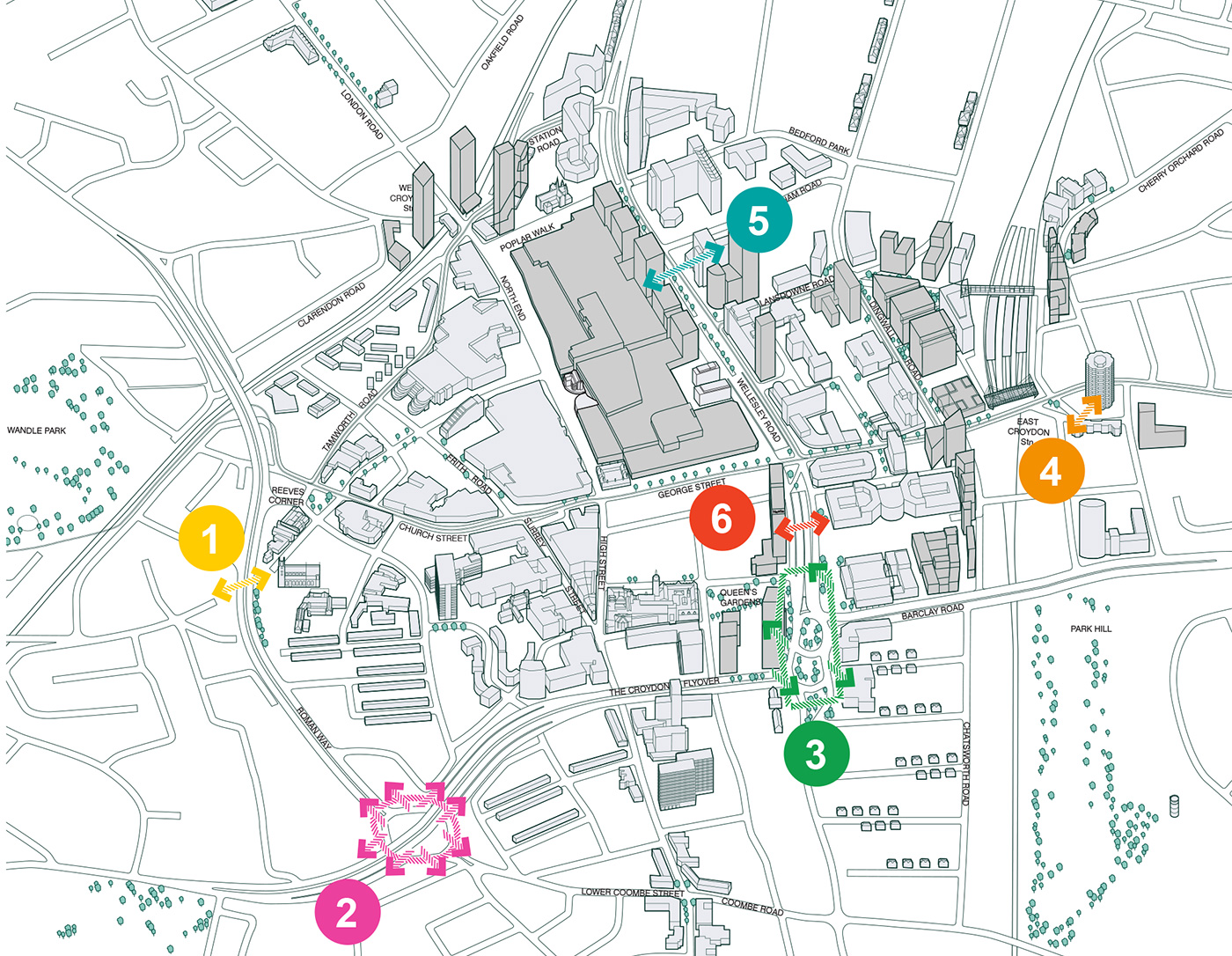 You may have already seen around town or on social media that the shortlist of 13 entrants is now out, and there are some wonderful and wacky ideas from adults and kids alike, from a drone race area by 12 year old Gemma, to a variety of imaginatively designed leisure and entertainment spaces from the professional and non-professional entrants.
You can look at each idea in full in two exhibition spaces – outdoors on the hoarding by the Cube café at the Fairfield Halls and inside at the Museum of Croydon – or see them all online and add your comments here until 23 February. The winning entries will be announced next Thursday, 27 February.
Here are a few of our favourite entries from the shortlist.
OUTdoorsIN by Julian Kashdan-Brown
Architect, Julian Kashdan-Brown proposes turning our subways into areas where we can practise a range of outdoors sports, such as climbing, scrambling, canyoning, trail running and more. I wouldn't mind partaking in a bit of bouldering under the Wellesley Road rather than heading down the Purley Way for the pursuit.
Croydon's Talents by Wesley Baker
Local Croydon creative Wesley Baker (better known as CDN on his social channels), takes inspiration from Peter Blake's Sergeant Pepper album cover, to suggest a mural to celebrate Croydon's creative people, from the famous to the up-and-coming.
Subspace by Annabel Brown & Gytis Bickus
Architects Annabel Brown and Gytis Bickus introduce us to Subspace, a highly adaptable modular wall system that provides power, light, connectivity, furniture and advertising, turning the subways into flexible event spaces from pop-up restaurants or market halls to games hubs or even school classrooms.
Subterranean Mushroom Farm by Andrew Dickinson
Croydon local and co-founder of Croydon's first mushroom farm Andrew Dickinson proposes to extend the mushroom farm across all our subways – the dark interiors are a perfect environment, and rolling out this sustainable farming method of taking used coffee grounds from local cafés to grow mushrooms gets the thumbs up from me.
Lighting installation by Accent London ltd + Mark McClure Studio
Artist Mark McClure teams up with creative agency Accent to propose undulating illuminated patterns that interact with the people passing through the space. This sounds like having six very cool gallery experiences right on our doorstep (or should I say under it).
Scene in Croydon by Samantha Warren and Danni Livett
Scene in Croydon design duo Samantha Warren and Danni Livett suggest bringing the subways to life with large-scale murals of their beautiful illustrations of Croydon to brighten the spaces and revive their use. I wouldn't mind a whistlestop tour of our borough's landmarks whilst crossing safely under our roads.
Croydon Lives by Abigail Watts-Cherry
Last but definitely not least, architect Abigail Watts-Cherry has created a complete underground world for Croydon's six subways, from a restaurant, bar, and cinema to a street art gallery and (my personal fave) a running track. I think I could holiday in this entry for a week…To truly immerse yourself in it, take a look at her video below.
Check out all the wonderful shortlisted entrants here. They don't disappoint on the magical front. A shame really we don't have 50 subways to implement them all. You have until Sunday (23 February) to comment folks – your thoughts will help the judges decide on the winner. And you never know, by this time next year we may be using our subways in very different ways.
Header image by the Croydonist, other images courtesy of Croydon Council and the entrants mentioned.
Posted by Julia