As part of our Croydonist climate series we catch up with one of our favourite Croydon artists, Tina Crawford ahead of her exhibition at the Museum of Croydon. As a free embroidery artist Tina uses a sewing machine to create her art – "the needle feels like an extension of my hands" Through this medium she is highlighting the alarmingly huge waste of single-use plastic by using small pieces of non-biodegradable domestic waste such as chocolate wrappers to produce her artworks.
The exhibition, called 'What a Waste', opens next week. Tina explains further, 'I've used plastics that would otherwise be landfill. But the work is more than the issue of your carbon footprint. I was bulimic for many years and the idea of growing waste and shrinking waist was staring at me. The work represents how our insatiable consumer appetite is not sustainable and is in fact mentally damaging.'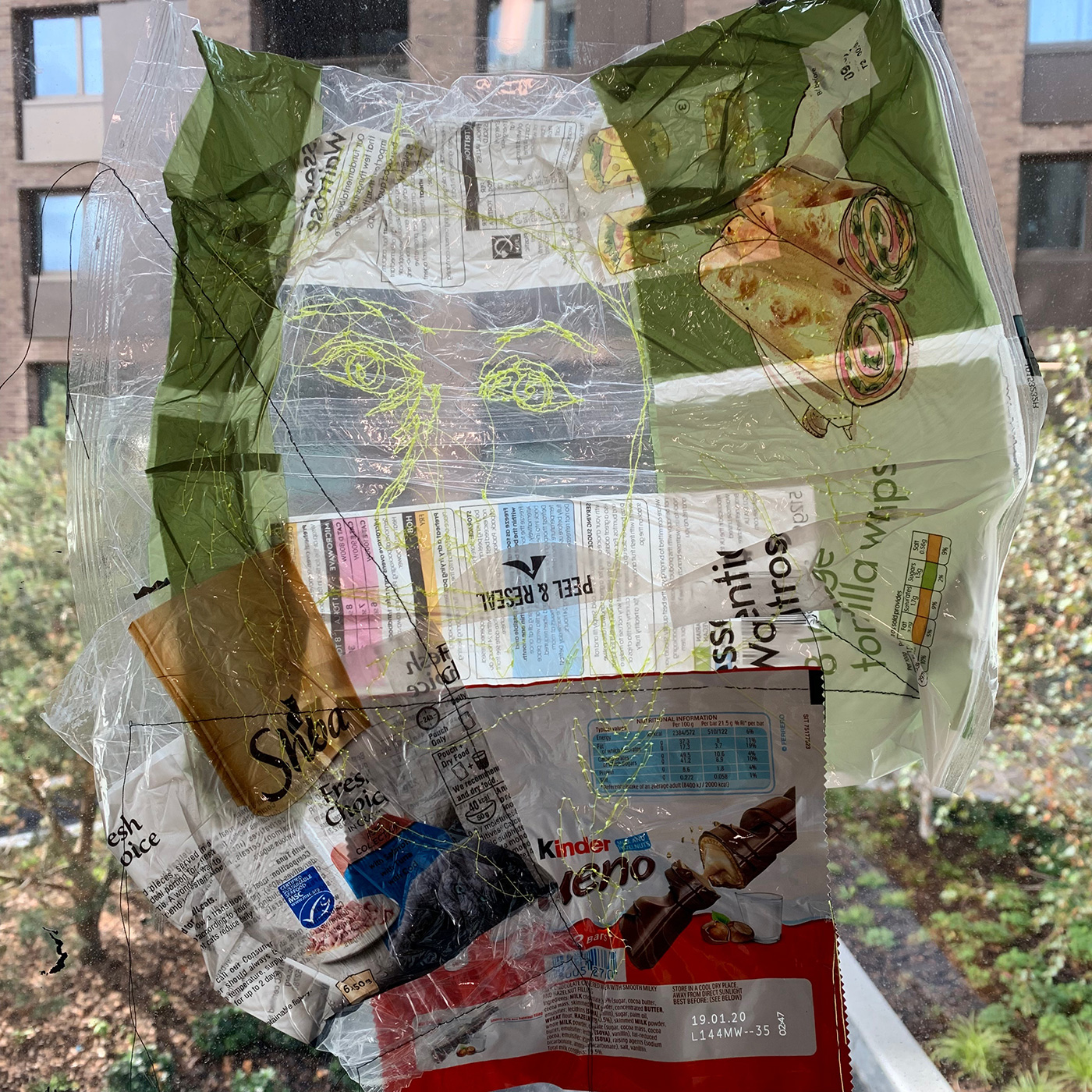 You will probably know Tina's work from seeing it exhibited around the borough or remember it from International Women's Day last year, but her work is also on show at Soho House New York and she has exhibited in Leyden Gallery, Shoreditch, and Alon Zakaim, Mayfair. Her designs have been used for products in St Paul's Cathedral, Soane Museum, Museum of London, Kew Gardens and English Heritage. Paul Smith is one of her admirers and the likes of Jean Paul Gaultier and Martin Parr own her portrait dolls. So she's definitely in a position to make an impact.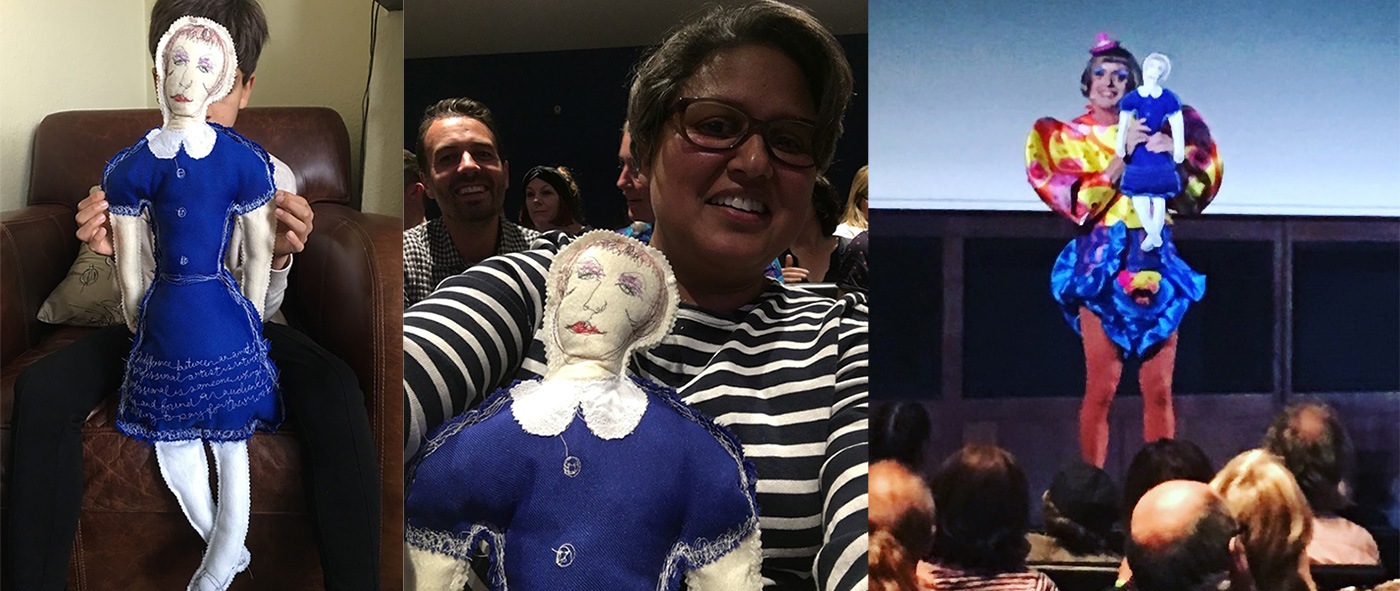 Croydonist: As an artist do you feel you have a responsibility to bring to public attention urgent societal issues, such as the climate emergency?
Tina: I don't feel it's a responsibility, but as an artist you respond to what's going on around you and you can't ignore the imminent doom of the planet!
Croydonist: What steps are you taking to reduce your environmental impact both as a Croydon resident and an artist? 
Tina: On the shopping front as a family, we've stopped buying beef, cut down on meat, are refilling as many products or choosing the plastic free option. But we've pretty much always done that. I've been buying less clothes but more because I don't have the money! We don't have a car, don't fly much at all and obviously have been saving all soft non recyclables to make art out of.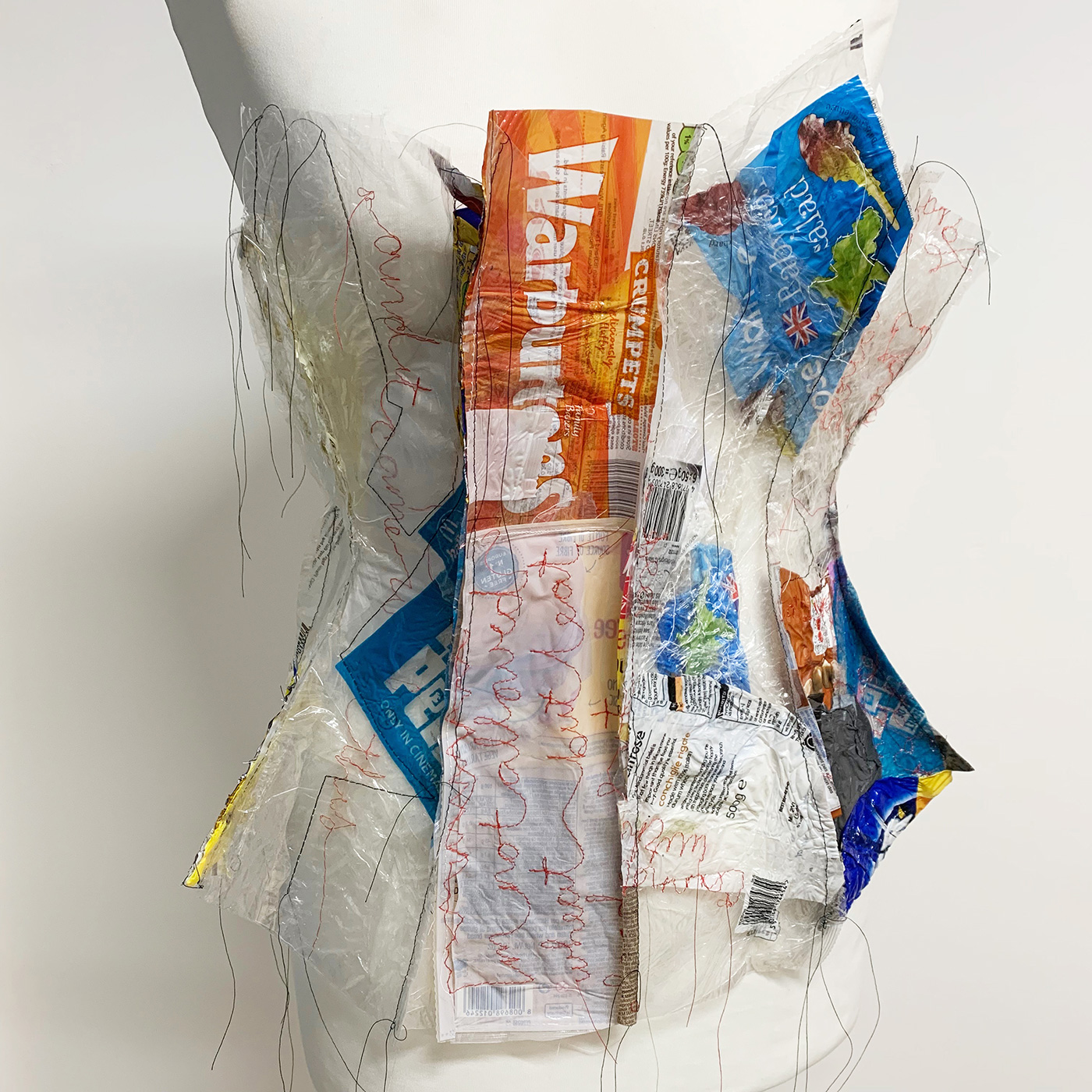 Croydonist: Without giving away too much about What a Waste, broadly what can our readers expect when they visit and what messages do you hope they'll take away? 
Tina: We all know what's happening to the planet and what steps on a small level we can take. This isn't to ram it down anyone's throat. I wanted to use non-recyclable plastics as a material, but subject-wise it's about something very different, and yet there is a common thread (excuse the pun). The installation is actually about eating disorders – I had bulimia for 20 years, so the idea of waste and waist was obvious. There's a piece where I've stitched personal text – it's about how I basically abused my body and it's what we've done to the planet. But I managed to heal as much as I can and that's what we need to do globally.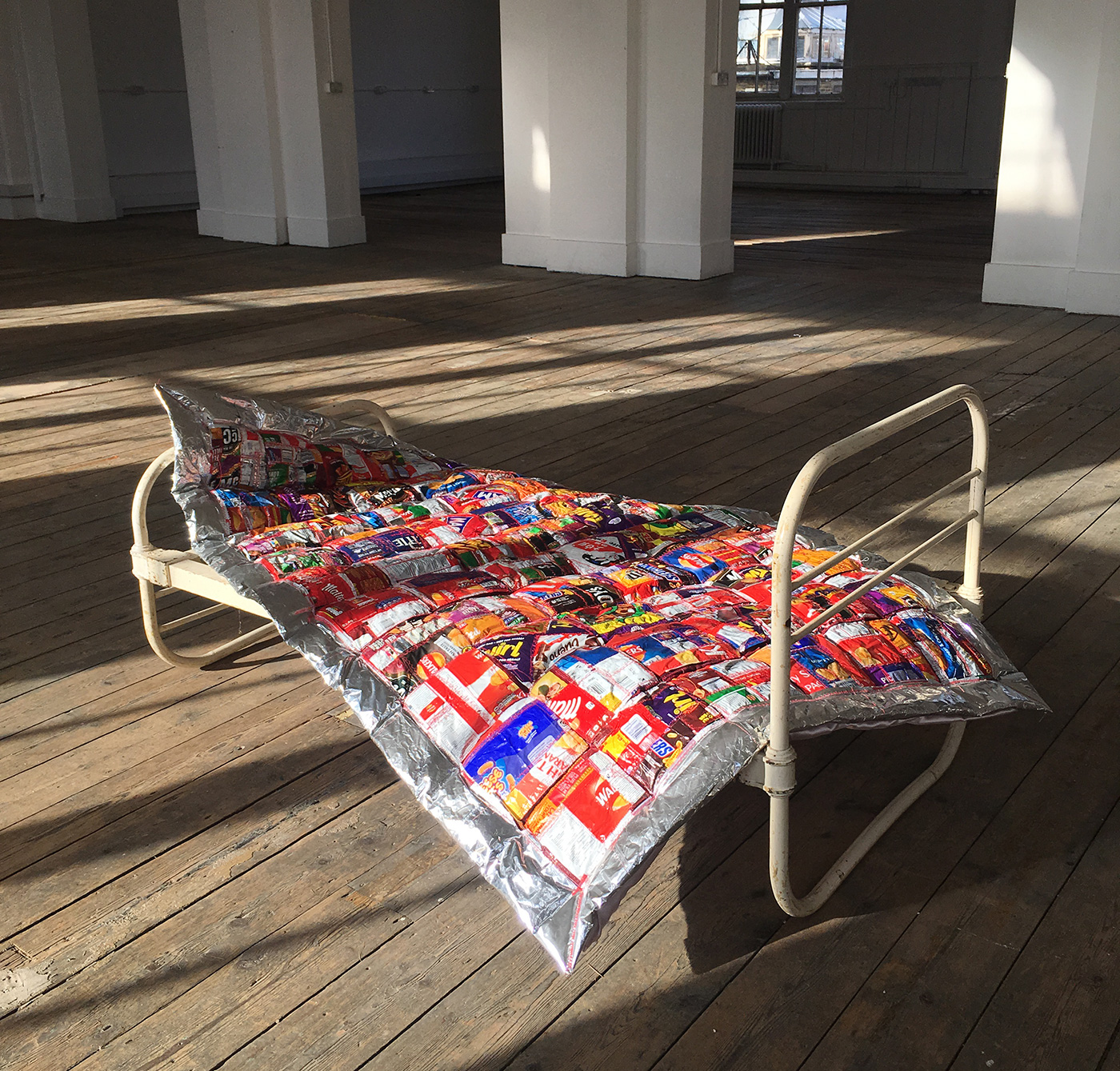 Croydonist: What do you do with your fabric tests when you're creating new work?
Tina: Fabric tests! I don't test anything! Pretty much a dyslexic trait! I have an idea and just start on it without thinking.
Croydonist: Sustainable art…
And finally, when can we see your exhibition, and what's next for you?  
Tina: It's on from 18 October to 9 November I've been concentrating on it for about 6 months and haven't even thought about after but I do have lots of pieces I want to create and ideas buzzing in my head – the trouble with so much doom and gloom is it does create the best ideas!
Ha, the bright side of global catastrophe… Big thanks to Tina for chatting to us about her new work. You can see her exhibition Tuesdays–Saturdays 10.30am–5pm from 18 October to 9 November at the Museum of Croydon. The private view is on 17 October, 5–7pm. Email museum@croydon.gov.uk to attend. Find out more about Tina's work here.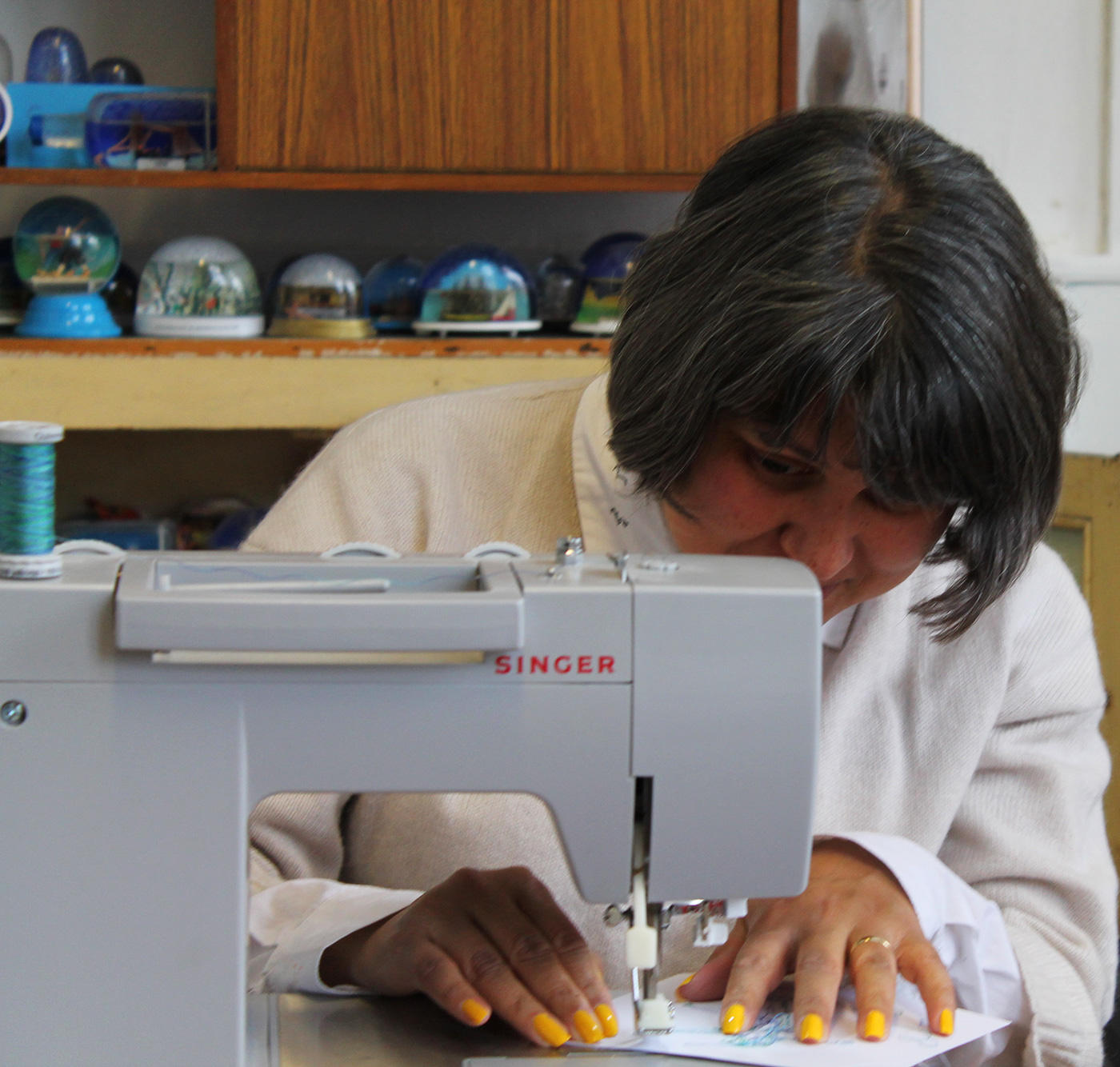 First in our Croydonist climate series was fashion, with Croydon Community Clothes Exchange – read it again here.
Second in our Croydonist climate series was travel, with eco-conscious luggage brand OneNine5 – read it again here.
Third in our Croydonist climate series was pets, with eco pet food brand Scrumbles – read it again here.
All images courtesy of Tina Crawford. Artwork from top: detail of What a Waste; Greta Thunberg on waste plastic; What a Waste; Comfort Blanket.
Posted by Julia