There's another carnival coming to Croydon, but this is a carnival with a difference, as its theme is invention (yes you heard right). On Sunday 10 September the Carnival of Invention will be taking over Station Road by Norwood Junction from 11am to 5pm, with a series of events and activities to celebrate the everyday inventions and creativity of South Norwood. This carnival takes inspiration from historic local inventor and philanthropist William Stanley (aka designer of Stanley Halls) and is a collaboration between 20 artists and groups who'll be bringing us performances, interactive art, a community feast, go-kart racing, poetry, walking tours and more.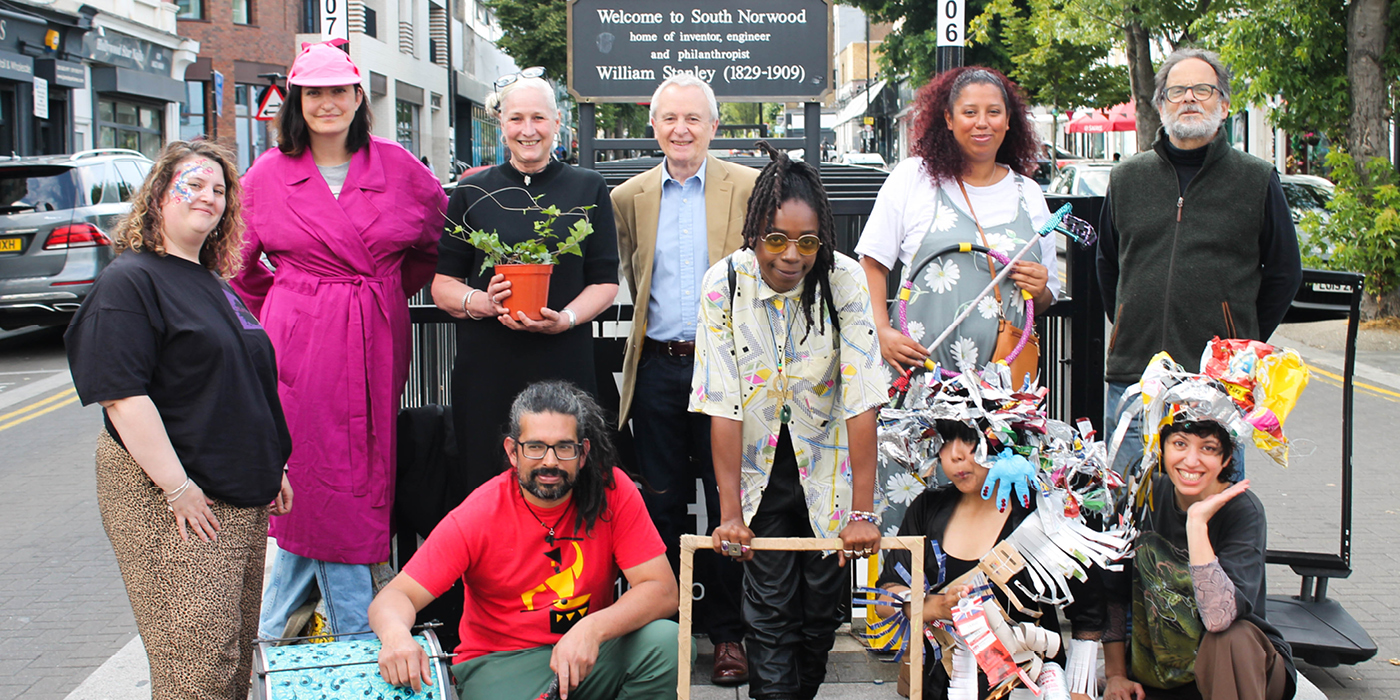 This is set to be a great free day out for all the family. Happenings can be roughly divided into creations, talks, and performances.
Opportunities to create include: making Superhero badges with comic creator Martin Eden; building bug hotels with artist Cecily Loveys Jervoise; painting the surface of Station Road with visual artist Amina Malik (to prepare for the go-kart race later on); and sculpting from litter with the mighty eco-art community project  Norwood JunkAction.
Highlights from talks include: a visit to local craftsman Henry Lelen's workshop (off of Station Road) to learn more about William Stanley's inventions; and walking tours with local historian John Hickman highlighting the hidden stories of South Norwood. (Make sure you book yourself into these sessions in advance – see here).
Performances on the day include:
'Revenge of the Norwood Builder' by Croydon Cycle Theatre  – a classic Sherlock Holmes mystery in South Norwood Library, rather fitting, as Arthur Conan Doyle was a local resident (You'll need to join the waiting list for this here); Frank Chickens (a legendary Japanese punk pop performance group) who will be performing a song inspired by Norwood Junk Action in a costumes made of junk (obviously); Music Director for South Norwood Community Festival, and co-director of Samuel Coleridge Taylor documentary 'In search of the Blue Note' Jean Genie Hayes, will be performing pieces that celebrate the famous Croydon musician.
Not fitting into any of my above categories are two awesome events – the community feast and the go-kart race.
The feast is the centre-piece to the carnival with long tables being placed down the centre of Station Road to seat 100 people. A plant-based feat will be provided by Communitea Cafe and "Yaba's Juice" by South Norwood Community Kitchen. This takes place between 1 and 2pm and booking is required (see here).
The finale of the day is the go-kart race from 3-4.30pm. 6 teams have already made their karts with the help of designer Oliver Thornton and artist Ella Yarde, and they will be judged on speed, flair and showmanship, best costume, best cart design, and most enthusiastic team support. A race definitely not to be missed.
Find out more about the event on the This Is Croydon or Stanley Arts website, and follow Inventing South Norwood on Instagram.
The Carnival of Invention is part of the wider High Streets Heritage Action Zones' Cultural Programme, led by Historic England, in partnership with Arts Council England and the National Lottery Heritage Fund. The Programme aims to make our high streets more attractive, engaging and vibrant places for people to live, work and spend time. 
London Borough of Culture is a Mayor of London initiative,  with support from Arts Council  England and National Lottery Heritage Fund. The This is Croydon programme is being delivered through a unique collaboration between the cultural organisations and people of the borough in  partnership with Croydon Council. 
Cover image by the Croydon using photos from Unsplash and Pexels by Francesco Cantinelli, Stas Knop, Chris Lawton, Mika Baumeister, Studbee and Fernando Andrade. Photos of the group of participants, courtesy of Carnival of Invention by Josh Thaker.
Posted by Julia