If you're on Instagram, you may have noticed a new account bursting with creative Croydon content pop up in your feed in the last couple of weeks. Called Croydon Shared, this is an initiative set up by two Croydon creatives – artist PiNS and designer Samantha Warren (aka co-founder of Scene In Croydon) – to capture life in Croydon post 23rd March 2020 in the form of a community gallery.
Any Croydon resident can submit work for the archive – it just needs to have been produced since 23rd March this year. 'Croydon Shared' is open to all mediums, but work should fit into a square format (and obviously no explicit or hateful content is accepted).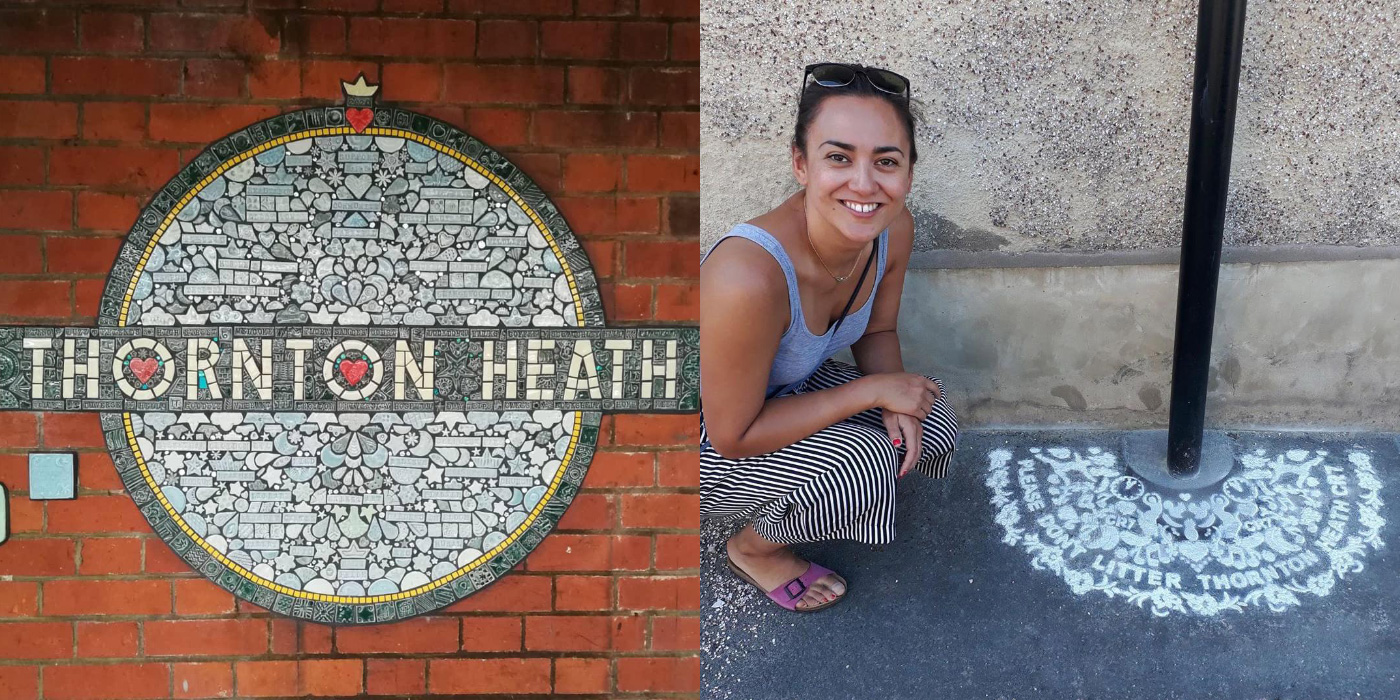 Samantha and PiNS have both worked on numerous art-based projects in our borough over the years and have a strong interest in local community building through their work.
If you've been out and about in Thornton Heath recently you may have spotted the beautiful train station mosaic that Samantha worked on as part of a community project with artist Maude Milton, or her anti littering street stencils, made possible by Thornton Heath Community Action Team. The name PiNS will probably be familiar to a lot of you because of his Museum of Croydon exhibition, but you may also have seen his banners on Melfort Road, or his Sketch the Vibe project.
We grabbed the pair for a chat to find out a bit more about 'Croydon Shared'.
Croydonist: Why did you decide to team up to create Croydon Shared?
Both: We are passionate about Croydon and felt there was a need for a collaborative space for residents to share their experience of life in the area since lockdown was announced. We both live in Thornton Heath and our paths have crossed at various local cultural and community events. We met a few years ago through another local creative, Vân Dang, whilst volunteering at a local refugee centre. Since then, we have continued to work locally on creative community projects. With everything going on, we felt we had to create a platform to help people share their experiences through their creativity.
Croydonist: Why do you think it's important to help creatively document our town post covid?
Both: Things are changing so quickly, it's easy to dismiss what we are going through. In this confusing and isolating time, we wanted to collect individual responses and piece them together to create a larger narrative. We may feel alone and desperate at times, but knowing that you belong to a community and have an outlet for self-expression, can help us collectively. Often through struggle and life-changing moments, comes a great surge in creative output, so we wanted to find a way to archive the journey with a sense of reflection.
Croydonist: What in Croydon has specifically inspired you since 23rd March?
Samantha: The community spirit is a great source of inspiration. I launched the Colour Croydon colouring-in sheet through my Scene In Croydon account and was blown away by the participation. I volunteer at the local Age UK, and the warm gestures and kindness I've seen is so inspiring.
PiNS: We live around so many parks which have provided sanctuary and great subject matter for my daily sketching which I share under my Sketch the Vibe Instagram account. There are so many parks and green spaces which I never knew about pre-lockdown. It's that local sense of discovery which gave me a new lease of life during my daily walks.
Whether you just want to follow Croydon Shared, or submit work yourself, it's well worth participating in this great new initiative. We've spotted work from creatives we already know and love such as Tina Crawford, Glenn Foster, BareFace, Dead Format Music Club, CDN's Wes Baker, Liv Healey and the Johnny Howl Club, and we're discovering exciting new work with more and more entries joining the gallery. Let's keep sharing the Croydon love…
If you would like to submit work to Croydon Shared you can either DM them on Instagram with your entry or tag @croydonshared / #croydonshared in one of your posts. Alternatively email PiNS and Samantha at croydonshared@gmail.com with your entry.
Please make sure you include the following information:
-Name of piece
-Artist name / Insta handle
-Medium
-Quote
All images courtesy of Croydon Shared.
Posted by Julia