In recent years Croydon town centre has been synonymous with street art, and the art has gradually expanded north, to West Croydon and up – indeed Thornton Heath has a pretty awesome street art trail organised by THCAT (if you haven't already seen it, check out the map here). Public art is now stretching to the south of the borough too with Purley showcasing several thought-provoking recent pieces all commissioned by the Purley Business Improvement District. The pieces are positioned in and around Purley train station, so pretty handy if you fancy a visit.

The newest addition to Purley's art scene is a make-over of the building which once was My Old China – derelict ever since I can remember, the old restaurant didn't really make for a welcoming entrance as you passed under the railway bridge into the centre of Purley.
So fortunately earlier this month it was turned into a rather striking and colourful geometric mural by Kevin Zuchowski-Morrison with help from Morgan Davy. It's taken Purley Business Improvement District almost 5 years to make the project a reality with many hurdles along the way – I'm glad they persevered.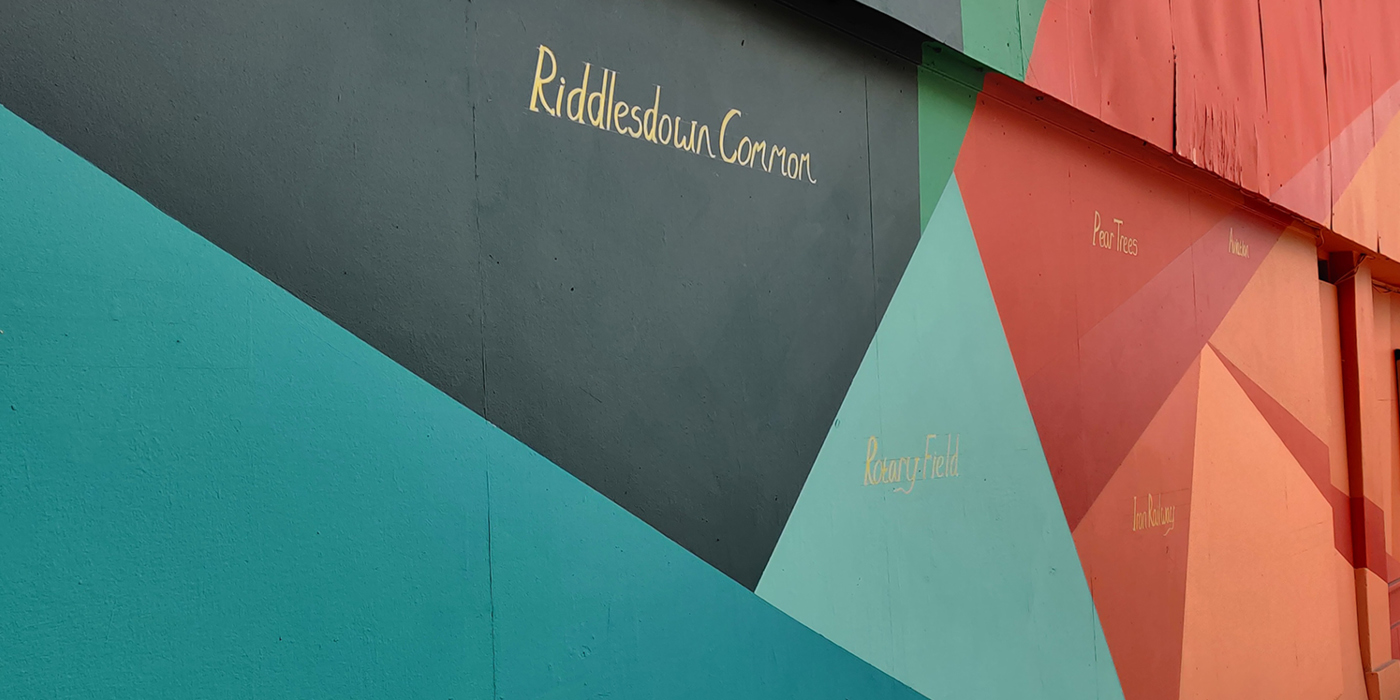 The mural celebrates the area and is divided into three distinctive colours, each representing a different facet of Purley. The orange section recognises Purley's history including mentions of the iron railway, its links to aviation and Henry Morgan (a pioneer of the town who ran a newsagent on the High Street for over 80 years). The green section focuses on local green and open spaces such as Riddlesdown Common, Happy Valley and the Rotary Field. Then the blue section highlights the supportive nature of the Purley community. Kevin says of the piece 'It's been a real pleasure to undertake this mural with Purley BID. It was really important for us all that, opposed to just being an artwork for artworks sake, the mural held real significance for the community and I feel it's really achieved that … Purley has got such a lovely community spirit, it's nice to celebrate and encourage that.'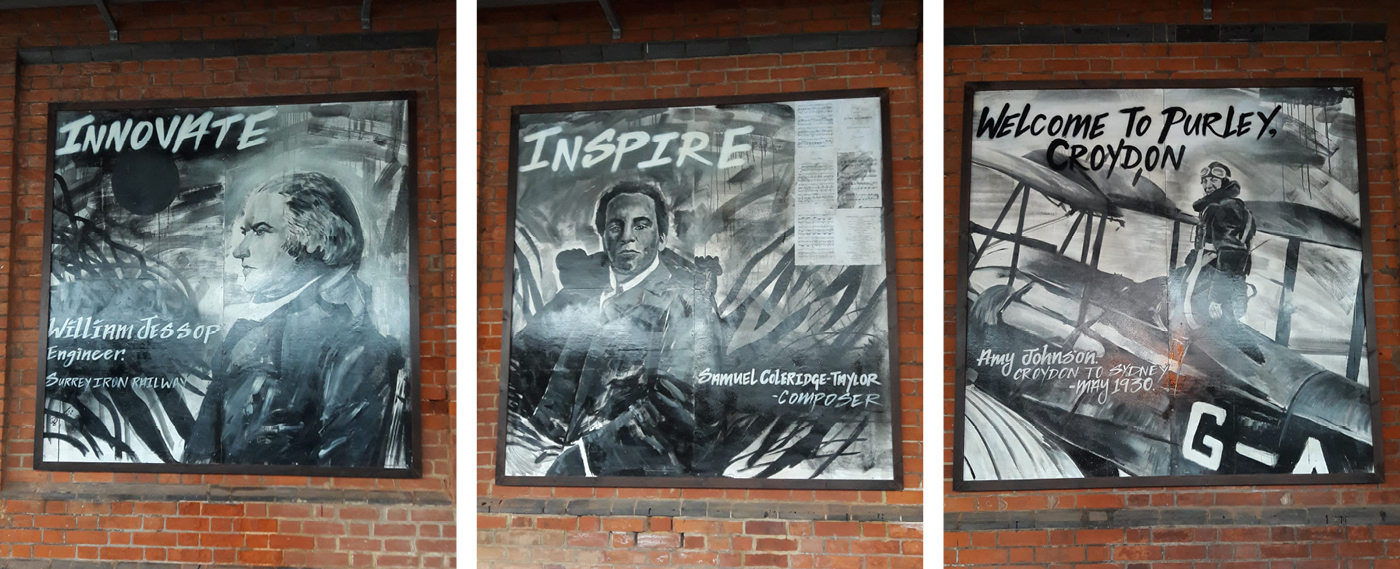 You may have noticed the triptych of artworks in Purley station itself. These popped up on platform 6 at the beginning of the year and commemorate inspirational people with connections to the area.
Kevin Zuchowski-Morrison and Morgan Davy were joined by Dan Cimmermann to collaborate on this installation. The artworks depict three distinguished historical figuers, Amy Johnson (Croydon's famed and daring female pilot), Samuel Coleridge-Taylor (the Croydon-born 19th Century composer), and William Jessop, (who was the mastermind behind the Surrey Iron Railway – the world's first passenger railway that went through Croydon).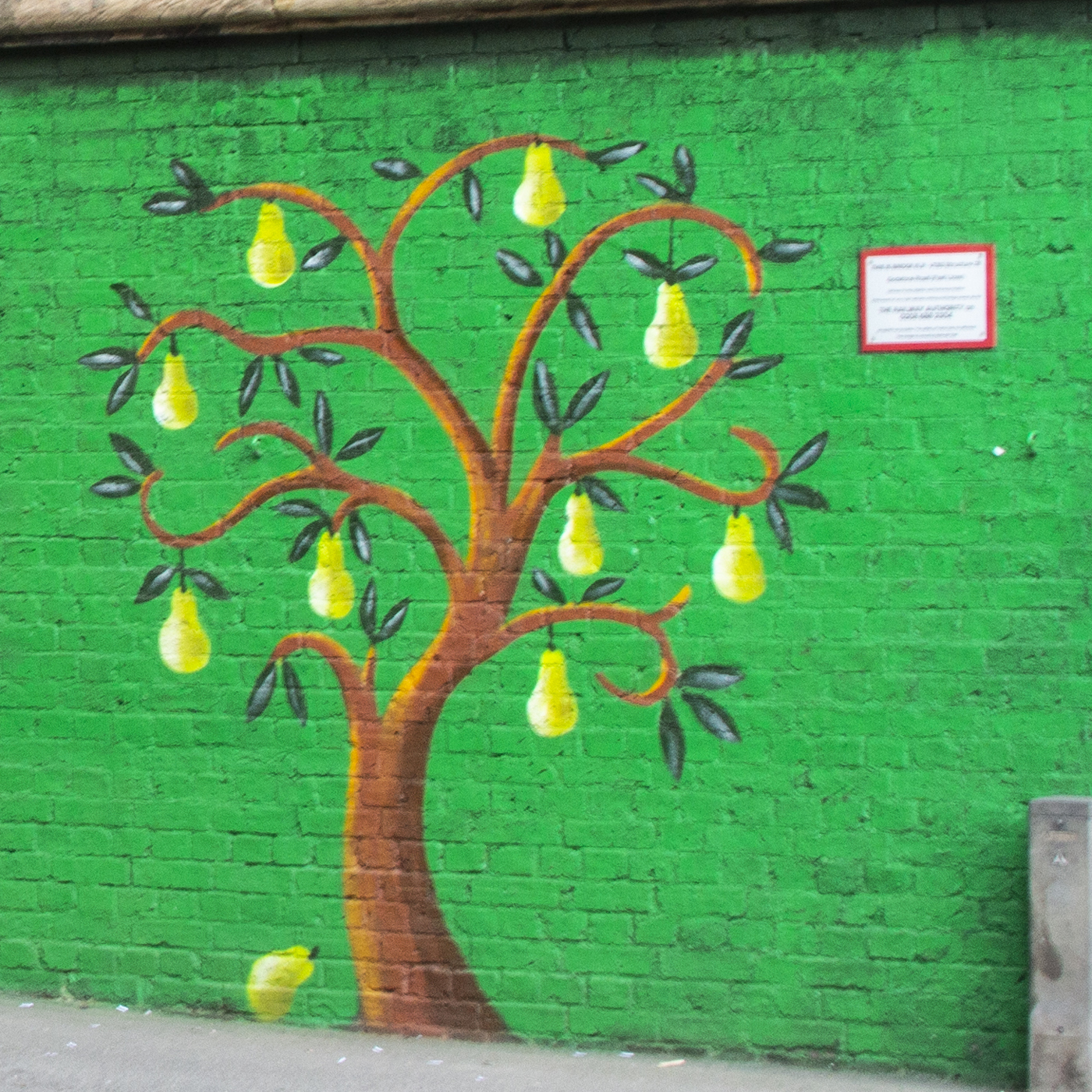 Under the railway bridge itself is possibly my favourite Purley piece as I'm a bit of a fan of sign writer and scenic artist Lionel Stanhope's work. I'm a typography nerd and this piece includes some very large drop shadow lettering so what can I say. This vibrant green mural, ompleted last summer, includes a pear tree, which as the artist says, 'reflects the Anglo-Saxon roots of the town' – the probable meaning of Purley is from the Anglo-Saxon words 'Pirige' (pear tree) and 'Leah' (meaning woodland clearing).
If you're up for walking 5 minutes from the station you can also see a 90 metre long mural that Purley Business Improvement District organised with local schools a few years ago to brighten up the main junction in Purley.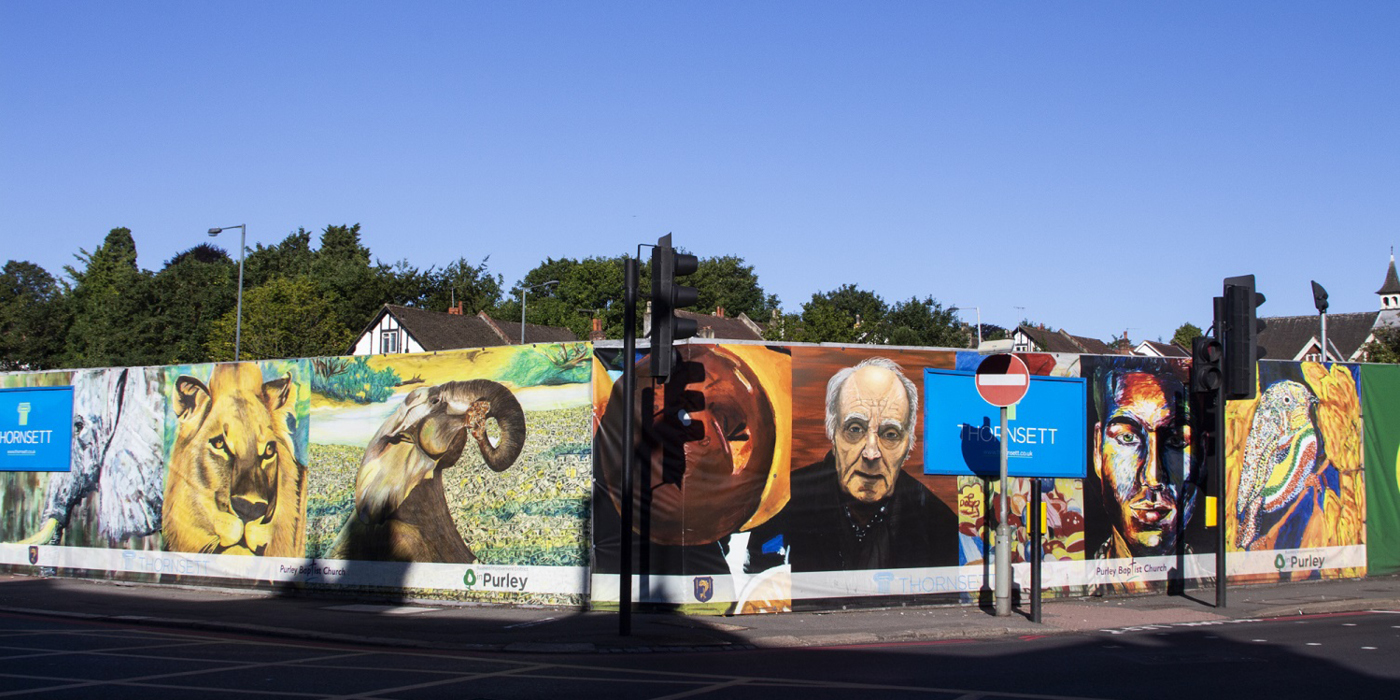 Images courtesy of Purley Business Improvement District. Pear Tree mural photo and 90 metre schools mural photo by Louise Gough, 'My Old China' before and after photos by KZM Studio.
Posted by Julia