And just like that, we're in the first week of 2022! If you're a regular reader you'll know by now that we invariably start the year with a group post where we ask Croydonist friends and collaborators for their thoughts on the year ahead.
We know life isn't all puppies and roses at the moment and we're starting a fresh year with a distinct sense of déjà vu on the Covid front, but there's still a lot to enjoy in Croydon this year.
We asked 22 locals what they are particularly looking forward to in 2022 and whether they have any new year's resolutions they'd like to share.
So grab a cuppa, sit back and have a read…
---
1) Elizabeth Sheppard, writer*
I have three New Year resolutions: one's macro, one's micro, and one's just CR0.
Macro first. Before I post anything on social media, I'm going to ask if it will make people smile. We live in the worst of times: we're in trouble.  We need every scrap of joy and fun now. We don't need the other stuff.
My micro-resolution: I'm going to use my reusable coffee mugs as actual coffee mugs, not as ornaments on the shelf in my kitchen. I shall pack one whenever I leave the house: after all, if I can do it with masks, I can do it with this too.
My CR0 resolution: support Croydon's local businesses. The chains will make it, whatever economic hurricanes may blow. The indies might not. I'm giving them my money and my time.
Love and good luck to all Croydonians in the coming year.
*My third book will be published by Simon and Schuster in August 2022 (unless the Sigma Variant has done away with us all by then). Sadly it doesn't have a title yet. This is definitely what I'm most looking forward to.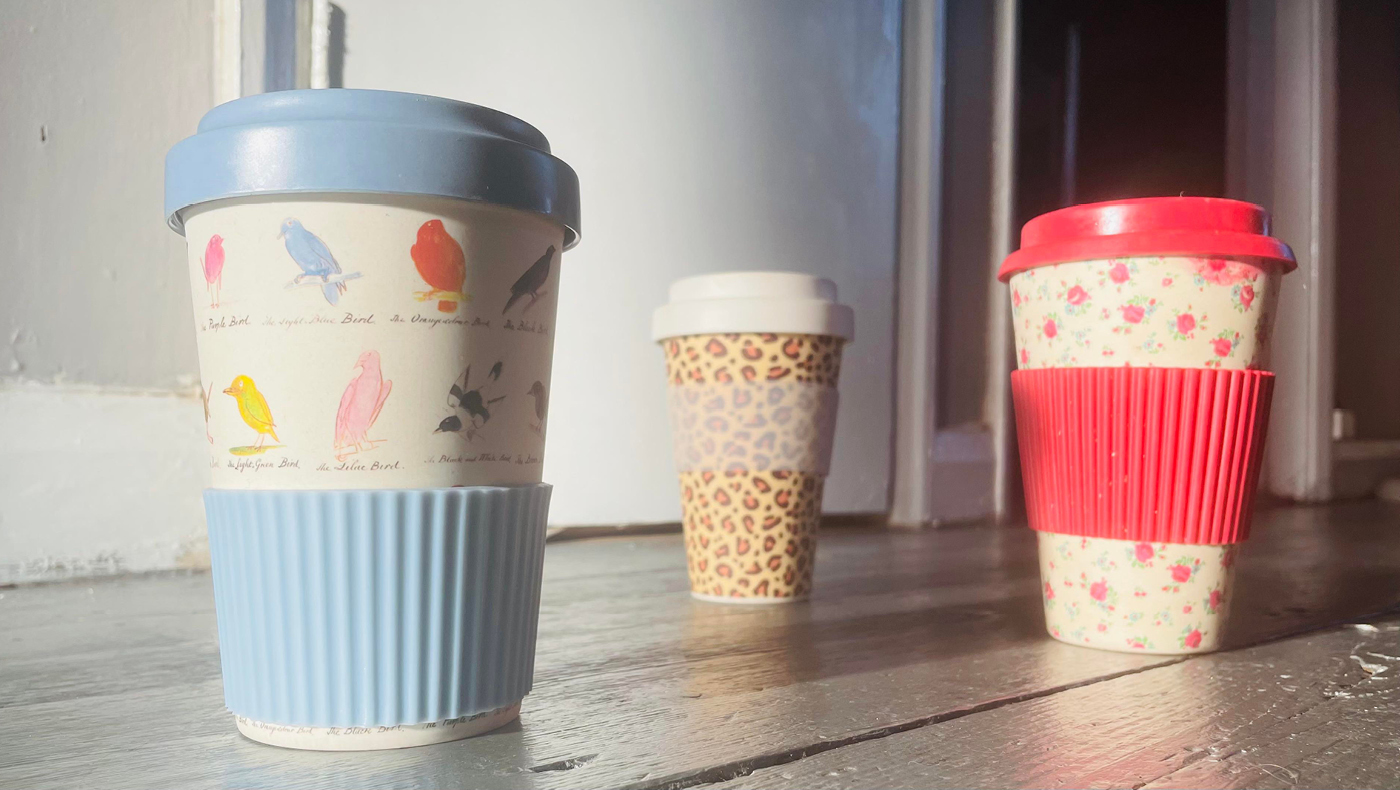 ---
2) Katherine, Connie, Omar, Léonie, Anna and Marcus, Croydon Climate Action
This year, we are looking forward to riding the crest of the wave of awareness left by  COP26 and the film "Don't Look Up". We are excited to be creating a pledge for our Mayoral candidates and councillors to build a green and sustainable future for Croydon. We will be campaigning to improve air quality in collaboration with businesses, schools, community and faith groups in Croydon. We are also hoping to finally start meeting in person and holding social events after this horrible virus has thwarted many of our plans!
---
3) Christopher Hope-Fitch, photographer
One of my highlights of the year was volunteering at the Open House Weekend for South Norwood Library. It was really encouraging to see so many people visit this fantastic local building and to see all the different interpretations of it by photographers and other artists pop up on instagram (many of which can be seen on the instagram account @brutalistlibrary). I'm looking forward to being involved in more events this year aimed at raising awareness of the building and hope that a community based use for it can be found when the library services are moved out of it.
I tend not to make new year resolutions, but in September I had 300 20 by 24 inch prints of some of my work produced by the Print Foundry as part of a promotion of the renovation of Space House in Covent Garden and I was so happy with how they turned out that I'm going to produce more of my Brutalism in Colour work on physical media. I'm going to start with print sales, with a small self published book or zine later in the year.
---
4) Miguel Sopena, artist
Just when we thought that the pandemic was beginning to be 'under control', along came Omicron to end 2021 with a bang. I feel I've gone back to square one, barely leaving the house (basically to do my shopping or go to my studio) and being terrified of people, just like when it all started two years ago.
I think the pandemic has been a huge lesson in many ways and has brought up the best and worst in people and society. Obviously I'm speaking about NHS workers and everybody who's done their best to show solidarity and help and inform other people- I remember when volunteer groups sprung up all over Croydon in the first lockdown, with WhatsApp groups divided by areas, and volunteers would go shopping for people who were self isolating or in a difficult situation for whatever reason, or would just pop in for a (socially distanced) chat. That was amazing. On the other hand we've seen politicians who only seem to care about the big economic interests, and that's all I'm gonna say. I think when the history of these years is written we can look forward to a lot of heavy editing to shift the blame – I think it's happening already.
I feel that looking around at Croydon these days is also very strange. I remember when non-essential stores reopened and it became apparent how many commercial units in central Croydon were now empty- It's sad to think of all those small businesses. At the same time, our area is changing beyond recognition with apartment blocks springing up like mushrooms- Of course the same thing is happening around London and I wonder who really benefits as all those new flats are clearly not bringing property prices or rents down (remember supply and demand??). With all that's happening I really, really have no idea what Croydon is gonna look like in, say, five years time, and (as far as I know) there isn't much discussion with local people about this.
On a more positive note, I think it's true that the pandemic has helped many people, including me, understand their priorities and what's important in their lives. In my case, my artistic practice has been a lifesaver and I do think it's became more focused and considered these past two years.  I think the lack of distractions has reminded me of the value of concentration, which I think we often forget in our superbusy world. I'm also really happy to have reconnected with nature. Like many people, I really appreciate the many lovely green spaces we have in and around Croydon, but it's also great that we can hop on a train at East Croydon and have easy access to so many beautiful walks in the Surrey Hills, the South Downs and beyond.
As for projects for the new year, I'm sure things will continue to feel uncertain. Besides continuing to work hard in my studio, and following positive experiences in 2021, something I really want to look into is devising my own curatorial projects, probably starting with a small group of artists. It would be great to organise a group show in Croydon in the near future- Hopefully more news coming soon!
---
5) Sam Hill, vine grower, wine maker and Croydonist guest writer 
As the past two years have shown, Croydon is a resilient and resourceful town. I'm very happy to see that many of Croydon's pubs and restaurants have managed to stay in business through this uncertainty. So, my New Year's resolution is to delete the delivery company apps and support my locals in person.
It feels like 2022 is the year that some of my projects will start to blossom. We are building a winery in Surrey (Croydon proved a little too tricky as a location), I'm involved in a couple of food and drink podcasts and if travel rules allow, I will be off around Europe producing some educational wine videos.
One of the things I am most looking forward to is the launch of the Croydon branch of the South London Wine School, which we will be hosting upstairs in the Spread Eagle on Katharine Street. I have been teaching wine courses in person and online over the past few years and it feels that 2022 is the right time to launch in Croydon. Our classes are for people who enjoy wine but are interested to learn more about how wine is made, the history behind this wonderful drink and how to appreciate and enjoy it. We are launching with a single evening intro in February and an 8 week "World of Wine" course in March and we hope there will be many more to come!
More info here.
---
6) Louise Gough, photographer 
Looking forward to 2022 with lots of hope after the last two years Simply being able to get out and continue my architectural photography around the borough with no restrictions. As well as continuing walking and running from A to B which has been a great way to enjoy local spaces such as Park Hill and grabbing that coffee treat for a 'coffee walk' from Bobs Your Uncle, Matthews Yard, Byte cafe (where you can also see some of my photography).
It was a privilege to do a collab article with The Croydonist this year with my images of Capella Court being used to accompany a piece by Julia exploring the history of the iconic building in Purley. I'd love to do more colabs like this in the future to showcase the delights of our borough. I think it may also be time to revisit a previous exhibition I put on with artist @biroboyblog in 2018 to further explore the Croydon places and faces to expand on my photography as well as introducing drawing which I rediscovered in lockdown.
Importantly though, this year and beyond will be about supporting local, keeping an eye out for new events, talks, pop ups, groups etc., to be part of and to support the amazing community initiatives and independent places.
---
7) Helena, food enthusiast and Croydonist guest writer
I have no idea what 2022 will bring, but I'm excited with any new restaurants and street markets to come.
Hopefully the South Croydon food market will be back this year.
The lockdown was a great way of bringing locals to re-explore the town and it was a good re-discovery of everything.
As a passionate foodie, I shall look forward to contributing more food/leisure articles and supporting local restaurants.
---
8) Shaniqua Benjamin, Poet and Croydon Poet Laureate

​​2021 was an extreme rollercoaster of a year, which I'm glad to putting behind me as I step into 2022. I'm definitely stepping into the unknown, which seems to be the case for me year on year, but I look forward to seeing what God has in store as I focus more on my writing.
Writing needs to be my biggest focus in 2022, as I keep neglecting it and I don't currently feel like I'm the artist I want to be, even while writing this as Croydon Poet Laureate. There is so much more for me to tap into and explore, and I definitely have a whole lot more to grow, so I'm really looking forward to putting in the time, energy and space next year to make that happen. Then I can do greater good in the world and bring to life some of those projects that have laid dormant.
The key will be remaining consistent in all aspects of my life, which is a constant struggle for me, but I am determined to put it into action. So, my word for 2022: Consistency.
---
9) Saif Bonar and Leoni Descartes, founders of Matthews Yard
We leave 2021 having achieved everything we set out to, we survived, we finally got to host all of the wonderful creative things we love about running Matthews Yard in our new events space, Platform 2, albeit for a brief time. We are really looking forward to this pandemic being over. But it's not, and we need to prepare for the challenges that lie ahead. We have always been about embracing change and adapting to survive, and it's because of this that we are still here, still independent and more determined than ever to succeed in our new home.
2022 is a big year for us. We will be 10 years old and we will be having one hell of a party, if COVID permits us to!
But, before then, we have challenges to overcome. First up, our coffee machine is on its last legs and after Omicron wiped out Christmas trade for us we haven't the cash flow to replace it. Enter the Mayor of London's "Pay it forward" campaign, which encourages people to support independent local businesses when they need it most, so they can innovate and survive Covid. It offers up to £10,000 in match funding and within 24 hours of launching we were 20% funded. Check it out our campaign here.
Beyond celebrating surviving 10 years and getting a shiny new coffee machine, here are three more things we are looking forward to in 2022:
Relaunching our community events fund for its second year which provides free or subsidised space for local charities, creatives and community groups so they can have meetings and events.
Expanding our membership scheme to include more members than ever before and to introduce more benefits including 15% off artwork sold at Matthews Yard, room hire and event tickets. We will also be offering complimentary membership to those on low incomes so that price is not a barrier for people coming to enjoy what Matthews Yard has to offer.
Continuing to push the boundaries with our plant-based food offering and introducing a number of seasonal specials, more healthy eating options and a range of grab and go food for those who are in a hurry.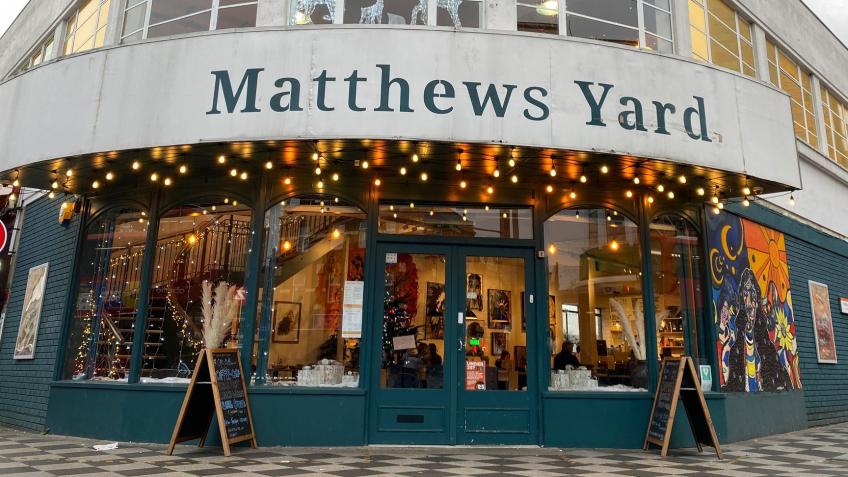 ---
10) Lis Watkins, illustrator
With all the varying restrictions over the past two years, it's been so nice lately to have the luxury of going out for brunch or coffee & cake and I'm hoping there will be lots more opportunities in the New Year! Local favourites include Matthews Yard (close to West Croydon Station), The Breakfast Club (BoxPark) and a recent discovery, No 241 Norwood (a couple of minutes walk from Norwood Junction Station).
---
11) Evie Hill, Assistant Producer, Stanley Arts
This year I'm so excited to be part of the inspiring new 2022 programme at Stanley Arts! We've got some amazing things coming this year, with a bigger team and lots of new ideas, so I'm really looking forward to sharing it with everyone. I'm particularly looking forward to the music, such as our monthly jams, because that's what I love most as a musician myself.
My new year's resolutions are to listen to my gut instincts more, be more spontaneous, and explore more of London. I've already got some great recommendations for places to go in central Croydon – if anyone has any special ones, let me know!
Find out more about the Stanley Arts New Beginnings Programme here which runs throughout January.
---
12) Maddy Duxbury, founder of East Croydon Cool
Like everyone, I'm trying to gear up for the year ahead. And, like a lot of others – I'm struggling!
New Year Resolutions (and planning in general) have brought about another wave of exhaustion at a time when I assumed I'd be all fired up again.
This long, drawn-out, on again/off again roadmap "back to normal" is anything but…and whilst things sort of seem similar, they also feel different. No-one's sure what kind of world we're going back into…and trying to make plans for that, is tricky.
Sometimes it seems like the "good old days" – we've been out to eat, met friends in the pub, been to the theatre etc. But then a jolt back to reality – getting onto a train of masked faces or hearing someone say "got a text" (but it's from Track and Trace and all plans are off)
Whilst we're still trying to adjust to the day-to-day practical changes happening (or not happening) around us, the mental changes are a whole 'nother level!
Over the past few years, we've collectively been in the same storm (albeit in different boats) and everyone has felt some level of hardship.  Death, illness, financial stress, isolation; no-one has been fully immune to Covid or it's variants (regardless of their vaccine passport status).
The pandemic highlighted inequality but it did so at a time when everyone was struggling. Perhaps this is what brought out a kinder side to people and what has made us all (well 86% of us according the World Health Organisation) want to make significant changes to the world we live in.
The vast majority of us have had more time to think. More time alone to contemplate (and ruminate!) With less to "do" and smaller social gatherings, we've also had more time for conversations and to discuss thoughts, feelings and ideas.
It's been against this backdrop that over 10 million Brits have volunteered in their local community,  that Black Lives mattered, that Extinction Rebellion grew more rebellious, that a footballer galvanised the country into changing the government's mind on school dinners and that millions left jobs they hated in "The Great Resignation".
And this kind of change is good. But it still takes its toll.
Planning for a different type of world (hopefully a better one) is hard. In fact, becoming better people and a better society is harder than going back to normal. Which is why it probably feels so overwhelming right now!
To those already busy making resolutions and positive changes – I salute you!
But, as the aeroplane oxygen mask advice goes (a somewhat dark analogy given circumstances with travel, ventilators and face coverings), you have to "put your own mask on first before you can help others".
So, this year, I'm not rushing into making New Year Resolutions or plans. I know I want to do more to help – I just need to work out the most effective way to do it.
There are a number of social enterprises and charities I'm watching and hoping to learn from. These include Socco Cheta (a new social hub opening this year developed by 5 local community groups), Croydon Commitment (who are launching an employability programme designed to help Croydon residents back to work) and Yoke Easy (a brunch market stall who this year aim to launch a training programme to transform the lives of care leavers through hospitality training).
We are hopefully (!) coming out of all this but it's been a rough ride. So, if you're also finding it hard to enthusiastically embrace the New Year, keep in mind (or play on repeat!) Adele's words…"Hold on, let time be patient".
---
13) Kate Marsden, illustrator and textile designer
What am I particularly looking forward to this year? Last March I became one of the founder members of the new Oaks Park Printmakers studio in (funnily enough) Oaks Park (Croydon Lane, Banstead). Spending time getting messy and teaching workshops has really helped me through a tough year, so in 2022 I'm really looking forward to doing a lot more of this! I love teaching and I already have printmaking workshops in the diary for the spring – very easy to get to from Croydon, and there's parking, so do come and join me. I'm hoping to run lots more workshops online too, for those who don't feel so comfortable being out with others, or just can't make it down to the print studio.
My new year's resolution?I feel as though I've reached a bit of a turning point with my work at the moment, and so my resolution is to let that happen and stop being so tough on myself. I've always been a planner but it's rare that anything goes to plan nowadays, so I'm trying to just go with the flow – wish me luck!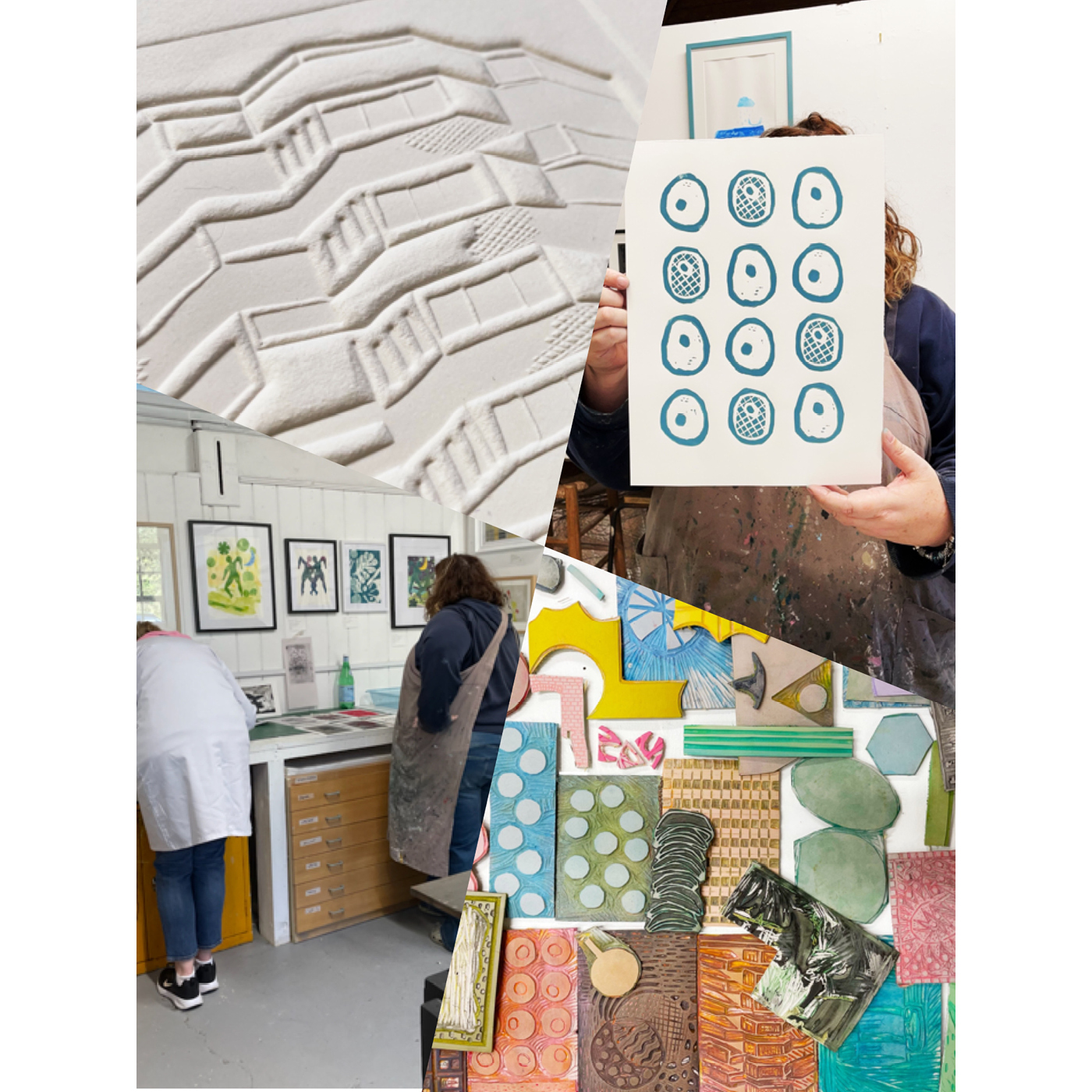 ---
14) Anna Arthur, Director of Croydonites Festival of New Theatre
This year I am really looking forward to attending a few more outdoor events. I'm crossing my fingers for Croydon Pride, The Mela and the Crystal Palace Festival and will be delighted to attend any park based activities especially if they involve live music! Of course, I'll also be very happy to attend indoor performance events, but appreciate this is still a bit hit and miss…that said, live performance feels a whole lot more feasible that this time last year, so hallelujah for that!
I'm also very much looking forward to bringing back Croydonites in the autumn, in an event that will be a warm up for something much bigger in 2023 when Croydon will be the London Borough of Culture.
My New Year's Resolution is to spend a lot less time looking at my phone, and a lot more time talking to my kids. The oldest one has left home, the others won't be far behind – the clock is ticking!
---
15) Paloma Lacy, founder of local PR company Dove Comms
This year I'm particularly looking forward to the good weather when it comes at Easter, and a long hot summer of travel in the UK before my daughter starts school and we're restricted to school holiday travel. I've no desire to go abroad. I'm out of the habit and happy to say, I've not missed it one little bit. At the start of the first Lockdown, we made a list of places we'd like to visit and have been cracking through it. The best part of all, is that so many places are accessible via railway from East Croydon – from the Sussex and Kent Coasts, down to the South West. I used to laugh when my dear-departed Dad used to say you could reach anywhere via East Croydon – he was right.
East Croydon also continues to make a big impact on London's dining scene but if we don't use it, we'll lose it. The hospitality sector has been hammered and needs supporting. Just today, I popped along to Boxpark Croydon and gobbled up Indonesian street food from vegan pop up, Enak (it's there until 31st Jan) and fish & chips at For Cod's Hake – hands down the best fish and chips for miles.
My new year's resolution? For the first year ever, I haven't made any. Instead, I feel truly grateful for everything I already have. A healthy and happy family lies at the heart of it.
---
16) Samantha Warren, Designer and founder of Samantha Warren, Scene in Croydon and Croydon Shared
This year I'm most looking forward to becoming a new mum and discovering family friendly activities in the area. I'm also looking forward to going on lots of strolls in the newly discovered green spaces in our borough. (I've included many of them in my Croydon Map print).
My New Year's Resolution: I think I've done pretty well over the last couple of years dealing with the all the rules and restrictions of the pandemic. If I can continue to remain positive throughout, I'd be doing well. Spending time outdoors has been great for mental and physical health, so I'd like to continue to stay active by exploring our borough.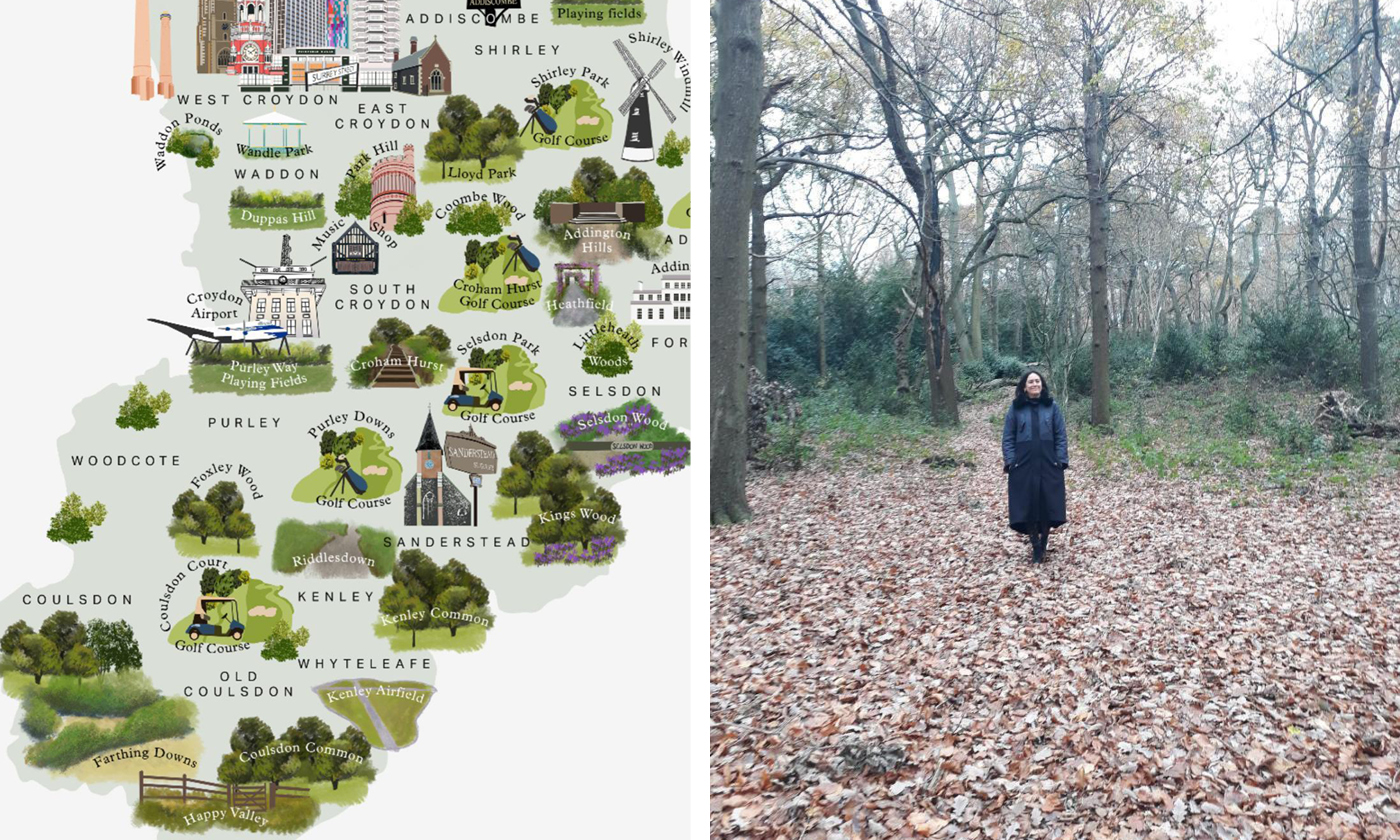 ---
17) Matthew Sims, Chief Executive, Croydon BID
Even though the past two years have been relentless and unforgiving, Croydon has shown such fight and a 'never give up' response to the challenges we have all faced personally and professionally. When I look back, not just on the past year but years gone by, in the face of adversity, Croydon stands up, collectively comes together and meets the issues head on, however difficult they may be.
Although difficult to see right now, I believe there is much to look forward to in 2022 and I am truly excited and optimistic by what it might bring. Honestly, I am looking forward to seeing many of our projects, services and ideas come to fruition, turning challenges in to opportunities while supporting our members and Croydon. I can't wait to see the inflatable monsters back up across the town centre – we had so much fun with them last year. Above all, I would quietly hope for a little more freedom so that we can all meet up, touch base and have a giggle without having to think twice.
New Year's resolutions are always difficult but here goes nothing. To have the confidence, courage and conviction to stand up for what I believe in, providing an even stronger voice to support our business community and Croydon.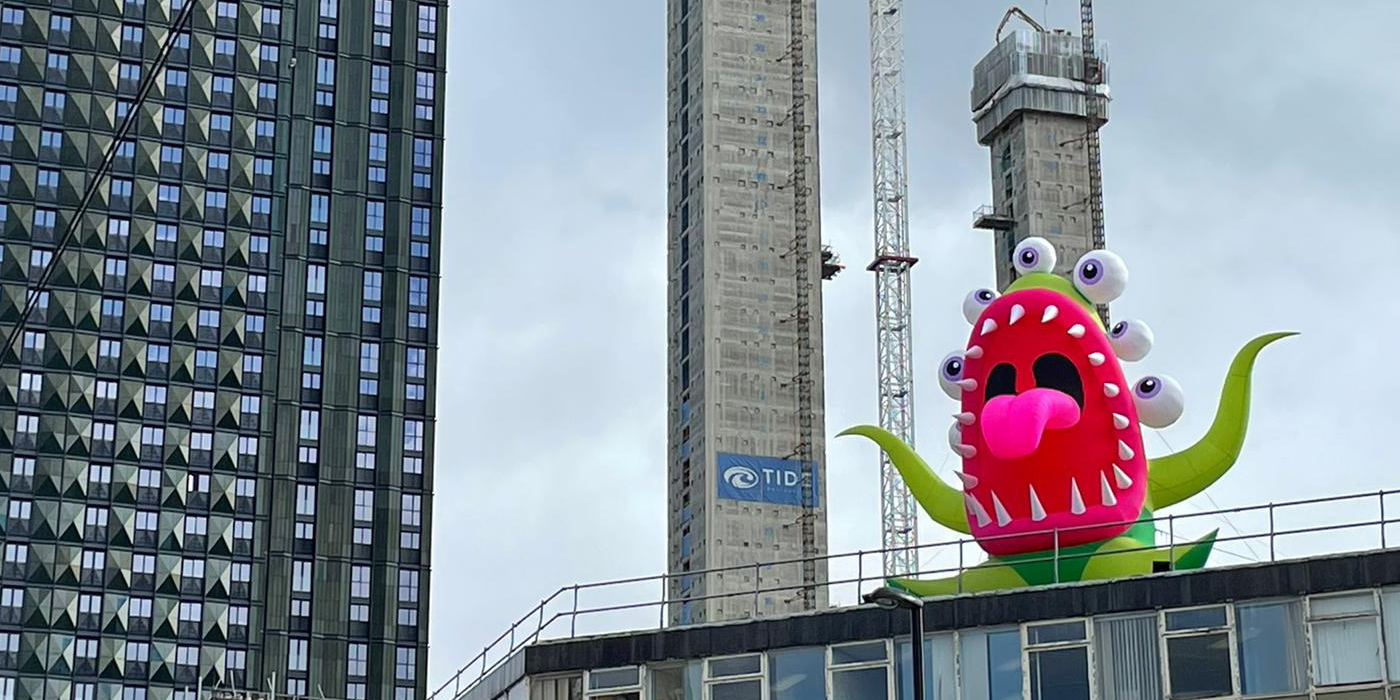 ---
18) Tina Crawford, artist
I'm looking forward to really concentrating on my own work this year, commissions are great but they get you off track for making what's in your head. More painting for me, more life drawing – it's been fantastic (and vital) getting back into regular drawing! Last year was a great year because the Science Museum acquired a piece of my work so I'm hoping to get work into more institution collections.
New Years Resolutions – I've been quite down on Croydon, we live right on the edge of new skyscrapers going up and they're stealing the sky and the sun sometimes it's hard to be positive but one thing that is so Croydon is our community- the passion on our road and spirit is unbeatable! We've got to know so many more on our road thanks to lockdown and new neighbourhood watch and I really look forward to stronger local connections because that really is what makes a good place to live. So, in 2022 I want to remember what's important about our neighbourhood, we have the best neighbours, period!
---
19) Peter Hall, walking, running, photographing the green and interesting places in Croydon 
I am writing this on the warmest turn of the year on record – a great omen for good walks, maybe not so good for the planet.  I am looking back at the photos which I took in Croydon in the spring of 2021, and I want to share with you the dates to look forward to in 2022.  It is my New Years resolution to make the most of them.
In the last week of January 2021, temperatures dropped below zero.  It was a great opportunity to capture iconic shots of red berries shrouded in snow and ponds iced over.
In the last week of February, the woodland ponds were alive with frogs mating and filling the pools with the eggs of the next generation. Scattered around the woodland pools, crocuses and snowdrops were bursting through the cold forest floor. At the Three Halfpenny wood – Addington Village – I discovered a carpet of naturally growing snowdrops – the best I have ever seen.
At the beginning of March, the wildflower meadow bank at Coombe Hill gardens was at its most spectacular- don't miss it in 2022!
By the end of March, the daffodils were out. Wherever there was water Moorhens and Coots were nesting and soon families of tiny chicks were paddling, excitedly in their new world.. Waddon ponds is a paradise for watching water birds in Croydon.
By mid April, the brown and yellow Specked Wood and the brilliant orange and blue Peacock butterflies emerged from hibernation throughout the many woodland clearings of South Croydon.
In the last week of April, the avenue of vibrant cherry blossom in Park Hill, near East Croydon Station, is an incredible sight – much photographed on social media. Put it in your diary!
Also, in April the bluebells reached their peak, adorning the edges of mature woodlands, soaking up the warmth of the spring sunshine. For the very best display, catch the 403 through Sanderstead to Hamsey Green, turn left and walk along Kingswood Lane until it turns into a gravel track with Kings Wood on your left.  You will see magnificent displays of  bluebells leading your eye to distant woodland glades.
Finally, in this spring revelation, the Rhododendron and Azalea come into bloom at the start of May. There is nowhere better to see this kaleidoscope of oversize flowers, buzzing with honeybees, than at Heathfield House (close to the Coombe Lane tram stop).
And then it will be summer!
I hope you will be able to look forward to the simple pleasures, close to home, in 2022!
---
20) Mari Lane, co-founder of Get In Her Ears
It's fair to say it's been another tough year, both personally and on a larger scale. I had to say goodbye to a loved one much too soon; my day job caused me a lot of stress and exhaustion; and what's normally manageable anxiety was massively heightened, due to the constant ongoing uncertainty and fear surrounding Covid…
However, with things starting to open up again this year, I was able to enjoy more of the benefits of living in Croydon, and felt very grateful to be part of the local community.
Remaining keen to travel as little as possible and stay local, walking from where we live in North Croydon to South Norwood has become a favourite pastime for me and my husband, not least because it's home to Craft Beer Cabin – a cosy, friendly bar offering a range of tasty craft beer, spirits and coffee. Having originally started as a black cab that operated as a mobile bar around London (the 'Craft Beer Cab'), it not only provides delicious crafty refreshments, but offers a lovely safe space that feels like a real home-away-from-home.
Another reason for heading to South Norwood is for the live events offered at Stanley Arts. I was lucky enough to catch alt-folk artist Grace Petrie deliver her politically charged offerings there in November. As a South London resident, it made a particularly nice change to be able to walk to and from a gig… And the venue seemed to suit Grace Petrie's understated, yet strident, charm perfectly. Sitting in the picturesque old community hall (that now strives to be a completely inclusive space with a focus on hosting LGBTQIA+ creatives and artists of colour), as Petrie delivered her "songs of social justice", a refreshing sense of togetherness united the local crowd. (Full review here).
So, as uncertainty and anxiety seeps into 2022, I remain happy to be a Croydon resident, and grateful for what the community has to offer. In addition to the attractions of South Norwood, I continue to appreciate my weekly vegan pastries from local bakery Coughlans, occasional post-work beverages at Art & Craft CR0 and weekend plant-based brunches at non-profit community hub Matthew's Yard. Although it's hard to feel hopeful right now, I'm looking forward to discovering more local delights over the next year…
---
21) B Atherton, co-founder and co-director of Turf Projects
This year we'll be gearing up to Croydon Borough of Culture 2023 as one of the borough hubs, so we're looking forward to shaping those plans up in a meaningful way with everyone else involved (and those who aren't involved yet!), and spreading those opportunities to as many people in Croydon as possible. We're also hoping to get back to doing longer-term projects in the exhibition space this year, kicking off at the end of January with an exhibition by Alyona Larionova, who has been collaborating with our young artist collective Art Press over the past couple of months.
Our new year's resolution? During Covid it felt like every tiny scrap of our time had to be meticulously planned – we've all just been really focused on keeping on putting one foot in front of the other. Every year we do a big review together and this year we resolved to spend more time together and to factor in a lot more 'unplanned' time to make a bit more room for the unexpected and creative!
---
22) Cassie Whittell, writer
All I've done in 2021 (and pretty much all I plan to do in 2022!) is keep it local to our brilliant borough. In a time when high street businesses need our custom more than ever, and with COVID still very much a concern, I'm determined to give up my Amazon Prime subscription and support our lovely local shopkeepers as much as I can.
I'm right down at the southern end of Croydon, so for me, Coulsdon is the perfect playground. And it's stuffed with brilliant places to visit in the new year and beyond.
Cyco Café is a gorgeous little nook of a place, with perfect chai lattes and the best bagels around. They're also open in the evenings for dinner, which makes it even more perfect.
Over the road from Cyco is Bombaylicious, and I can't wait to try their 'Number 11' wrap, created in homage to Carrie Johnson and her wallpaper spending fiasco. Great food and a political conscience? What's not to like?
Up the hill and into Old Coulsdon, there's the fancily named The Aycorn Shoppe, selling plants and wine and charcuterie. A brilliant mix, I'm sure you'll agree.
And then there's Stella's Emporium, with its halloumi toasties and Cypriot goodies for sale…
Just creeping over the Croydon border and into Caterham is gift and homeware shop, The Lost Sheep. Run by the lovely Sally, there's also a gorgeous tea room downstairs, which I'm going to be checking out as soon as I can.
Finally, I've been keeping up with my walking and exploring around the area during this second year of the pandemic. One area I go to a lot is Tillingdown – close to Woldingham station – and my partner Brad has begun documenting our walks on an Instagram project called A Square Mile (see images below). His photos show off the beauty of the countryside around us and inspire me daily to get on my boots and get walking. Here's to more local adventures and good times exploring Croydon and its locales in 2022.
---
A big thank you to all our friends and collaborators for sharing their thoughts. We'd like to wish everyone in Croydon and beyond a happy and healthy 2022. 
And as for us at the Croydonist, this year we'll be continuing to highlight the positive in our borough. 2022 is also the year for us to explore some funding options. For the Croydonist, we'd love to be able to pay expenses to our guest writers, as well as make the running of the site more financially sustainable. For our sister project, Cro Cro Land we are planning festival 2, so we hope to be able announce a date for this soon…
Keep up to date with us at the Croydonist as we showcase lots of local culture over the coming year. You can subscribe to our monthly newsletter here, and/or follow us on Twitter, Instagram, Facebook and LinkedIn.
Images supplied by contributors. Header by the Croydonist using contributors' images.
Posted by Julia