Since 2019 we have been running a series of features on the climate, where we chat with different Croydon businesses and individuals about the ways in which they combat the climate crisis. This week our features reach the teens, with number 13, where we catch up with founders of local superfood business, Chris and Al Shervington, from Hamsey Greens.
---
Croydonist: First of all are you  Croydon natives or converts and what area do you call home (although we can guess the answer to the latter)?
C&A: Both! Alistair, moved here from Suffolk for his love Christine who is Croydon born and bred. Our home is in Sanderstead/Hamsey Green where we've lived for the last 15 years.
Croydonist: Tell us about who is behind Hamsey Greens and how it started.
C&A: Hamsey Greens is a local, family-run business comprising of Alistair (Al), Christine (Chris), and Alex – our son who's 10 and steadily learning the ropes! Hamsey Greens really came about through our love and passion for fresh food – growing and eating it.
We are lucky to have a garden and allotment where we've grown some vegetables, herbs, and fruit. Then during 2020 it really gave us the time to think about this – how we needed to be more mindful about our health, what's in our food and knowing where it's come from. We were having a family meal sat at the dining table one day during the first lockdown and the conversation turned to how we could become more self-sufficient and provide fresh food for ourselves and loved ones. We were aware of microgreens and looking into them further we soon realised how amazing these fresh foods really were and how quick and easy they were to grow. We thought 'let's give it a go' as we pretty much had what we needed and ordered some Pea and Pink Radish microgreen seeds to get started. We grew a batch – which was indeed very quick and easy to grow – and shared them with the rest of our family who were amazed by their intense flavour, colour, texture, and delicious taste.
So, our next thought was how to expand on this and promote microgreens wider into the community with our grown, harvested, and ready to eat microgreens, live trays and Grow Your Own (GYO) packs as you need very little space to grow – no garden or allotment required. Hamsey Greens was born in the community for the community!
Now with food very much in the media and a topic of conversation around shortages, food rationing in supermarkets and the cost-of-living; which everyone is affected by; affordable, convenient, healthy fresh food is more important than ever.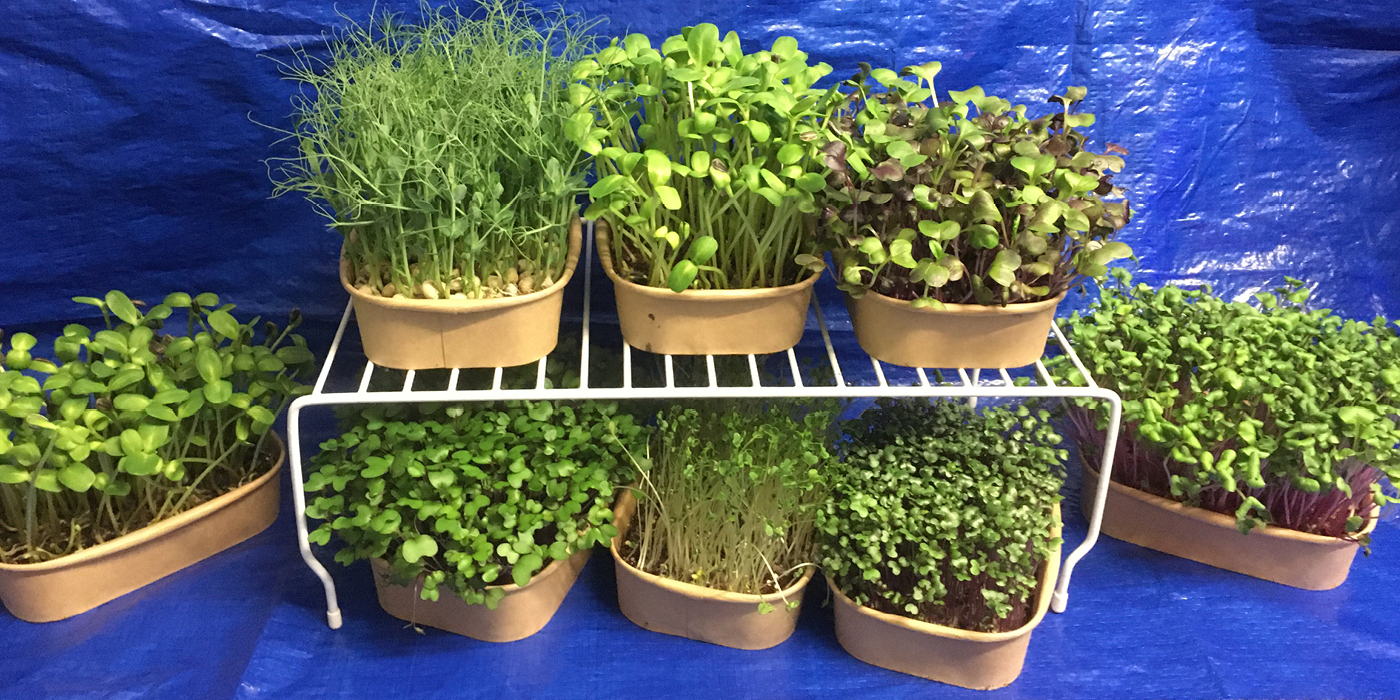 Croydonist: What are microgreens and why are they good for you?
C&A: Microgreens are the young seedlings of leafy vegetables or herbs picked just after their first leaves have developed when they have the most intense aromatic flavour and concentrated nutrient content.
They are classed as a superfood because they're bursting with at least 40 times the vitamins, minerals and nutrients found in mature plants. The health benefits are well known by dieticians and generally most varieties contain vitamins A, B, C, D, E and K, are rich in potassium, phosphorus, iron, zinc, magnesium, calcium, fibre, and copper and have polyphenol and antioxidant properties which can help reduce the risk of chronic diseases such as cancer, dementia, diabetes, heart disease and stroke.
They can help boost immunity, help fight infection and reduce inflammation as well as help improve symptoms of osteoporosis, anaemia, eczema, menopause, depression, and digestive problems. They also help our bodies to repair themselves, strengthen bones and support growth (including hair and nails) and overall improve our health and well-being, raise our mood, and increase our energy levels!
Croydonist: I went to Hamsey Green School many moons ago, so obviously love the name – were there any other contenders, or was it Hamsey Greens from the start?
C&A: It was funny sitting together talking about what to call ourselves, brainstorming ideas and throwing names out there – we knew 'Greens' had to be in the name somewhere because in essence that's what microgreens are. We thought about just using our initials or our shortened names, but it just didn't roll off the tongue, other names were already registered so we couldn't use them and then it just popped into Al's head: what about 'Hamsey Greens'? – it's the community where we live, where we run our business and it's what we're growing. Sometimes the obvious just works! Our logo was designed, and hand drawn by our very good friend, Simon Grapes, and he's really captured the organic, earthy and naturalness of Hamsey Greens.
Croydonist: How important is sustainability in your business?
C&A: Sustainability is a key reason why we grow in the community for the community. People are far more conscious about what they are consuming, the traceability of what they're eating and mindful of preservatives or additives used in their food.
We grow as sustainably and environmentally responsibly as possible, and no chemicals, pesticides or preservatives are used in our microgreens – in either the growing or harvesting. Our microgreens are a natural product, bursting with flavour and packed full of goodness – anyone can grow them pretty much, just like cress as we did when we were kids! You don't need a garden or allotment to grow microgreens as they do better indoors with the ambient light and warmth being sufficient and take very little room to grow – a space on the windowsill, shelf, tabletop, or kitchen counter is all that's needed and in less than two weeks you'll have fresh produce to eat.
Microgreens don't need any drainage or much water either, using at least 75% less water compared to their adult vegetable and herb counterparts. We use recycled, recyclable, and compostable packaging and grow mediums wherever possible – card, paper, plant starch punnets (they look like plastic) and don't include anything that is not essential.
We participated in TH Pop Up Sustainable Living event in February running workshops and demonstrations with multiple groups showing them how easy it is to grow microgreens with all participants taking home with them their prepped trays. We loved this event and hope to be part of many more in the future.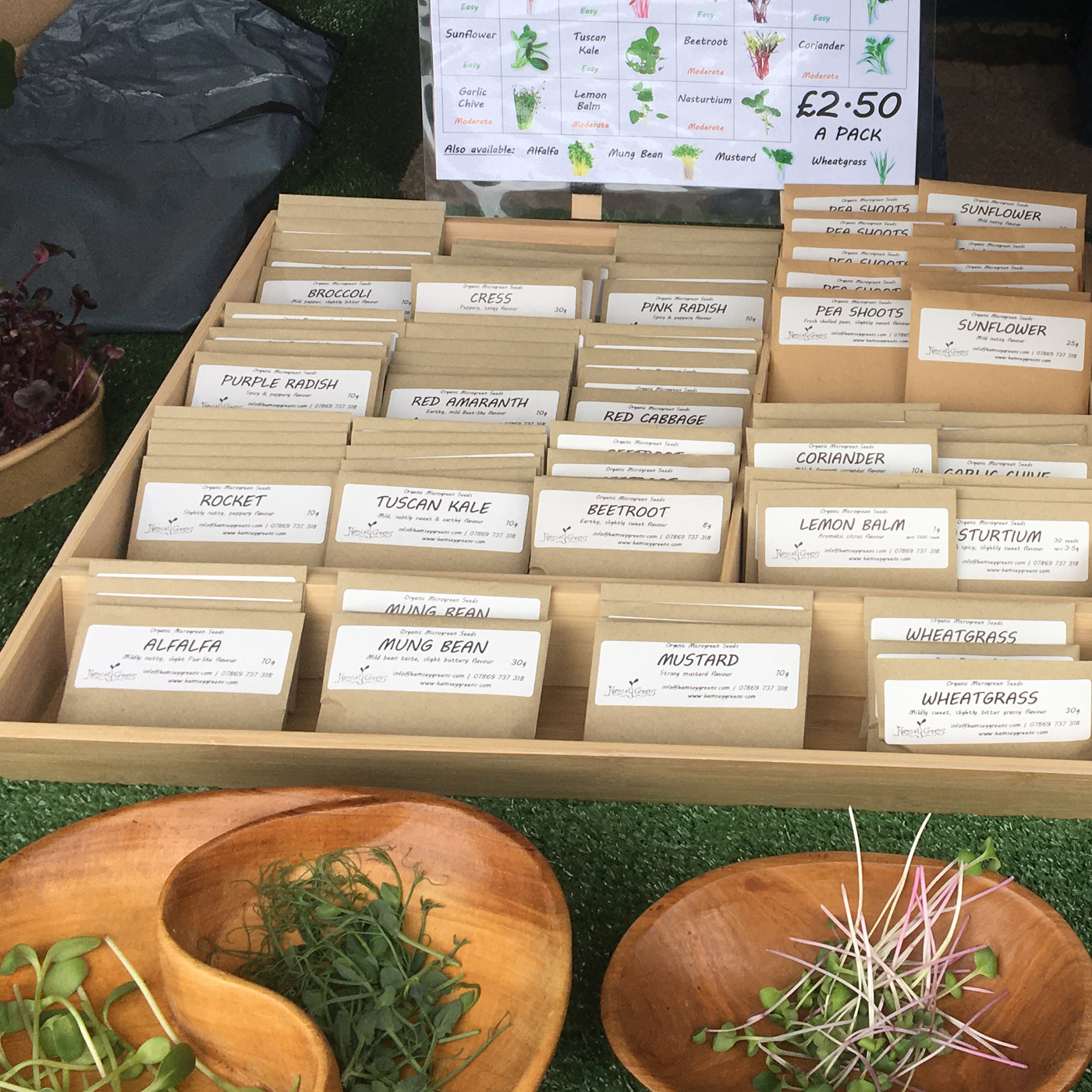 Croydonist: What's your typical day running Hamsey Greens?
C&A: A typical day includes maintaining our weekly grow schedules, making sure we have the timings right and trays prepped for growing, as microgreens do differ in grow times and we need them ready at the same time for our customers, markets, restaurants etc so regularly checking the microgreens are growing and are healthy is very important.
Harvesting the trays for customers and making up the punnets (Super Mix is very popular which is Sunflower, Pea and Radish) for markets; making deliveries to all our customers every Thursday and cleaning all the trays to start again the next day. All used compost is composted to break down and be re-used in a year's time. Alongside this we are also making batches of our Apple Crisps, Oak Smoked Cheese, and Microgreens Powder every few days for our markets and individual customers.
Back-office admin is a daily task responding to online orders, answering calls, stock taking and ordering stock, accounting (the least fun bit!), creating marketing material, maintaining the website and social media presence etc, and answering questions from organisations like the Croydonist to write features on us! 😊
Croydonist: What are your top recipe tips using microgreens?
C&A: Microgreens are versatile, it's a misconception that they are only for salads – although they are delicious in all types of salads! You can add microgreens to plant-based meals, fish, or meat (hot or cold), to soups, casseroles, stews or on a jacket potato. In pasta, a stir fry, rice dish, couscous, quinoa or on a pizza; with egg – boiled, poached, fried, scrambled or an omelette.
Microgreens don't need cooking as such and in any hot meal just toss them in with other vegetables or add them at the end when the dish is ready and either gently stir them in then serve or serve up the dish and lay them on top.
Eat them with a cheeseboard, in a baguette, panini, wrap, bagel, sandwich, pitta, muffin or in a juicy burger! Have them on toast (e.g., with smashed avocado and a squeeze of lemon) on crackers, crispbreads, or rice cakes. Eat them as they are as a snack or blitzed into a smoothie, added to a juice or drink as a tea (particularly Lemon Balm or Nasturtium).
The ways to eat microgreens are literally endless – we have some food ideas on our website and Instagram @hamseygreens. We also make Microgreens Powder from our own pea, radish, sunflower and broccoli microgreens –  good for those who want that extra vitamin and mineral boost or for those who don't like greens but want their goodness – also a great stealth food for kids!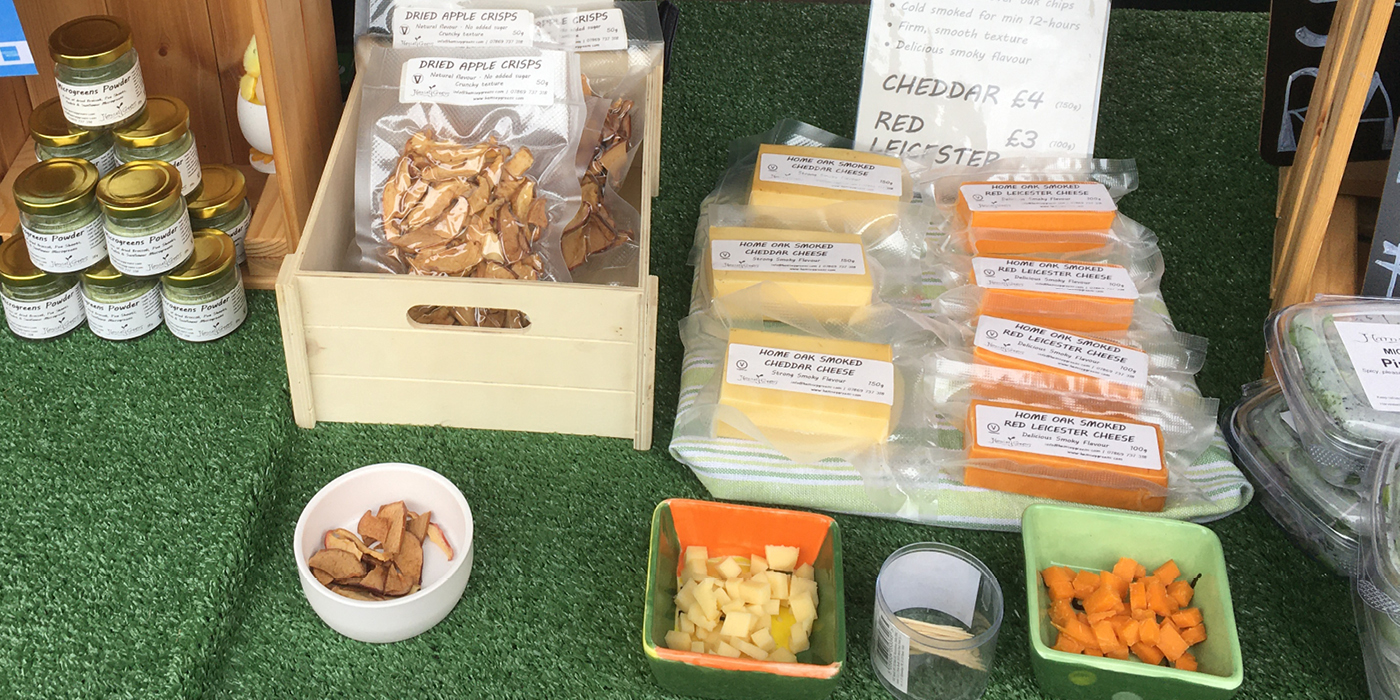 Croydonist: Where can our readers purchase from Hamsey Greens?
C&A: You can purchase our microgreens on our website setting up a weekly subscription which is very cost effective and with flexibility (e.g. if you're away on holiday), with free delivery for local areas, as well as GYO packs including seasonal gifts, and we are even thinking of creating children's party bags. We have 19 varieties of organic microgreens seeds and compost/growing mediums.
You can find us at the following farmer's markets where you can sample and purchase all our products – microgreens in punnets or live trays; sprouted seeds in punnets; GYO packs; organic seeds; compost discs/hemp mats; Lemon Balm/Nasturtium plants; microgreens powder; homemade dried apple crisps, home oak smoked Cheddar and Red Leicester cheese:
| | | | |
| --- | --- | --- | --- |
| First Saturday of the month | Biggin Hill | 10am-2pm | TN16 3EJ |
| First Sunday of the month | Beckenham Place Park | 10am-3pm | BR3 1UH |
| Second Saturday of the month | Wallington | 9am-1pm | SM6 0NB |
| Second Sunday of the month | Tonbridge | 9.30am-1.30pm | TN9 1RG |
| Third Saturday of the month | Warlingham | 9am-1pm | CR6 9LE |
| Third Sunday of the month | Chislehurst | 10am-2pm | BR7 5AB |
| Fourth Sunday of the month | West Malling | 9.30am-1,30pm | ME19 6NE |
Croydonist: What three things would you encourage Croydon residents to do when shopping for food to help minimise their impact on the planet?
C&A: We would encourage Croydon residents to:
buy from local, independent growers/producers so you know where your food has come from, how it was grown, what's in it and how old it is before you've bought it
avoid buying single use plastic products that can't be recycled. Reuse plastic containers – for example, mushroom punnets or takeaway containers are ideal for growing microgreens in
buy foods that are in season – this is never an issue with microgreens as they grow indoors all year round.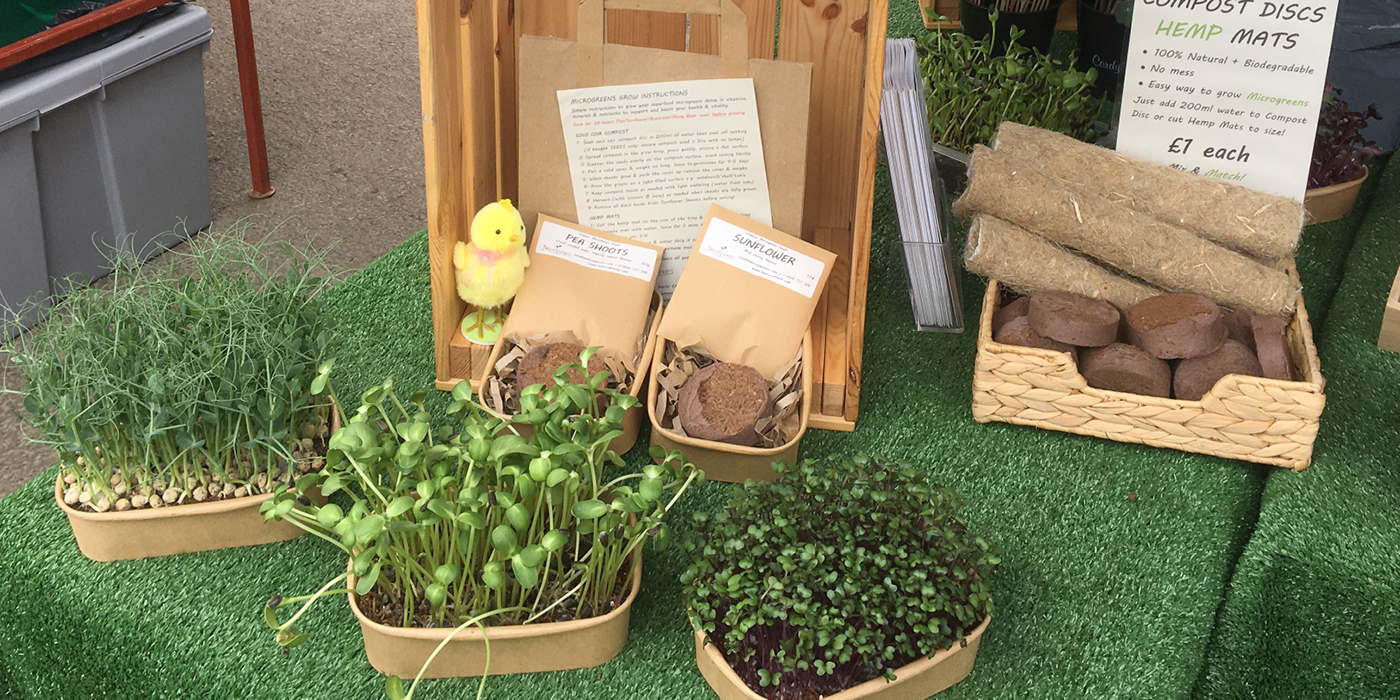 Croydonist: What's next for Hamsey Greens?
C&A: We are concentrating on growing the business and have just taken on a new contract supplying two further restaurants which is exciting for us. We are also present at more markets which we really enjoy attending – even in the rain! – and raising awareness about microgreens (as it is still a relatively new food in the UK) and just how tasty and good they are for you.
We have more talks and workshops coming up shortly in partnership with the WI, Well-Being Garden Tea Group, Surrey Organic Gardening Group and Food Growing/Horticultural Group showing how easy microgreens are to grow, with lots of user participation! We usually set up our stall and have all our lovely products available for those who wish to purchase anything as well. We love working with community groups and if you belong to a group who would like to partner with Hamsey Greens please do get in touch, we'd love to hear from you!
Croydonist: How does Croydon inspire you?
C&A: First and foremost, the people of Croydon really do inspire us – we live in Croydon which is a cosmopolitan town with its diverse and multicultural make-up which all adds to the richness of our community! There are struggles of course but as Croydonians we're hardy, we're resilient and we keep a positive outlook!
Thank you to Chris and Al for chatting with us. You can find out more about Hamsey Greens on their website, and their Instagram.
---
​​If you missed the other features in our Croydonist climate series you can read them below.
First in our Croydonist climate series was fashion, with Croydon Community Clothes Exchange – read it again here.
Second in our Croydonist climate series was travel, with eco-conscious luggage brand OneNine5 – read it again here.
Third in our Croydonist climate series was pets, with eco pet food brand Scrumbles – read it again here.
Fourth in our Croydonist climate series was art, with Tina Crawford's 'What a Waste' exhibition – read it again here.
Fifth in our Croydonist climate series was shopping, with refill shops 'Pedrick's Zero Waste Shop' and 'Roots & Cycles' – read it again here.
Sixth in our Croydonist climate series was party gifts with Plastic Free Party bags – read it again here.
Seventh in our Croydonist climate series was eco textile plant pot brand Knttd – read it again here.
Eighth in our Croydonist climate series was climate-smart coffee company Coromandel Coast – read it again here.
Ninth in our Croydonist climate series was local environmental group Croydon Climate Action – read it again here.
Tenth in our Croydonist climate series was the eco-community art project Norwood Junkaction – read it again here.
Eleventh in our Croydonist climate series was the eco-friendly wrapping paper company Deleco – read it again here.
Twelfth in our Croydonist climate series was Aycorn Garden Design – read it again here.
Header image by Dmitriy Zub, the other images courtesy of Hamsey Greens.
Posted by Julia