The new year is nearly upon us – the last mince pie has been eaten, and there's prosecco at the ready in the fridge for New Year's Eve. Now is the perfect time to look forward, so we decided to ask some influential Croydon folk their resolutions for next year. In no particular order here's eighteen resolutions for 2018…
#1: Director of Croydonites, Anna Arthur
Learn a new party trick or brush up an old one – one that will impress and make you new friends (at all those cool Croydon events you'll be attending this year….)
#2: Artist, Kate Marsden
To spend more time exploring the parts of Croydon that I'm less familiar with, and using this as an opportunity to get new ideas for my work as well as supporting local businesses while I'm there!
#3: Associate vicar of Croydon Minster, Lee Taylor
I always take time to reflect on health, wellbeing and calorie intake at start of a new year. For 2018 I will be having considerably less tonic with my gin!
#4: Cr'Oyster mushroom farmer, Andrew Dickinson
To devote more of my time and energy into making Croydon a great place to be.
#5: Creative producer and Artistic director of Zoo Co, Rosalind Hoy and Florence O'Mahony
Our 2018 resolution is to smash our current record of 1,648 people attending free theatre events in Croydon, here's hoping for 2000+! And to try every different cuisine available on Surrey Street at least twice.
#6: Chairman of TMRW, Francois Mazoudier
Have more proper (/ly bonkers) mad parties more often! We had two this year which were super well received, and culminated into / led to our grand finale of a mad Xmas party (I'm sure you've seen some of the pics). We demand more fun from the local community ! 😉
#7: Artist, Lis Watkins
I'm afraid I'm not a great fan of resolutions but I am planning to do lots of sketching in Croydon next year, trying to keep up with all the building changes in the town and hopefully discover some hidden gems. I'd love any recommendations of lesser known places, particularly good indoor vantage points for chilly weather!
#8: Artistic Director of Tempting Failure, Thomas John Bacon
Could 2018 be the year to go skydiving? I certainly always promise myself to do more exercise, so somewhere between the two could be good. Though I'm not sure which involves more effort; regular exercise or throwing yourself out of a plane?
#9: Co-founder of Croydon Tech City, Jonny Rose
Croydon's New Year Resolution should be to talk less and to do more; resolve to stop looking to politicians to fix Croydon's problems and do something proactive yourself.
#10: Co-founders of Turf Projects, Alice Cretney and Becky Atherton
Keep interrogating intent.
#11: Artist, Matt Bannister
I hope to experiment more with bubble tea, bubble cocktails and to find out if the savoury ones are a good idea or not.
#12: Founder of Croydon Saffron Central, Ally McKinlay
My resolution for 2018 is to seek the truth from within & to have the confidence to say what I believe is right. My doodle (below) shows how my heart & head combine and how I then project what I feel. Very hard to put my vision of next year in a sentence!!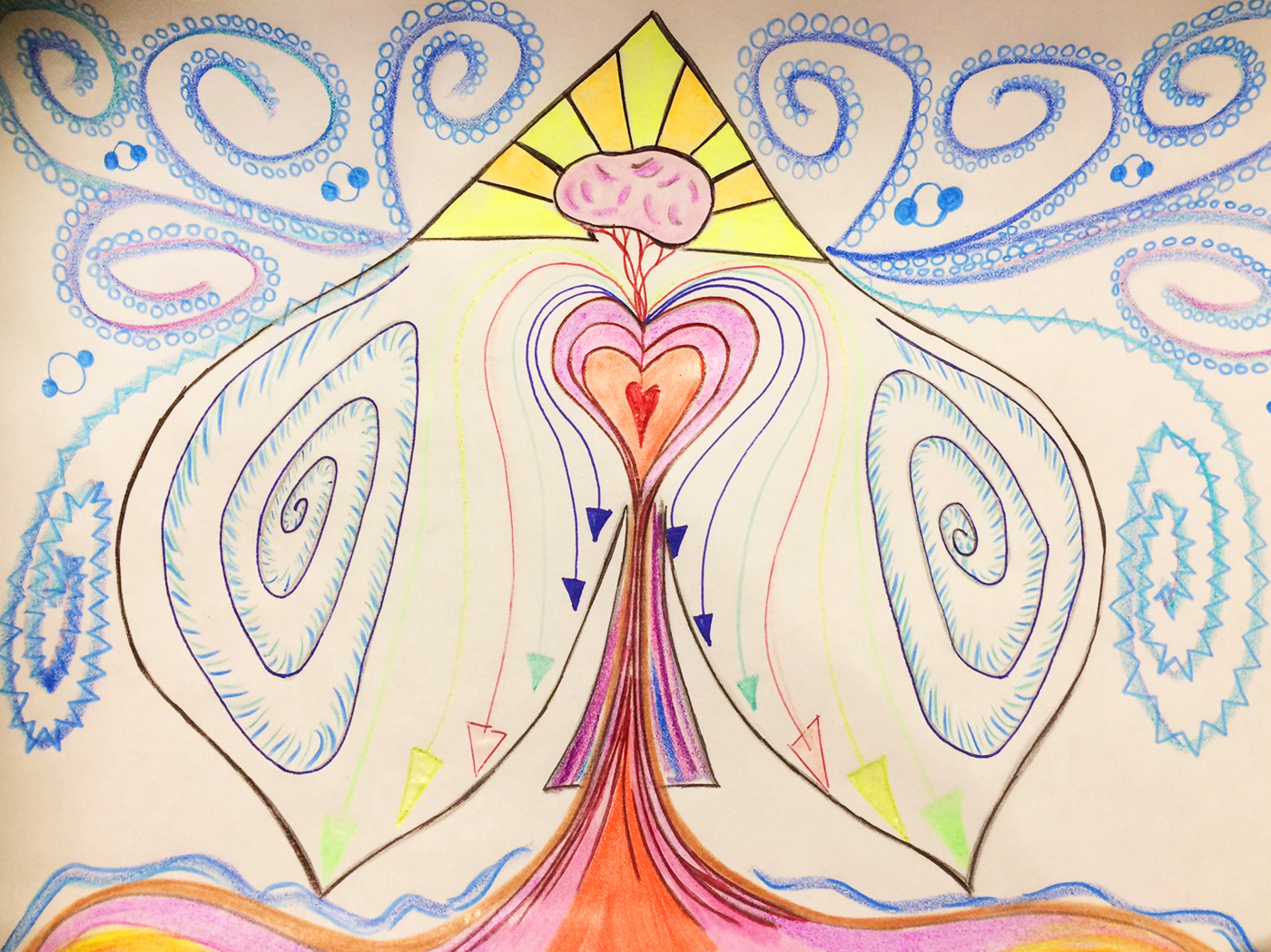 #13: Founders of IvyRose London, Giselle and Johnny
Our New Year's Resolution will be to successfully take part in @CroydonGardener's SeedsShare Project, which will hopefully break the precedent set by the numerous houseplants that are sadly no longer with us.
#14: Artist, James Oliver
Right, for Croydon, I want to see the One Lansdowne Road tower build get underway, it'll be one of Europe's tallest skyscrapers! I need to see the Whitgift Centre redevelopment start also and the Old Allders building become something special again…  For me, get healthier, less gin, less crisps, more outdoors…
#15: Co-founder of Lost Format Society, Mark Sarfo-Kantanka
Lost Format Society's new year resolution will be to pop up with more film screenings and music gigs in even more unusual and quirky places in 2018, so watch this space! When not planning our summer shenanigans you will find us hanging out at two new venues in Croydon – The Ludoquist Board Game Café and Limitless Virtual Reality Café on Croydon High Street.
#16: Artist, Bev Jones
My show with Studio Upstairs at the end of Feb will have a bit of a weather theme so my resolution for the early part of 2018 is to get out and about come rain or shine.
#17: Croydonist guest writer, Sam Hill
My resolution for 2018 is to support and promote Croydon's brilliant independent food and drink scene and to persuade my London friends to come down to eat and drink here more often. We have so much great food to offer in Croydon but we all need to carry on eating it and shouting about it!
#18: Co Owner and Games Manager of the Ludoquist, Nick Smith
Play more games. Which does fall into the 'He would say that category', but seriously. Find actual human beings in real Croydon places, and interact with them. Make them laugh. Let yourself laugh. Do something new *with* them. Not cinema, not phone, not TV. Spend time enjoying your loved ones. Of course, the best way to do that is: play more games.
Well it seems that gin and games feature heavily next year – whilst enjoying the myriad things to do in Croydon of course. Thank you to our eighteen Croydonians who shared their resolutions with us. I suppose it's only fair we sign off with our own new year's resolution: to continue to showcase all the brilliant stuff happening in our lovely borough in 2018.
We wish you all a very happy new year. Let's open that prosecco… (or should I say gin).
Posted by Julia